Miami students and alumni discuss gender and law at the Women in Law and Leadership Symposium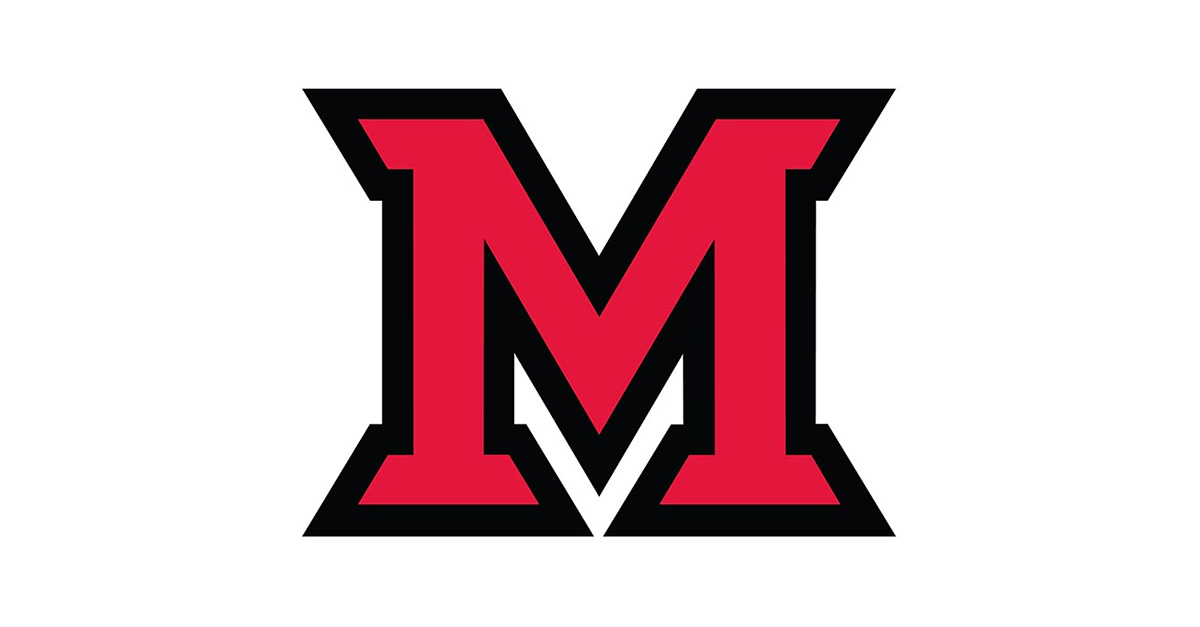 Nov 10, 2017
Written by Katy O'Neill, CAS communications intern
On Friday, November 3, Miami's recently renamed Sue J. Henry Center for Pre-Law Education hosted a symposium that focused on issues related to gender issues in law and leadership, as well as keys to overcoming them.
Open to the public, the Women in Law and Leadership (WILL) Symposium was held at the Marcum Conference Center from 8 am to 5 pm. Approximately 130 students, faculty, and community members registered to attend the day's events.
The event kicked off with a networking breakfast, followed by panels, lunch, open discussions, and a networking reception at the end. Invited speakers engaged in discussions ranging from gender issues in the workplace and work and life challenges, to keys to success and possible career trajectories.
"The WILL Symposium was a great success and provided its attendees with excellent, practical advice," said Maria Vitullo, director of the Sue J. Henry Center for Pre-Law Education. "Not only were our alums in the legal profession able to learn from and network with each other, but it was an inspiring experience for our pre-law students."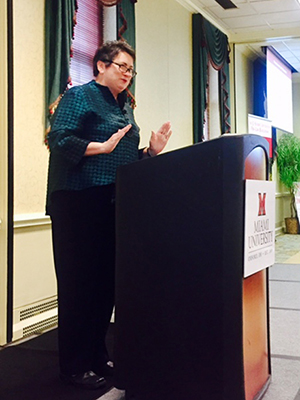 Keynote speaker Lyn Schollete (Miami, 1989), executive director of the New Hampshire Coalition Against Domestic and Sexual Violence, addresses the audience.
The 22 speakers were all female lawyers, most of whom were Miami alum. They shared their professional experiences with the audience via panel discussions moderated by current Miami pre-law students.
Lyn Schollete, executive director of the New Hampshire Coalition Against Domestic and Sexual Violence and class of '89 Miami alum, gave the keynote address on the topic "Channeling Your Inner Advocate: Defending Rape Shield Law and Victims' Privacy Rights."
Miami pre-law alums Amanda Grandjean, Jenny Warmolts, and Lauren Johnston hosted a panel for Miami students entitled "What is Law School?" in which the women gave advice on crafting personal statements, how to pick the correct law school, scholarships, and more.
"As amazing as professors are at Miami, law school professors are just as good at helping you," said Warmolts, an associate attorney who attended Ohio State Law School after graduating from Miami in 2013 as a political science and environmental science double major. "Take solace in the fact that you aren't the only one struggling and utilize your resources that law school provides."
"The advice and insights our students received from the Miami women who have come before them on issues relevant to women in law, ranging from gender issues to career trajectories, were invaluable," added Vitullo.
"The symposium reminded us that while the legal field is still male dominated, we can still be just as successful as men," said junior Spanish and Latin American studies major Emily Mendosch. "It was really influential to hear from women who have experienced things such as discrimination and sexual harassment and have them tell us how they overcame those hurdles to get to where they are today."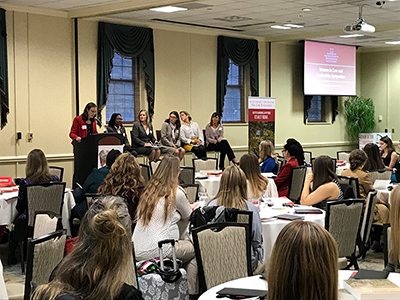 Sophomore pre-law student Taylor Gordon introduces panel at WILL Symposium.
"My favorite part of the symposium was hearing about the panelists' personal experiences," said junior professional writing major Ally Croy. "Each story was unique and taught a different and important message."
"I'd always wanted to go to law school, but I still found the Women in Law and Leadership Symposium so beneficial because it explored different topics related to gender issues in the workplace," added Mira Patel, a pre-law junior majoring in political science and economics who moderated a law school-focused panel for undergraduates. "It was inspiring to see so many women who paved their own unique career path in a male dominated profession."
The WILL Symposium was approved by the Supreme Court of Ohio Commission on Continuing Legal Education for 3.00 total CLE hours, with 1.00 of attorney professional conduct instruction.
The event was sponsored by the law firms of Bricker & Eckler, Dinsmore & Shohl, Frost Brown Todd, Salvatore Prescott & Porter, and Taft Stettinius & Hollister. University sponsors included the College of Arts and Science, the Miami University Alumni Association, and M.I.A.M.I. Women.