Florentine woman gives tourists an Italian food education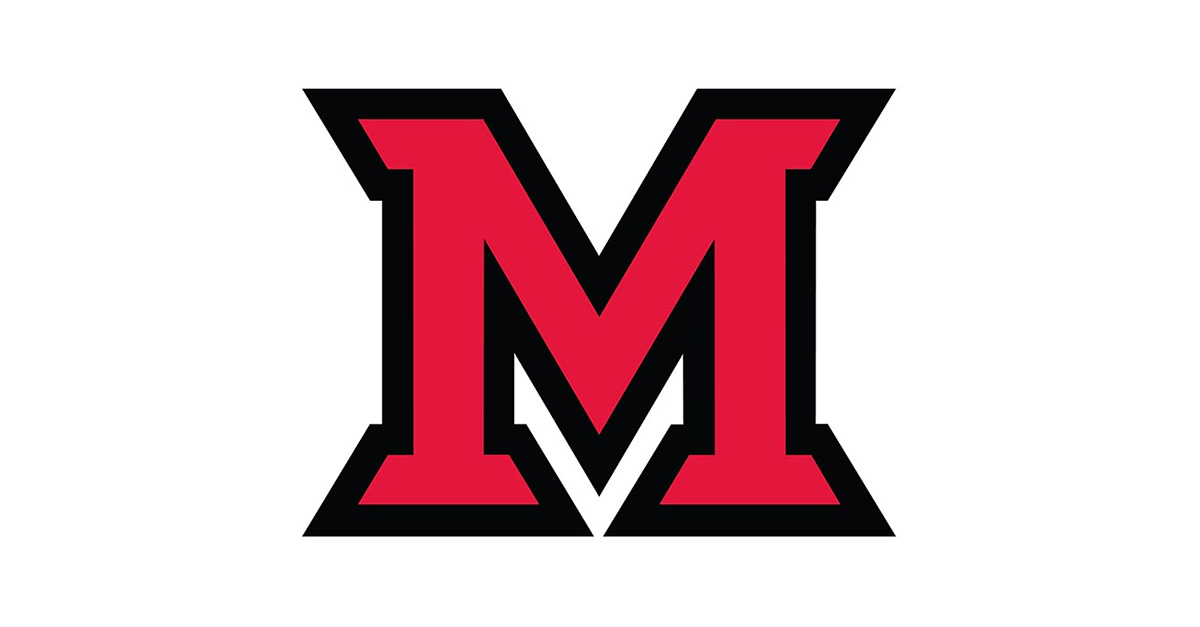 Oct 29, 2018
Written by Mackenzie Rossero, CAS communications intern
Mackenzie is a senior triple major in Journalism, Creative Writing, and English:Literature. She spent the summer of 2018 in Florence, Italy, through the study abroad program, "Florence, Italy: Writing, Media and Culture," sponsored by the Department of Media, Journalism & Film and led by professor Daniele Fioretti. She says that because of that program, she had 6 amazing weeks to study the Italian culture and the Italian people. "The people were the best part."
She writes: 
"I was drawn to Emily Crusi because she was one of the most welcoming and friendly people I met in Florence — and because her co-worker jokingly declared that Emily had always wanted to be famous. So, I spent a few hours in their market stall, talking to Emily and hearing about her life. It was amazing to me that I was able to connect with and befriend a stranger who was so completely different from me, and it was even more amazing when we shared a tearful goodbye at the end of my trip.
"This study abroad program encourages students to go beyond their comfort zone and truly experience Florence. The class assignments brought me to food vendors and marketplaces, where I was instructed to find someone interesting and write about them. This article is a direct result of that."
A Friendly Face in a Teeming Indoor Food Market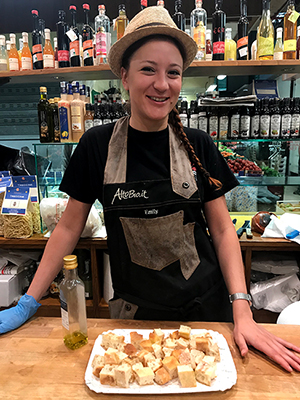 Emily Crusi
A young, redheaded woman stands in a stall in Florence's Mercato Centrale. She ties on a black apron and quickly twists her thick hair into a single braid over her left shoulder. Then, she pulls on a hat — a tan one with a brim and a thin black stripe.
She is surrounded by shelves holding bottles of olive oil and jars of black truffles. It is early morning, and everything is fully stocked. There is not a single empty space.
This is Emily Crusi. She works for Altobio, a company dedicated to introducing foreign customers to the most authentic of Italian cuisine.
And, if you know Emily, you would know that this is a very appropriate job. As a traveler, she has a passion for tourists. As an Italian, she has a passion for food.
Mercato Centrale, located on Via dell'Ariento in Florence, Italy, is a building of food — pasta, meat, cheese, pastries, wine. When you arrive, there are two options: go upstairs for lunch served in neat, take-away packaging or venture downstairs, where English is sometimes scarce, but where you can meet the woman who filled your cannolo or the man who bottled your Cabernet.
Hundreds of foodie Florentines make a living here, selling their wares from workshops and counters lined in neat rows.
Emily is one of them.
Her work day includes many market-shopping tourists but, having grown up near Florence, she has plenty of experience with those selfie-stick-waving foreigners. Mostly though, they don't bother her.
Even after long days at work, when tourists are meandering and crowding the Florentine streets, Emily doesn't blame them. In a new place, she would take her time, too.
And, she did — a whole year of it.
Four years ago, Emily decided to go to Australia and saved up just enough money to get there. Marco Nucciarelli, her boyfriend of four years, went with her. They started in Perth, Australia, bought a van and worked their way through the country. At one point, they spent four months sleeping in their car.
Emily had spent almost all of her 25 years in Italy. She had never been outside of the country for longer than two weeks. Australia was the first time.
The hardest part was the waiting. But, as soon as Emily got on the plane, all of the anxiety went away.
"After all," Emily says, "when you're dancing, you dance."
When Emily isn't dancing herself, she is walking alongside tourists and showing them her Florence.
Adopting the Foreign Tourist's Perspective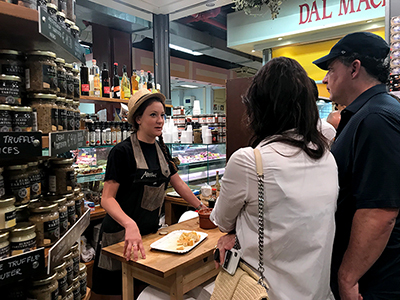 Emily Crusi waits on her customers.
In a way, her life seems to center around tourism. Italy Europe 24 reveals that, last year, 24.8 million tourists spent at least two days in Florence, her hometown. Eurostat ranks her country as the second-highest overnight tourist destination in the EU. She has a bachelor's degree in tourism science, which taught her to understand tourists and their effect on the economy. Plus, since Emily spontaneously took a year to explore Australia, she's a tourist herself.
Originally, that singular year wasn't enough. In fact, Emily spent 88 days working on a farm for the opportunity to extend her visa. Her first visa only allowed for one-year worth of travel. Any travelers who wanted more time had to earn it. There were three options: pearl diving, coal mining, or vegetable farming.
Emily and Marco opted for the farm.
It wasn't easy. They spent five or six days a week planting and picking vegetables — zucchini, melon, everything. Tomatoes were the hardest.
"You have to attach the tomato plants to the stick," Emily explains, demonstrating the motion with her hands. "I spent all day doing…"
Emily trails off, unsure how to describe the motion. After a brief hesitation, she acts it out: the up-and-down squatting that comes with long days of bending over.
"After a few days," she says, "I had a very good body without a gym."
This was only one of the jobs that Emily worked to fund her travels. There were three others: once as a shop assistant and twice as a waitress. But, even though the work was often difficult, she never minded doing it.
"Even if I went to work, it was always something I was doing in another part of the world, so I never felt the boring sensation that I feel when going to work [in Florence]," Emily says. "There, it was always like 'who cares? I'm in Australia. Even if I have to work, it's fine.'"
Not long after the second waitressing job, Emily and Marco returned to Italy. The trip home was meant to be brief — only a summer visit, then back to Australia for the second year that they spent those 88 days working for. But Marco found a good job in Florence, and Emily did too.
That's how she ended up here.
Introducing Others to Italian Cuisine
Altobio is linked with a bakery and, consequently, has a larger space in Mercato Centrale. The apron-wearing saleswomen buzz between the two shops.
Tucked among all the shops' shelves is a register and a rectangular wooden table. A family mingles around it. They are waiting for a tasting, but they aren't noticeably tourists — no fanny packs here. Still, their unfamiliarity exposes them. Locals would know these foods.
One of those apron-wearing saleswomen stands opposite the family, and she displays an assortment of food before them. These oil and truffle products are poured into cups or scooped onto spoons — samples of Tuscany.
Altobio exists for those tourists who find themselves in the lower portion of Mercato Centrale — those tourists who want to truly experience and understand Italian cuisine.
Emily helps them do that.
"I like it here because we speak about food, and we have the possibility to spend time with people who are not Italians, so we can discuss many things and many points of view. That's what we do," she says simply.
This job only highlights Emily's deep appreciation for food — an appreciation that, here, seems like a cultural requirement.
"Italians are the only people who speak about dinner when they are having lunch," Emily explains with a laugh. "Food is part of our life. It is a way of connection between people."
She begins preparing for the day, spreading out neatly cut samples of bread on a tray and dousing it with olive oil. She offers a piece to a customer and smiles, reminiscing.
"[While in Australia,] I think I missed schiacciata the most," she says.

Schiacciata, her favorite bread, is delicious — crunchy, perfectly salty and flavorful from the olive oil. It melts in your mouth.
It was nearly impossible for Emily to find authentic Italian food in Australia. Too often, there weren't any Italians working at the Italian restaurants. And, if there were, they hadn't been back to Italy in years — too long to still know how to properly cook, according to Emily.
She tried to cook things herself, but it was never quite right. Australia didn't have the ingredients and spices that are essential to Italian cooking.
And, clearly, they didn't understand it.
In Australia, they cooked pasta improperly. They treated ketchup as if it was an appropriate substitute for tomato sauce. And, worst of all, Australians put pineapple on pizza.
"I have never dreamed to eat pineapple on [pizza]," says Emily, grimacing. "I would like the world to understand that, here, we eat [Italian food] in a different way."
But, Emily forgives Australians for their poor understanding of her native cuisine. In fact, some of her favorite moments are when Australians wander into Altobio while visiting Florence. She loves introducing them to truffles and extra virgin olive oil.
Valentina Hoxhaj, Emily's friend and coworker, knows how much Emily enjoyed her time in Australia and recognizes her enthusiasm for Australian visitors in Florence.
"It's nice when tourists come here from Australia, from places she has been," says Valentina. She mimics Emily's reaction to these tourists — an excited squeal. Emily quietly chuckles.
But, Emily's passion for exchanging culture isn't difficult for anyone to notice. It is quickly clear that it is not just Altobio's goal to provide tourists with genuine Italian food — it's Emily's goal, too.
"If you don't try [something], you don't know what you like," says Emily. "You don't buy something just because you like the bottle. The tastings that we do are the best things we can do for people to make them feel comfortable here."
She glances over her shoulder — another group of tourists are approaching for a tasting.
"Besides," she adds, "I love spending the day with the people from the other parts of the world."
She winks and runs off to greet her new group.

To learn more about the "Florence, Italy: Writing, Media and Culture" trip, contact Daniele Fioretti (fioretd@MiamiOH.edu).