Austin Mace recently featured in Cincinnati Business Courier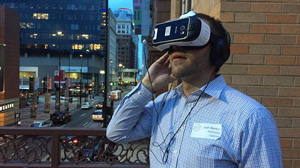 Austin Mace '15, a recent grad of Armstrong Institute for Interactive Media Studies is making Cincinnati, Ohio proud with his virtual reality device.
He recently built one of the world's first 360-degree video cameras from scratch. While the camera initially was meant for Mace's senior thesis project, it was recently commissioned by REDI Cincinnati to give corporate site selectors a taste of the region using VR.
Read more>>