Visit our four Pokestops and battle for our Gym
By Sherri Krazl, Marketing and Communications, Miami University Art Museum
You might have heard about or seen a lot of seemingly strange activity related to the latest social media craze and popular app ~ Pokémon GO. Tied to the popular cartoon and Nintendo game of the '90s, this augmented reality game has users logging 5Ks and 10Ks while capturing Pokémon, visiting Pokestops and winning Gyms.
This free app has five million locations (Pokestops and Pokémon Gyms) throughout the world that are landmarks or public art or hot spot gathering places. It's likely that there are several hundreds in Oxford - the Miami University Art Museum and Sculpture Park has five of these spots in the game – all sculptures.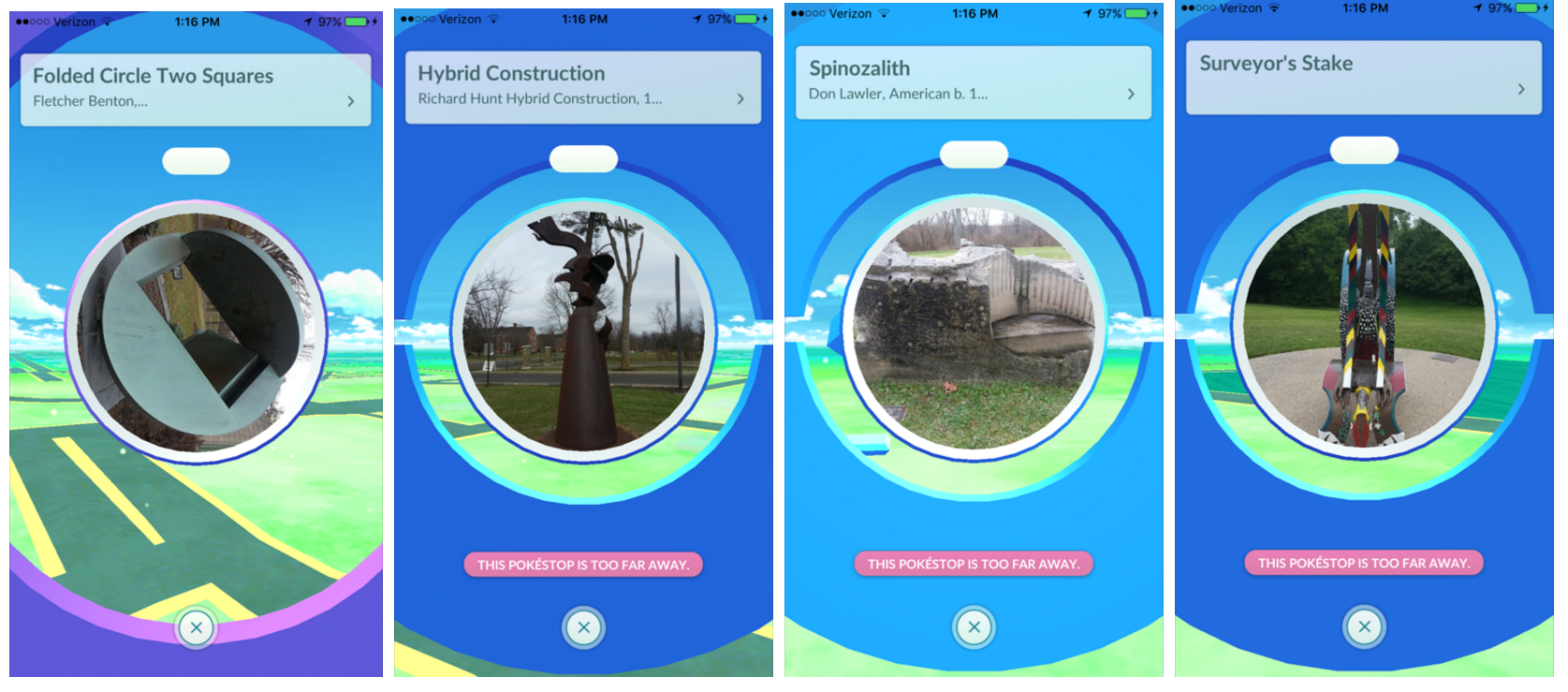 The four Pokestops at the Miami University Art Museum Sculpture Park.
ABOUT THE GAME
Playing the game has three main areas: collecting Pokémon, visiting Pokestops and winning control of Gyms (once you have reached level 5). Another fun element in the game is the ability to photograph Pokémon in front of the many cool spots on campus.
For a better explanation and a student player point of view check out the Miami University Art Museum's student blog for the latest post by Interactive Media Studies Intern Michael Dixon. http://blogs.miamioh.edu/art-museum/
Dixon is one of the seven students interning at the Art Museum this summer, and they are all playing the game. In fact some led by Interactive Media Studies Intern Brian Carrell have been helping the Art Museum create a handy google map that shows you where the Pokestops and Gyms in Oxford are located with well over 100 so far on the map, it's time to share.
WHERE TO PLAY
Pokestops and Gyms around Oxford visit https://goo.gl/n7U1oG
Oxford Ohio Pokestop Map: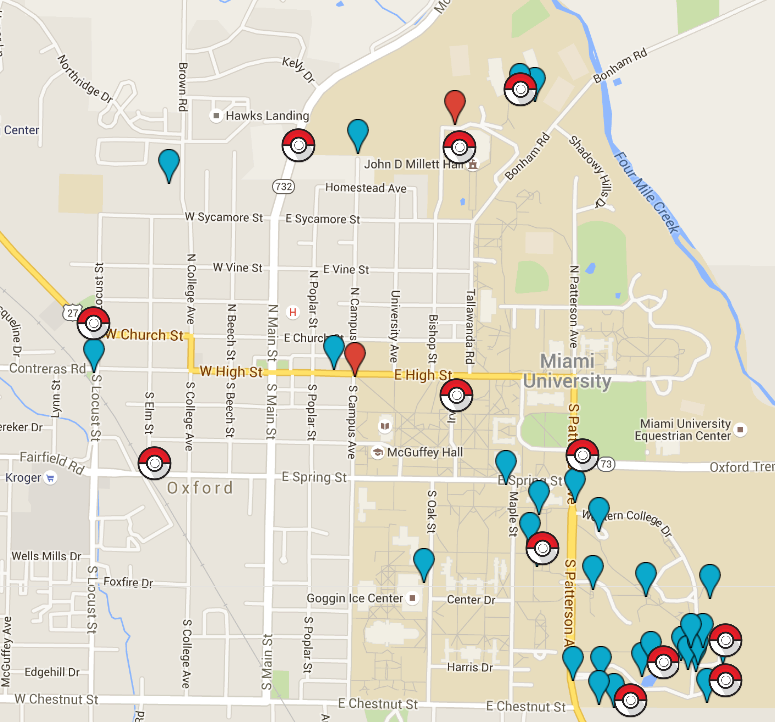 Created by the Miami University Art Museum. Brian Carrell, Michael Dixon, Melanie Hodges and Sherri Krazl
TO PLAY
To play Pokémon GO, just visit the app store or google play and download the free app. The app and playing is free though there are in-app purchase options.
As with any use of your mobile device BE SMART and pay attention to your surroundings.
Have fun and be safe!