New music chamber group coming to Miami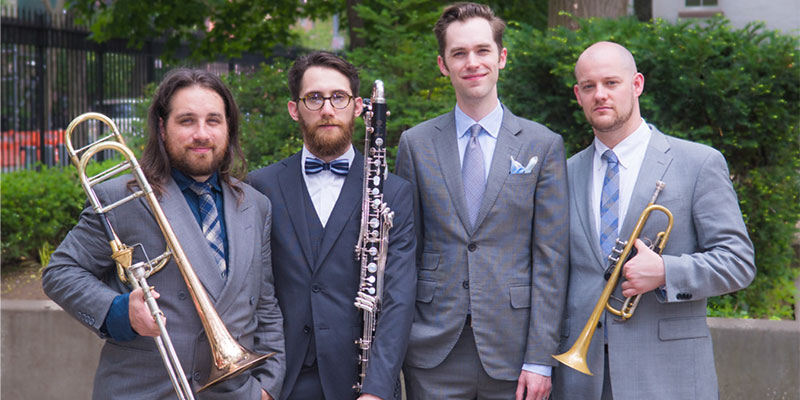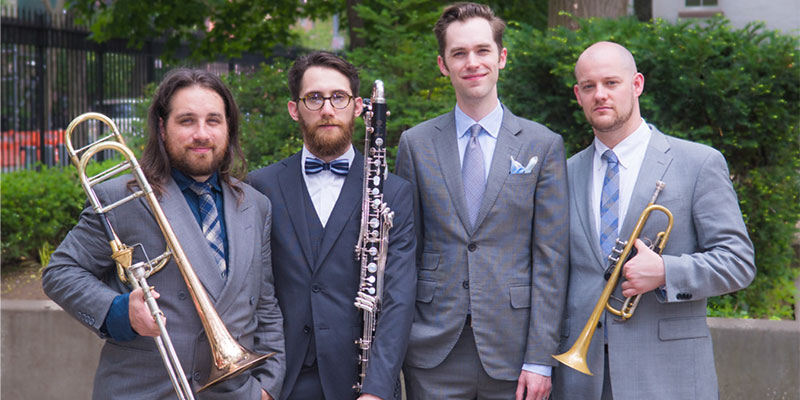 Mini-residency planned for loadbang music ensemble
Oct 25, 2016
loadbang, a New York City-based new music chamber group, will be visiting Miami University for a multi-day residency. The visit will consist of a Humanities Center lecture/presentation by members of the ensemble, workshops in several performance studios, and a culminating concert. The concert will consist exclusively of works commissioned by the ensemble, including a world premier by Miami faculty composer Per Bloland. Many of the works on the program draw on literature and integrate cutting edge technology. All events are free and open to the public
loadbang's visit will be hosted by the Miami University Electronic Music And Composition Studios. The goal of such events is to familiarize Miami students and the Oxford community in general with new and experimental music to which they might otherwise never be exposed. As such, each visiting artist is selected both on artistic merit and ability to create an exciting and friendly environment suitable for those experiencing this kind of music for the first time. The individual members of Loadbang will act as emissaries of New Music to our population at large.
This residency was made possible by the generous support of the Miami University Humanities Center, the Department of Comparative Media Studies, the Armstrong Institute for Interactive Media Studies, and the Department of Theatre.
---
loadbang Concert
Saturday November 5, 7:30pm
Souers Recital Hall, Center for Performing Arts
This concert is free, open to the public, and eligible for recital credit.
Humanities Center Lecture
The Monodrama, as practiced by loadbang
Saturday November 5, 4:00pm
Souers Recital Hall, Center for Performing Arts
Members of New York-based ensemble loadbang will present a Humanities Center lecture titled "The Monodrama, as Practiced by loadbang." Monodramas are theatrical works involving a single actor or singer, usually portraying a single character. In the hands of this four-member New Music ensemble, however, such pieces additionally "explore the porous boundary between voice and instrument where sonic and expressive capabilities blend." As such each of the performers (Carlos Cordeiro, bass clarinet; Andy Kozar, trumpet; Jeffrey Gavett, baritone voice; and William Lang, trombone) are called upon to visually engage in the dramatic narrative occurring on stage – a rather unusual activity for instrumental performers!
In their talk they will discuss various aspects of the performance process, including the effects of a more-or-less linear dramatic arc on the musical material. They will also discuss their use of technology, as called for in the scores and as realized on stage. Examples will be taken from their CD (appropriately titled Monodramas), recently released on the ANALOG arts label.
This lecture is free, open to the public, and aimed at a general audience
---
About loadbang
New York City-based new music chamber group loadbang is building a new kind of music for mixed ensemble of trumpet, trombone, bass clarinet, and baritone voice. Since their founding in 2008, they have been praised as 'cultivated' by The New Yorker, 'an extra-cool new music group' and 'exhilarating' by the Baltimore Sun, 'inventive' by the New York Times and called a 'formidable new-music force' by TimeOutNY.
Their unique lung-­‐powered instrumentation has provoked diverse responses from composers, resulting in a repertoire comprising an inclusive picture of composition today.
loadbang has premiered more than 200 works, written by members of the ensemble, emerging artists, and today's leading composers. Their repertoire includes works by Pulitzer Prize winners David Lang and Charles Wuorinen; Rome Prize winners Andy Akiho and Paula Matthusen; and Guggenheim Fellow Alex Mincek.
loadbang is dedicated to education and cultivation of an enthusiasm for new music. They have worked with students ranging from elementary schoolers in the New York Philharmonic's Very Young Composers program and the Baltimore Symphony Orchestra's OrchKids Program to college aged student composers at institutions including Columbia University, Cornell University, Manhattan School of Music, New York University, Peabody Conservatory, Princeton University, University of Buffalo, and Yale University.