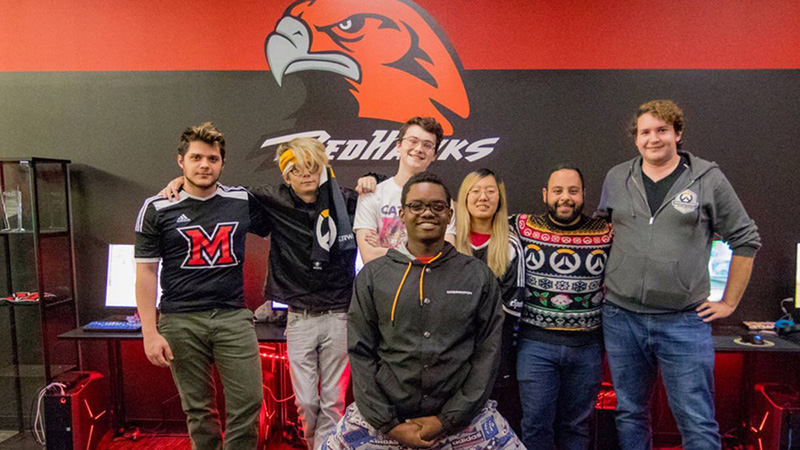 Front Row: Calvin Sanvee. Back Row (l-r): Tyler Fass, Sam Yancer, Sean Mullee, Soojung Kim, Alex Salem, and Coach Ben Decker. 
Esports at Miami
Launched in fall 2016, Miami's Armstrong Interactive Media Studies (AIMS)

varsity esports program

is believed to be the first of its kind at a top tier university. The program is coupled with Miami's digital game studies program—nationally ranked and interdisciplinary, with collaboration between the Armstrong Institute for Interactive Media Studies, (AIMS); the College of Creative Arts; t

he College of Arts and Sciences;

the College of Education, Health, and Society; and the University Libraries. AIMS, in partnership with the College of Creative Arts, hope to have a new game studies major in the next academic year.

The Miami University Overwatch team was named the winner of the 2017 National Association of Collegiate Esports (NACE) season. Miami beat Georgia Southern University in the December title match.
Overwatch is the first full semester of competition within NACE, and had 14 teams participate for the title. The RedHawks advanced to the elimination round with a near perfect record, and were named the winners after claiming a 3-1 victory against the GSU Eagles.
This is just the latest accomplishment for the division I team. In the spring, Miami's League of Legends team reached the finals at the NACE Inaugural Invitation.
Miami University's esports team debuted its state-of-the-art esports arena for the 2017-2018 academic year, and is one of 58 institutions competing in NACE this year.