Inverting Tradition to Achieve Success: How Youth At Promise and Future Teachers Can Thrive Together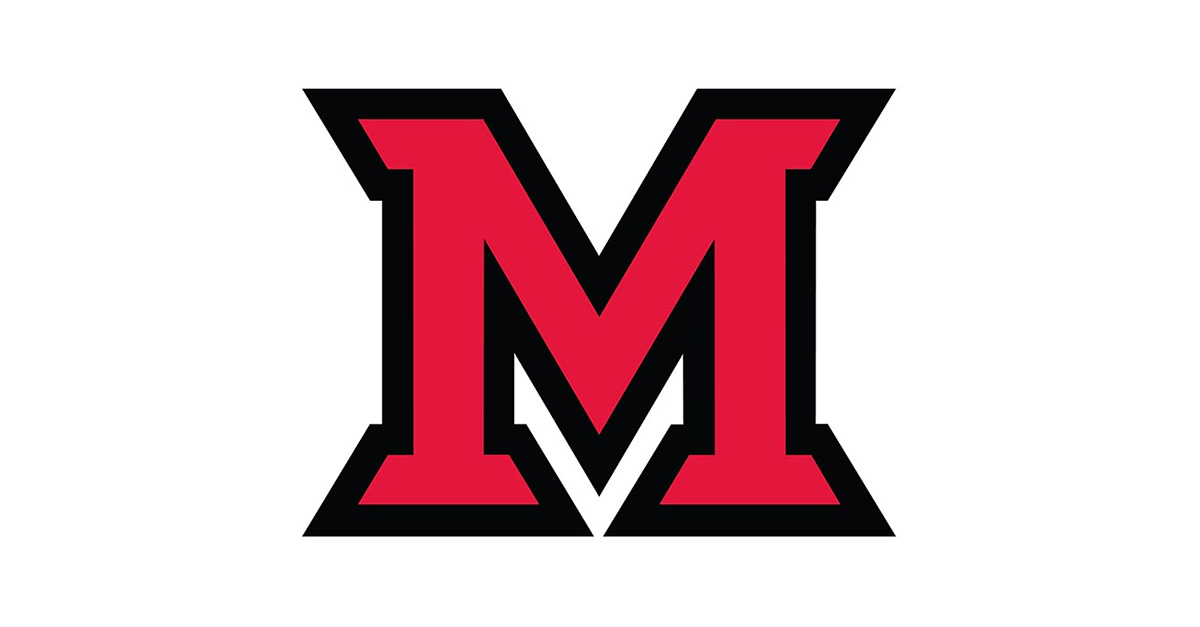 Mar 09, 2017
James M. Loy, Miami University's College of Education, Health, and Society
In a typical building, situated on the southeastern edge of Miami University, and near the local public high school, a remarkable and award-winning campus-community partnership is well underway. Here, Mr. Meade, a career-based intervention teacher, bounces between tables, answering questions and orchestrating the flow of tutors who work closely with the youths who need additional support.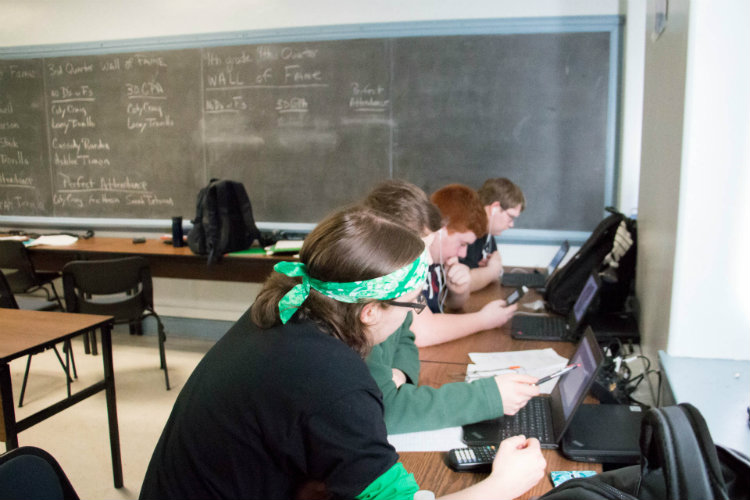 This is where high school and college students are brought together through an innovative program called "Campus Mentors," where vibrant transformations and life changing relationships are born every day, and where both mentors and mentees alike achieve goals that would be very difficult for either to otherwise accomplish alone.
Ask almost anyone involved, and they will tell you that it is highly challenging, but immensely rewarding. That it is sometimes frustrating, but well-structured, encouraging, and supportive. That it is impactful and relevant and meaningful. But, perhaps most important all, they will tell you that it is exceptionally effective.
"Campus Mentors has been such a big part of my college career," says Alexandra Conant, a Miami University Senior. "I have always been involved in mentoring relationships in many different ways, but this is unlike anything I've done before."
Designed by Miami University College of Education, Health and Society (EHS) professor Leah Wasburn-Moses, in partnership with teachers and administrators at Talawanda School District and Butler Technology and Career Center in 2009, Campus Mentors is a service learning program that prepares students for the future by helping them succeed today, and its primary goal is twofold.
First, it aims to help high school students who have been identified as needing additional academic and social support. Second, it gives university students, especially education majors studying to become teachers, the opportunity to gain first-hand experience through the individual tutoring and personal mentorships that build leadership and interpersonal skills.
As it currently exists, Campus Mentors exceeds all national accreditation requirements, offers a flexible solution to a variety of teacher placement challenges, and is supported by four key pillars that uniquely position it as an attractive alternative program. Simply put, Campus Mentors is located on a college or university campus, where assistance is provided to youths through daily academic tutoring, which is complimented with additional one-on-one mentoring.
The tutors meet with the youths regularly and assist them with a variety of subjects and projects in a classroom setting, which is overseen by a professional teacher. In this case, that teacher is Patrick Meade, a veteran with 38 years of experience.
"The program is for students who were identified as at risk," Meade explains. "So the ninth graders are students that the middle school said might need some intervention to start out high school successfully. The tenth graders are students who maybe had a bad start to high school and are behind in credits and are catching up."
The mentors are a second group of college students who, after having undergone background checks, are allowed to leave the premise with their high school mentee. Together, they explore goals, set expectations, and generally build a social rapport through an ongoing role model-type scenario. These particular students provide emotional and social support, and to do so effectively they also take an actual mentoring class with Dr. Wasburn-Moses.
By almost all accounts and measures, Campus Mentors has been incredibly successful, impactful, and effective. And, unlike so many other service learning programs, Wasburn-Moses and her colleague Amity Noltemeyer, also an EHS professor of educational psychology, actually have the data to prove it.
"Both high school students and preservice teachers are learning at the same time, and that is the foundation of the model," Wasburn-Moses says. "So you can see that from the student side, our high school students have shown improved credit attainment and GPA. They have thrived under the one-on-one assistance."
Wasburn-Moses currently directs the program, while Noltemeyer serves as the data manager, and together they regularly study its progress and potential from a research perspective that balances both qualitative reflections and quantitative data-driven evidence.
Award-Winning, Evidence-Based
Quantitatively, Wasburn-Moses and Noltemeyer have demonstrated the impact these EHS Campus Mentor participants have had on their younger mentees through an emerging body of research. In the recent article, "Initial results of a new clinical practice model: Impact on learners at risk," which appeared in The Teacher Educator, they reveal some substantial progress.
To gather data, the ninth grade Talawanda high school students were compared to an independent comparison group, which consisted of students who might also benefit from the program but who choose not to participate. The participating tenth grade students were compared to their own performance during the previous year. So this meant that both the ninth and tenth graders were compared to true comparisons group. As far as academic performance and ability were concerned, there was virtually no initial difference between either group.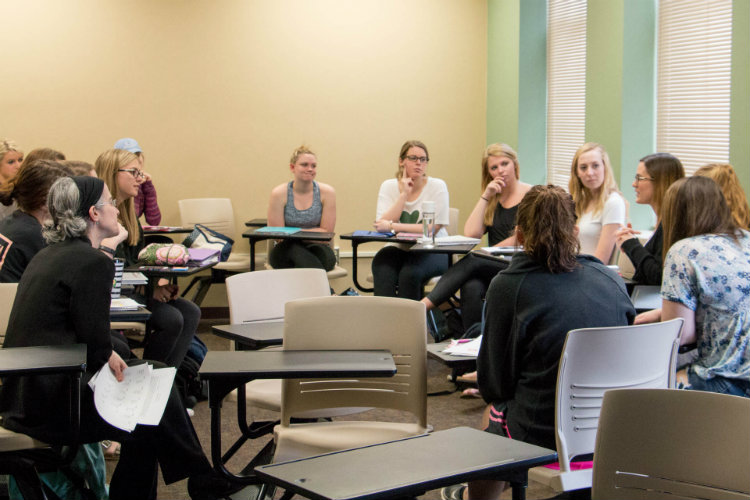 After the intervention of Campus Mentors, however, the differences became clear.
A summary of results shows that, for example, during the 2015-2016 school year alone, participating ninth grade students achieved a 2.3 GPA as opposed to the 1.4 GPA of the comparison group. They also earned over two full credits more than the comparison group. And a full 100% of participants qualified to move on to the tenth grade, whereas only 27% of the comparison group moved on.
Even better results were observed in the continuing tenth grade participants. Again, these were students who were compared to their own performances the prior year. In this case, these youths increased their GPA from a 1.5 to a 2.6 and increased their total credits earned from 4.6 to 8.3. Furthermore, additional data points also revealed similar success trends that stretched back across previous years.
The bottom line was that the data showed (and continues to show) that Campus Mentors is making a difference.
"That is actually the gold standard in teacher preparation, which is to show that your teacher candidates are making an impact on youth," says Wasburn-Moses. "So we have one of the only programs that can actually show direct impact. Because if you send students out into the field, there are so many other factors involved it is really hard to tease out the contributions of your teacher candidates."
Thus far, the program has generated six years of data, which all points to Campus Mentors as one of the most successful evidence-based practices in teacher education today. It is also beginning to attract the attention of other universities, those who are also seeking innovative ways to improve their own preservice teacher preparation and placement programs.
It has even earned Wasburn-Moses invitations to present the model at a variety of recent events including two national Council for Accreditation of Educator Preparation (CAEP) conferences, CAEP's State Alliance meeting, and the "Innovation Exchange," which was hosted by the American Association of Colleges for Teacher Education (AACTE) in Tampa, Florida.
Alongside these invitations, and because of the data criteria and rigorous evidence of effectiveness that the team was first obligated to submit, the program has also received a prestigious array of awards and recognitions. Most notably, Campus Mentors has been featured as part of AACTE's "Stories of Impact" as well as being named a "Promising Practice" by the Association for Career and Technical Education (ACTE), and more.

"There were just a handful of those awards throughout the country," Wasburn-Moses explains. "And they are wanting us to present the model as an example of an evidence-based practice in the hopes that other universities might want to replicate this program in support of their teacher preparation programs."
Innovation, Impact, Opportunity
Part of what makes Campus Mentors so innovative is a simple structure that inverts the traditional teacher placement model.
"The Campus Mentors model takes that traditional models and turns it around," says Wasburn-Moses. "Instead of sending our students to a variety of school districts, students from one school district come to our campus. So it is as if you took a classroom at a high school and you brought it to a college or university. That is a major difference."
Simply by bringing the high school students to the preservice teacher candidates, Wasburn-Moses effectively circumvents a number of growing challenges currently facing most placement programs.
The first challenge is logistical. Just transporting dozens, or even hundreds, of preservice teachers to various schools across the community can be difficult to manage. But the second, and perhaps even more complex problem, is access. Increased pressure among professional teachers to adhere to a rigid testing climate has resulted in schools that are less willing to welcome preservice teachers, who might not be able to meet the strict evaluation measurements that federal legislation demands and thus potentially damage the school's overall performance rank.
Because of its structure, however, Campus Mentors is able to overcome these problems, while also offering an easy way to supervise preservice teachers in the process. But even beyond its inverted design, the program is also innovative for another reason.
It also stands on a foundational principle that emphasizes reciprocal student learning. That is, both high school students and preservice teachers are improving at the same time, and each in their own ways. They learn from one another, acquire essential new life skills, broaden each other's respective world views, and build meaningful personal relationships.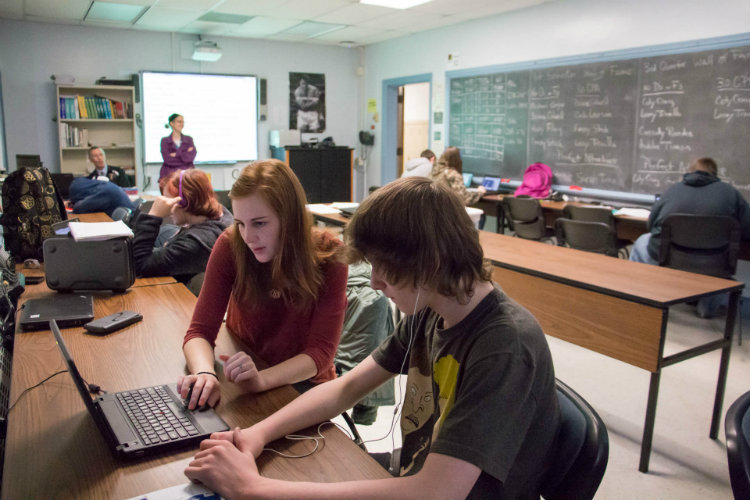 "Campus Mentors has truly changed my life perspective and I have learned so much about empathy, patience, and the power of support," says Allison Smith, current mentor and EHS special education major. "I served as a mentor to the same student for a year and a half and during that time, we were there for each other through some of the toughest times. My mentee and I became friends. In fact, she even refers to me as her big sister."
Smith's story is not uncommon. It is actually quite typical, and also serves as the basis for the team's more qualitative research.
Along with co-authors Jay Fry, a retired career-based intervention teacher, and Kari Sanders, a former Miami University graduate student, Wasburn-Moses explored similar concepts in the Journal of Excellence on College Teaching with a paper titled, "The impact of a service learning experience in mentoring at-risk youth." By using focus groups, surveys, and self-reflections, they looked at the long-term impacts and positive benefits that service learning activities such as Campus Mentors had on the college mentors themselves.
And as with the quantitative mentee data, they found the mentor benefits to be similarly substantial. Mentors reported improved communication and listening skills. They learned how to stay positive when facing multiple obstacles, how to view problems from different perspectives, and how to engage people who may come from very different backgrounds.
"Working with these high school students has opened my eyes to so many different things," Alexandra Conant says. "The students I've been paired with over the past two years grew up much differently than me, so I've learned more than I ever could have imagined."
Throughout the seven years of its existence so far, and for many, many different types of students, Campus Mentors has successfully boosted self-confidence, increased academic performance, and provided a wealth of valuable personal growth and experiential learning opportunities. In so many ways, it is a win-win scenario for everyone involved.
For the college students, this often means getting the first-hand experience they need to one day become professional teachers and community leaders themselves. They can get immediate performance feedback, learn how to manage and respond to the needs of increasingly diverse socioeconomic and cultural student populations, and to identify and respond to other at-risk children that they will likely encounter throughout their future careers.
For high school students, it is about giving them the tools and support to succeed. It is about looking toward the future, setting goals and priorities, and then taking the actionable steps that will get them where they want to be. Ultimately, it is about showing them a way through an open door that may have otherwise always seemed closed.
For Patrick Meade, as the one who gets to see the mentor-mentee interactions happen every day, it's about the personal success stories and life changing transformations that he witnesses year after year.
"If you look at the data, we certainly help high school students get their credits, bring up their GPA, usually improve their attendance," Meade says. "But I look at it anecdotally. I have students who are able to get into technical school because they were in the program and got their credits. And I will see them years later at a tee-ball game, while I am watching my grandson, and now they have children, and they will tell me that they have a successful career because this program helped them get the credits they needed to begin. And those are nice stories."