Miami alumni on the short track to the 2018 Winter Olympics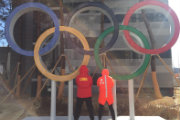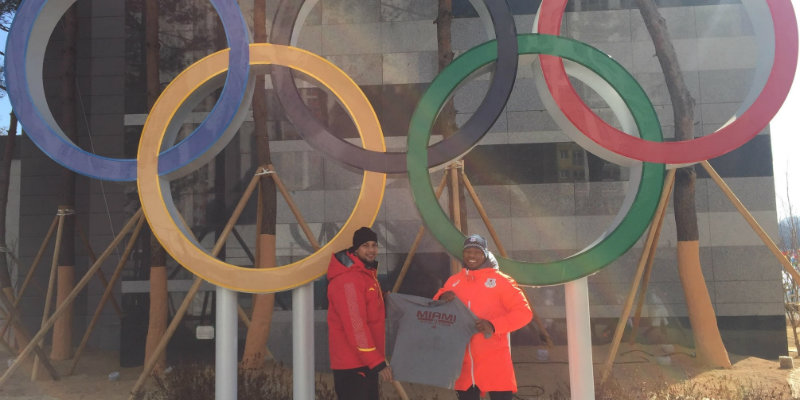 Dustin Woods '09 (left) and Tyrone Jones '12 (right)
Feb 06, 2018
James M. Loy, Miami University
Dustin Woods '09 and Tyrone Jones '12 first met on the field as Miami University football teammates. Now they are poised to meet again. But this time on the ice, and on the other side of the world, where their respective speed skating teams will compete in the 2018 Winter Olympics.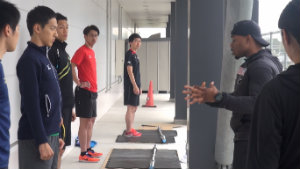 Woods is now the head strength and conditioning coach for the Chinese Olympic Short Track Speed Skating Team. While Jones is the strength trainer for Japan's National Short Track Speed Skating Team. And both are graduates of Miami, where they each earned degrees through the department of kinesiology and health.
Miami may seem like long way from where Woods and Jones are today. But the road from their college town in Oxford, Ohio, to Pyeongchang, South Korea, has been paved with the same grit and determination they have worked hard to enhance within their own athletes, especially while preparing for this world-class event, where the pressure is as extreme as it gets. 
As Woods well knows. 
He's been part of the Games before, in Sochi, where his team won two gold medals in 2014.
"It is exciting and nerve racking," he says. "Just for me to watch, I felt like I was going to throw up. It is high stakes. These athletes work for years for this moment. So it is really exciting. And especially in a sport like short track, where the unpredictable can happen. The best skater does not always win."
The intensity, the unpredictability, the inevitable collisions, and the sheer speed make short track among the more popular events. Spectators love to watch skaters race around tight turns as they glide by on a razor blade edges at speeds approaching 30 mph. But this smooth and near-frictionless flow can sometimes belie the grueling amount of control and strength this "gliding" actually demands.
Behind the scenes, it is top trainers like Woods and Jones who help these athletes achieve and maintain this level of performance. As strength coaches, they oversee the design and execution of weight training schedules, conditioning programs, and various corrective muscle exercises. And because these regimens are highly specialized for each athlete, communication is key, which only adds another layer of challenge to the role. Particularly if you don't happen to be a cultural native.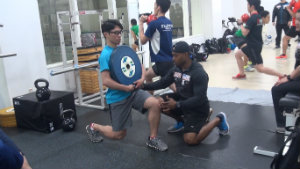 "My Japanese has definitely gotten better," Jones says with a laugh. "Instead of just implementing a new program or just telling them to do something, I had to really explain why, and in a way that connected with them on a deeper level. Once I started doing that, everything became so much smoother."
This is Jones' second year in Japan and Pyeongchang will be his first Olympics. But he's already been a part of several improvements that should help his team's chances to medal.
"This season, we definitely closed the gap on some of the other countries who were considered top in the world," he says. "As a whole, our program -- on and off the ice -- has definitely seen measureable results. Their strength has improved tremendously and they are getting faster."
His team has earned spots in the men's and women's 500, the 1000, and the 1500 meter races, where they will compete with only 10 other countries that have also placed athletes in all six events. Among them will be the Chinese team, where Woods is entering his seventh year as a coach.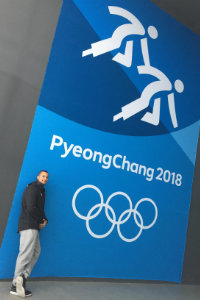 Like Jones, Woods has also had to overcome many cultural barriers and unfamiliar practices. Even after more than half a decade, "I am still in awe of some of the traditions here," he says. But his different cultural perspectives have also brought along several advantages as well.
"I am the foreigner on the team," says Woods. "So they bring me in for a lot of western ideas, philosophies, and principles. I am involved with a lot of decisions that aren't my expertise, per say. But I am always there trying to make the best decisions with them according to their traditions, as well as with what I have learned back in the States."
So far, he's recommended using nutritional supplements to counterbalance a cultural diet that's typically heavily oil-based. He's discontinued a long-held practice of giving skaters relaxant massages between heats to keep their central nervous systems "sparked" and "awake." And he's taken measurable steps to increase their overall health and fitness.
"That was the biggest difference they saw when I came here," he says. "I trained them as athletes and not just as speed skaters."
Right now, the dream of Olympic gold is alive for both teams, and both Woods and Jones are immersed in the energy and excitement as the games approach. As a journey, it's been surreal. And both also credit their Miami experience as a crucial stepping stone along the way.
"Without that Miami connection, I would very possibly not be where I am right now," Woods says. And because of his relationship with Jones back on the field at Yager Stadium, it was actually Woods who recommended Jones for his position in Japan.
"I'm looking forward to seeing my squad take on the challenge of facing the best in the world," says Jones. "The experience is even better having the opportunity to share it with someone who came from the same place as me."
It's these kinds of serendipitous connections that can happen at Miami, a place where the drive to win runs deep.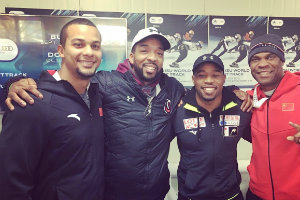 Dustin Woods (left), Tyrone Jones (center right)
"Miami breeds successful people," Woods says. "A lot of the students come here with an attitude of being successful and that's contagious. I learned a lot from that attitude. So when this opportunity in China came about, there was no thought of failure. There was no "I can't do this.' It was, 'this is what it's gonna be.'"
And even if that means it won't always be easy.
"Don't get me wrong," he continues. "It was scary for sure. But we try not to live in fear. And that always pays off because you never know what opportunities can come from whatever you do. And not just taking the opportunity, but also doing the best that you can. Because you never know who's watching." 
Most of the time, we may not. But this time, during 2018 Olympic Games, Woods and Jones know exactly who will be watching.
The whole world.