IT Services Twitter
IT Services Twitter
Microsoft Office is available, at no charge, to faculty, staff, and students through an agreement between Miami and Microsoft. This agreement allows you to install Office Pro Plus on up to 15 devices (five computers, five tablets, and five mobile devices).
---
Accessible Technology
Accessible Technology Services​ ​(ATS) was created to support accessibility initiatives across the University, providing information and services to enhance equal access for students with and without disabilities.
As part of this ongoing commitment, we've launched AccessMU, a compilation of support, policy, and training resources for students, faculty, and staff.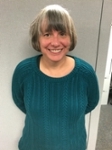 When most of us think about visiting a Caribbean island, the first thing that probably comes to mind is relaxing on a beach. Jenny Witt, an Analyst II at Miami's IT Services Support Desk has different thoughts.