Remote Work Technology Toolkit
Remote Work Technology Toolkit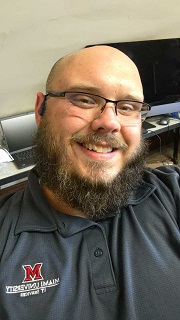 Steven Harvey is a critical part of the workings of technology on campus from a very visible place. If something doesn't work properly or you need tech help, chances are you will call him!
Zoom
You know it, you love it. Zoom is a web conferencing platform that offers key features for faculty, staff, and students as we continue learning and working remotely.
Top 3 Ways to Avoid Phishing Scams
It's National Cybersecurity Awareness Month, and that means it's time to review some common ways scammers try to get your personal information.

Read the list »
Web Conferencing Security Options
There are a variety of security features available within the web conferencing tools we employ, including Webex and Zoom. Some of these features have been turned on by default by IT Services, and some can be initiated by the meeting/event organizer either prior to, or during a session.
Security Corner: What is unemployment fraud, and how does it affect me?
Unemployment fraud is a scary concept. Let's take a look at a few important things to know about it.