1-26-21 Provost Message to Community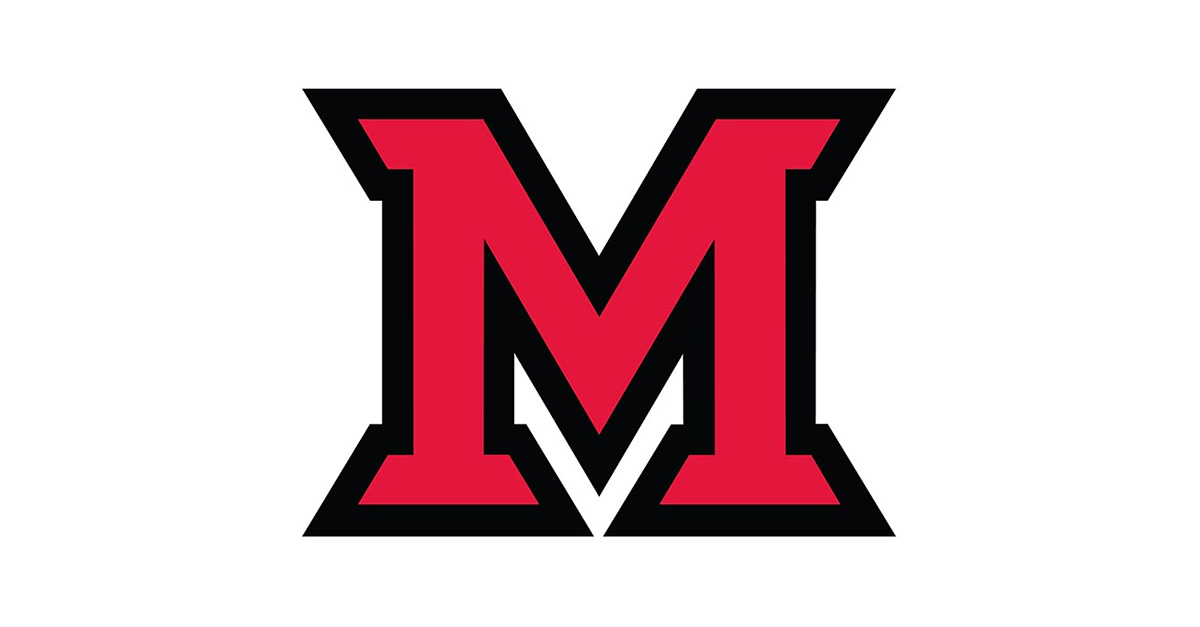 Jan 27, 2021
Colleagues,
Greetings to everyone on the first week of classes for Spring 2021. This is a brief note that will outline some information relevant to those of us in Academic Affairs as we begin classes.
COVID-19 Testing:
With more rapid testing, particularly saliva testing, available, I believe our testing operation has more capacity and is more robust than last semester, which will help us manage potential outbreaks effectively.
We are almost done with arrival testing. All students in residence halls and any off-campus students who are attending classes on campus in Oxford must have been tested before attending classes or moving into their residence halls. Faculty may ask for proof of this if they desire, and may deny anyone entrance to the class if they have not been tested.
Ongoing surveillance testing will be quicker than last semester and also have greater capacity. Currently, it appears that approximately 680 students per day, six days per week, can be tested in our new saliva testing lab, being run out of our own Microbiology department. Saliva testing is at least as sensitive as the other types of tests, and less invasive.

Approximately 100 students on internship per week will also be tested as part of their ability to maintain their internship
We are also testing staff with significant student-facing interactions. Our capacity will be about 150/day, five days per week.
Our

 

COVID dashboard

 

is now being updated regularly.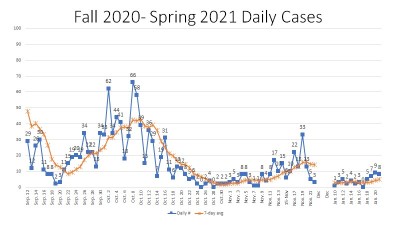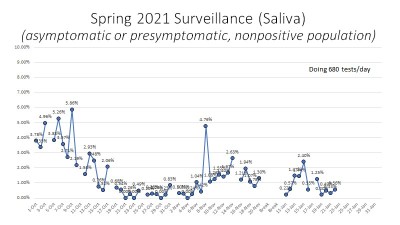 COVID-19 More Generally:
Numbers are thankfully falling across most of the nation, in Ohio, and in Butler County, from previous peaks. We are not yet back to levels from before Thanksgiving, but I hope we will continue in this positive direction.
Our numbers and positivity rates on campus/in Oxford are promising. We are currently in single-digits, similar to our best days of last semester, with far more testing. Our positivity rates are varying in the 0.3% to 1.0% positive range for surveillance testing. This is again in line with what we saw during the best days of the prior semester.
A

 

recent report by the Chronicle of Higher Education

 

summarized what we know about COVID-19 on campus. The five takeaways were:

Classrooms and formal on-campus spaces are NOT a high-risk vectors of spread with precautions in place;
Off campus gatherings were a top driver of COVID-19 at colleges;
Residence Halls could be a challenge without sophisticated surveillance; which we have;
Entry and surveillance testing is critical; which we have;
In some communities, colleges may be associated with community outbreaks; research did NOT support this link this within Ohio. 
Brief Updates:
Love and Honor,
Jason Osborne