JANUS Forum addresses foreign policy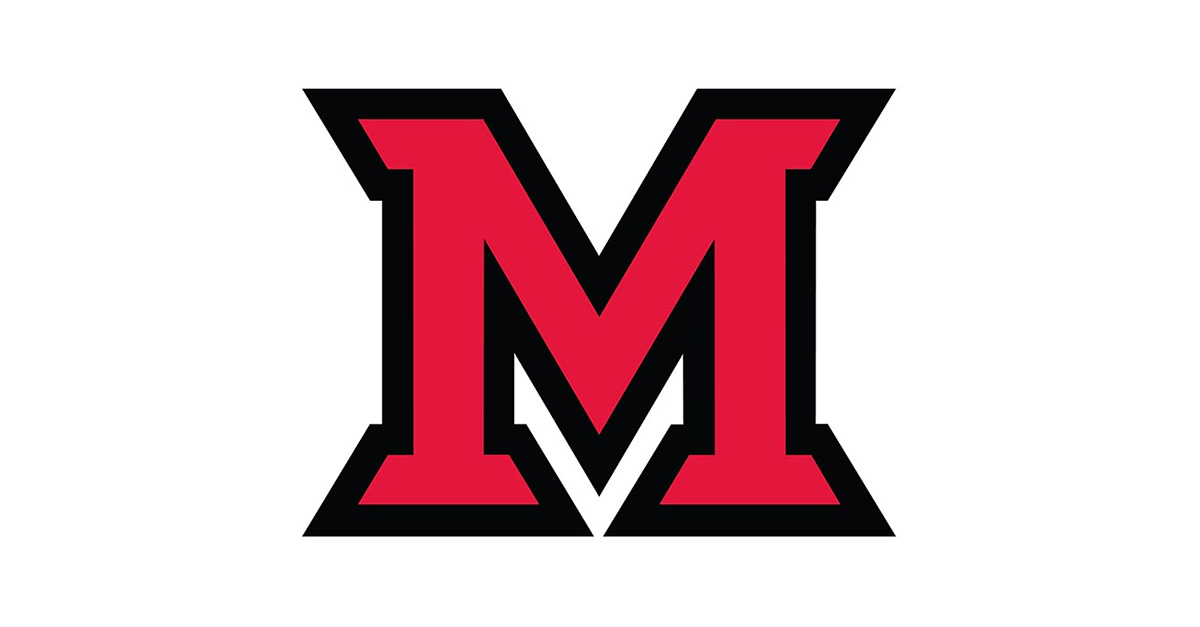 Mar 18, 2015
Written by Victoria Slater, CAS communications intern

A packed Wilks Theatre welcomed Nicholas Burns and Frances Townsend to Miami University's fifth biannual JANUS Forum last Wednesday evening, as they addressed the question, "Has the Obama foreign policy made us safer from terrorism?"
Burns is a professor of the Practice of Diplomacy and International Politics at the Harvard Kennedy School of Government, and formerly served as the U.S. Ambassador of NATO and ambassador to Greece.
Townsend served as an assistant to President George W. Bush for Homeland Security and Counterterrorism and chaired the Homeland Security Council from May 2004 until January 2008.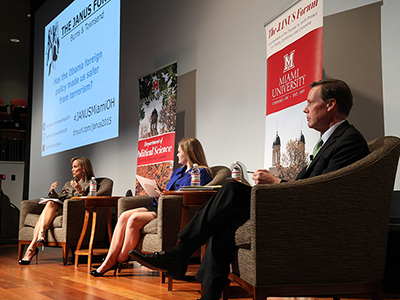 Frances Townsend, student moderator Kirsten Fowler, and Nicholas Burns
While the JANUS Forum has customarily hosted guests with opposing viewpoints, Burns and Townsend shared similar opinions, especially on one particular point: Obama needs to establish a strategy that combats the issues in Syria and Iraq head-on.
In her opening remarks, Townsend argued that President Obama's foreign policy has not made the United States safer from terrorism, mainly because ISIS remains the most dominant terrorist threat in history.
"ISIS is a much different threat than Al Qaeda," she said. "ISIS has made itself a war of escalation; increasingly they attack the near enemy—those who disagree with it, those who represent weakened governments or geographies. I think it is pretty clear that we are at a greater threat of terrorist acts now than where we were eight years ago."
In his opening remarks, Burns paid Obama credit for the death of Osama bin Laden under his administration, and said both Presidents George W. Bush and Obama have been successful at keeping America safe.
"Republican presidents, Democratic presidents, members of Congress are fundamentally focused on this battle against the terrorist groups on every continent in the world, even the terrorists among us in the United States who would do harm to our civilians," Burns said. "This is their job, keeping us safe."
Burns agreed with Townsend that ISIS should be top priority, but pointed out that the United States has yet to put a proper strategy in place. Obama, he argued, committed a "cardinal sin of diplomacy," in that he threatened military action in Syria in 2013, but did not follow through with it.
"What that told most dictators in the Arab Middle East is that we are not decisive. It painted a picture of us that you don't want to have painted—that we are a paper tiger," he said. "President Obama has a lot of time left to reverse that image."
Townsend echoed this sentiment, articulating the need for action on numerous fronts.
"Our enemies don't fear us, and our allies don't trust us," she said. "Building this strategy requires all tools of national power, law enforcement, military, intelligence, financial diplomacy. Military ought to be the last option."
In response to a question regarding Speaker of the House John Boehner's invitation to Israeli Prime Minister Benjamin Netanyahu to address Congress against Obama's wishes, Townsend shared her disappointment, particularly in a related incident.
"I'm not particularly partisan, but I thought the 47 Republicans were quite wrong," she said, referring to the letter the Republicans sent to Iranian leaders. "They made the United States look foolish."
Burns addressed another question from the audience toward the end of the forum, about how President Obama should use his remaining time in office to combat terrorism.
"I think he needs to start by advocating for a stronger military budget. We need to strengthen our military, strengthen our coalition-building, particularly against the Islamic State," he said. "We need to be confident. We are better than these groups. We are democratic. We believe in freedom. We are more powerful. We have the capacity to organize. We will prevail if we have the kind of comprehensive strategy that we need."
Senior Miami student Sarah McIlwain, who is majoring in political science and journalism, said she enjoyed the event and found it informative.
"The debate between Burns and Townsend wasn't a fiery one, but informative and interesting," she said. "Both speakers respected each other's professional opinion and to me that made their statements seem more credible. I think most students would agree that it was a successful event. I especially loved Townsend's comments on the ineffective Congress and the 47 Republicans."
Patrick Haney, chair of the political science department, said he was impressed by both the content of the forum and the students who helped organize it.
"Townsend and Burns are both extraordinary public servants who, along with our student moderator Kirsten Fowler, provided as thoughtful, nuanced, and sustained discussion of the challenges we face with terrorism today as you will find anywhere," he said.