The Ohio Writing Project, teachers learning from teachers on Miami's campus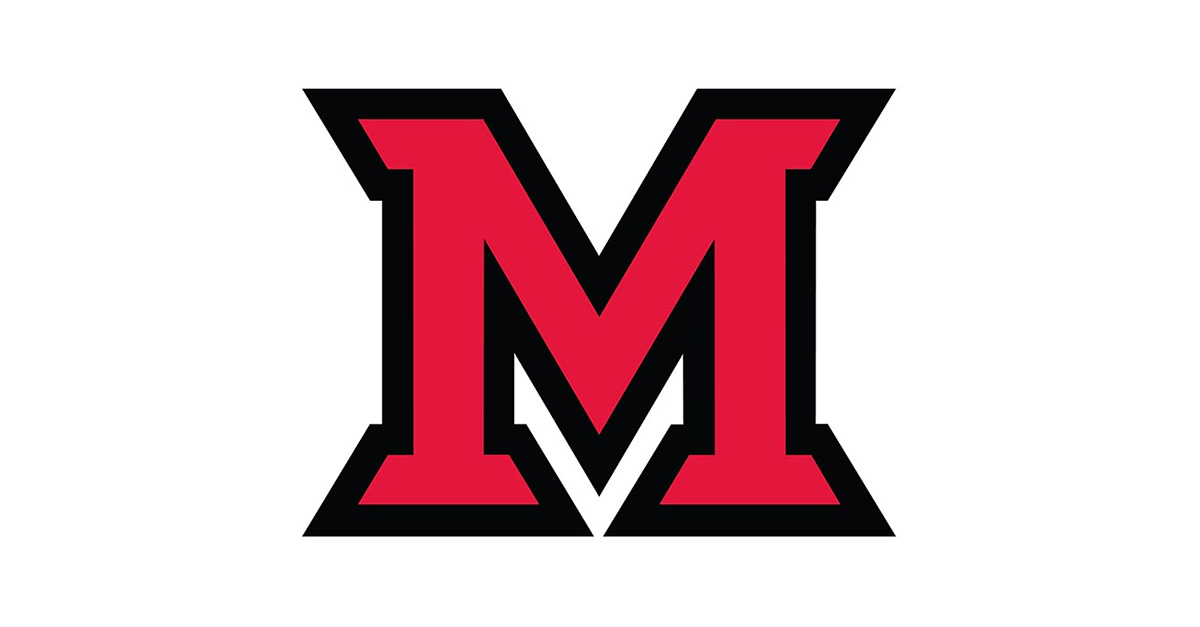 Jul 14, 2015
Written by Jack Reyering, CAS communications intern

The campus of Miami University can seem like a ghost town on most summer days. After the spring semester ends and all of the graduation festivities wind down, only a comparative handful of students and professors remain in Oxford participating in summer classes. It appears that the flow of creative and educational juices has slowed to a trickle. But there are places and times on campus where this is simply not the case.
In a classroom on the second floor of Bachelor Hall, you can find a congregation of non-traditional students, aged from their mid-twenties and up, vigorously writing in their composition notebooks. Besides all being teachers, they have at least one thing in common: their love of writing.
All of these teachers are here at Miami for a four-week workshop, The Teaching of Writing, that is part of the Miami-based Ohio Writing Project. They represent a variety of objectives and teaching backgrounds, but all share the common goal of becoming better teachers.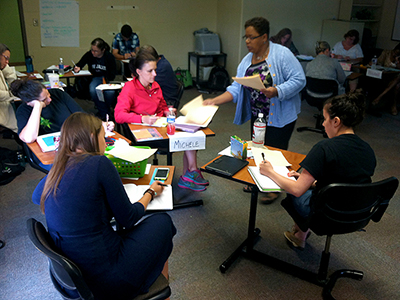 Ohio Writing Project instructor works with 'students' in the classroom.
Marchell Dace, an English language arts teacher from Cincinnati, stands in the front of the room and leads her cohorts in a writing exercise. She plays a trailer of the new Avengers movie for the class. When it's over, she asks, "If you had a superpower, what would it be? How did you get it and how would you use it?"
The class takes three minutes to write down their answers. When it is time to share, their answers are creative and unique. The room erupts with laughter at the various quirky explanations about their superpowers.
If you were listening to a recording of this session, you might assume that Marchell was teaching a classroom of 6th graders. In reality, the learners are adult, college-educated teachers from all across Ohio.
Miami: home of the Ohio Writing Project
Now in its 35th year, the Ohio Writing Project, or OWP, is just one site of the National Writing Project, a professional network for the teaching of writing. The OWP offers several different programs, including a four-week, two-week, weekend, online hybrid, and youth writing camp.
Associate professor of English Helane Androne is the director of the OWP. She and Ashley Jose, a K-12 teacher, are teaching the workshop together this year.
"Teachers earn 6 semester credit hours in the four-week workshop, or they can earn one-three hours in online or two-week workshops," said Androne. "These credits can be put towards earning a Master of Arts in Teaching. Since the masters program began in 2002, over 300 teachers have earned their degree through the OWP."
In these programs, K-12 teachers from all across the state come together to learn new and creative techniques for teaching writing that they can bring back to their own classrooms. While most of them are language arts teachers, the program is open to all educators who want to learn new and effective teaching methods to use on their own students.
According to Androne, the workshop's style is what makes it so valuable to the teachers.
"The OWP not only emphasizes learning new teaching techniques, but also encourages the participants to learn about themselves as writers," Androne said. "The teachers learn as much from each other and themselves as they do from the instructors and guest presenters."
This sentiment is echoed by current participants like Sarah Jones, an English and Spanish teacher form Cuyahoga Falls, Ohio.
"The program is about getting back into writing, a lot," Jones said. "It sharpens your own writing craft while taking ideas from each other."
"Helane and Ashley are a dynamic duo of energy, enthusiasm, and practicality," added Ben Arthurs, an English teacher from New Albany High School. "Their demonstrations set the tone for an outstanding experience."
A cohesive environment
Androne believes that the cohesive environment between the teachers created by the workshop is what allows the participants to gain so much from it.
"The National Writing Project model is all about getting all these teachers into a room," Androne said, "where they share their best practices and they read professional teaching literature, but also to rediscover themselves as writers."
There are many ways that Ohio teachers find out about the program. Some do it as an entry point for earning their masters, but most commonly, it comes from word of mouth from colleagues who participated in the workshop in years past.
Along with guests like this year's keynote speaker Tom Romano, a writing methods professor at Miami University, teachers who have gone through the program routinely come back to share their experiences.
"They talk about both what they learned when they took part in the program," said co-instructor Ashley Jose, "as well as how the program has helped them within their classrooms afterwards."
The sum of the value of all of these aspects of the OWP is encapsulated within the motto of the project: The best teacher of a teacher is another teacher.
Arthurs puts it a different way. "I have never been more inspired to return to the classroom," he said. "Ever."