Miami hosts high school outreach events to inspire careers and creativity in the sciences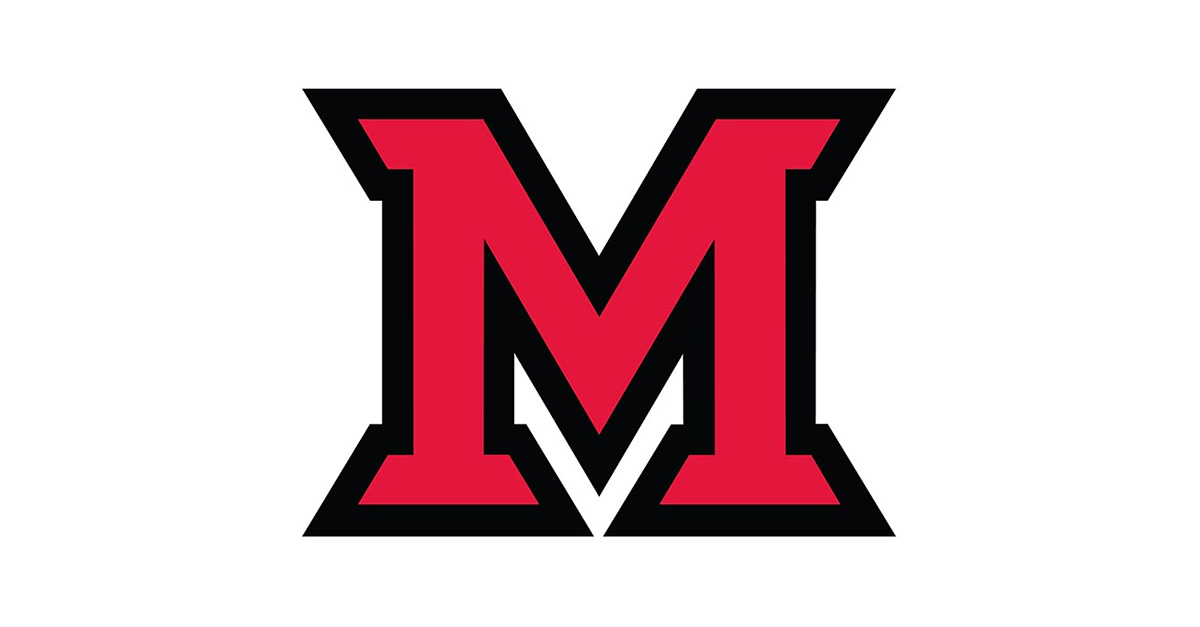 Jan 21, 2016
CIQS Day and an honor's biology lab bring area high school students to Miami for two different days of fun and educational science experiments
By Victoria Slater, CAS communications intern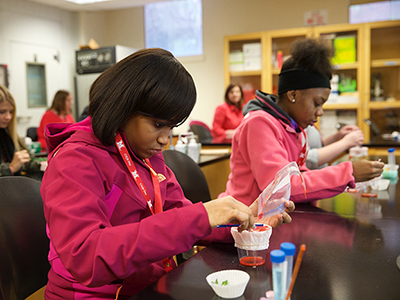 High school girls performing an experiment in the laboratory
Local school girls attended Miami University's second annual CIQS Day on January 14, hoping to kick start their careers in the STEM fields.
CIQS Day, or Careers in Involving Quantitative Skills, began last year as a collaboration between the College of Arts and Science and the College of Education, Health & Society. This year's event brought more than 150 young women from 8 area high schools to Miami's campus to participate in various science, technology, engineering and mathematics (STEM) demonstrations.
Women have traditionally been underrepresented in STEM careers, accounting for just 26% of workers in these fields, according to the U.S. Census Bureau.
"Women simply aren't treated equally in the STEM fields," said statistics professor and CIQS Day coordinator Lynette Hudiburgh. "By not taking math or other quantitative courses, women are shutting the door on so many opportunities. We really want to show them how valuable a career in the STEM industries can be."
The goal of the day was to inspire the girls to think creatively about STEM research and its applications through a variety of different sessions. Using tongue depressors, they launched gummy bears into space to determine the distance the bears can travel from certain heights. The girls received a crash course in engineering by learning how to manufacture paper. During another session, called 'It's a Good Hair Day', they analyzed the chemical composition of haircare products and discerned whether or not certain products could be damaging to hair.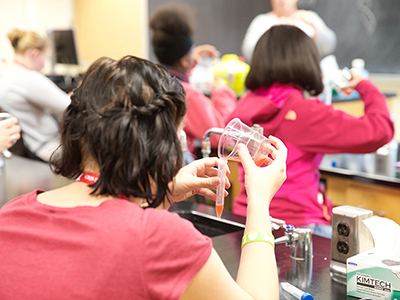 Girls performing an experiment in the laboratory
All sessions were meant to show the fun side of science, present students with different career options that require good quantitative skills, and urge them to consider participating in STEM careers in the future.
Alexa Manella, a master's student in environmental science, helped guide the students across campus to their different sessions throughout the day. She said she hopes the event will help the girls to cultivate careers in the STEM fields, or at least allow them to think of math and science in a different way.
"It's sad how unrepresented women are in these careers, because we are such a valuable asset," she said. "We bring a different perspective to these fields, we think of things differently, and if we all come together and work together, we can really complement each other."
Lonnie Black, a 10th grader from Cincinnati College Preparatory Academy who hopes to teach chemistry when she is older, agreed.
"Women can do anything men can do, and we need to realize that," she said, adding her favorite course was 'Gummy Bears in Space'.
Aspiring engineer Dominque Perry, who is an 11th grader at Winton Woods, echoed this sentiment. She enjoyed the paper making activity the most.
"This event really showed us how we can be successful if we put our minds to it and be open to trying new things," she said.
Science activities for Oxford students
CIQS Day wasn't the only high school outreach effort Miami hosted this past week. On the following day, 41 10th grader honor students from Oxford's Talawanda High School joined Miami for a biology lab where they analyzed photosynthetic proteins & pigments from the thylakoid membranes from spinach as well as several species of alga.
The day-long event incorporated a lunchtime question-and-answer recruitment session led by the biology and microbiology department chairs, Thomas Crist and Luis Actis. The students were invited to explore more hands-on opportunities in STEM fields that could await them after high school.
Rachael Morgan-Kiss, a microbiology faculty member who helped coordinate the event, said the day was extremely successful in that it inspired the local students to get involved with the sciences, and to do so at Miami.
"If you can show someone what is going on, and give them a chance to get their feet wet, you can inspire their creativity and their interest," she said. "You can provide the environment where they can begin to ask questions — to seek the truth — which is what science is all about."