Miami students hit NYC for an insider's view on news and media industries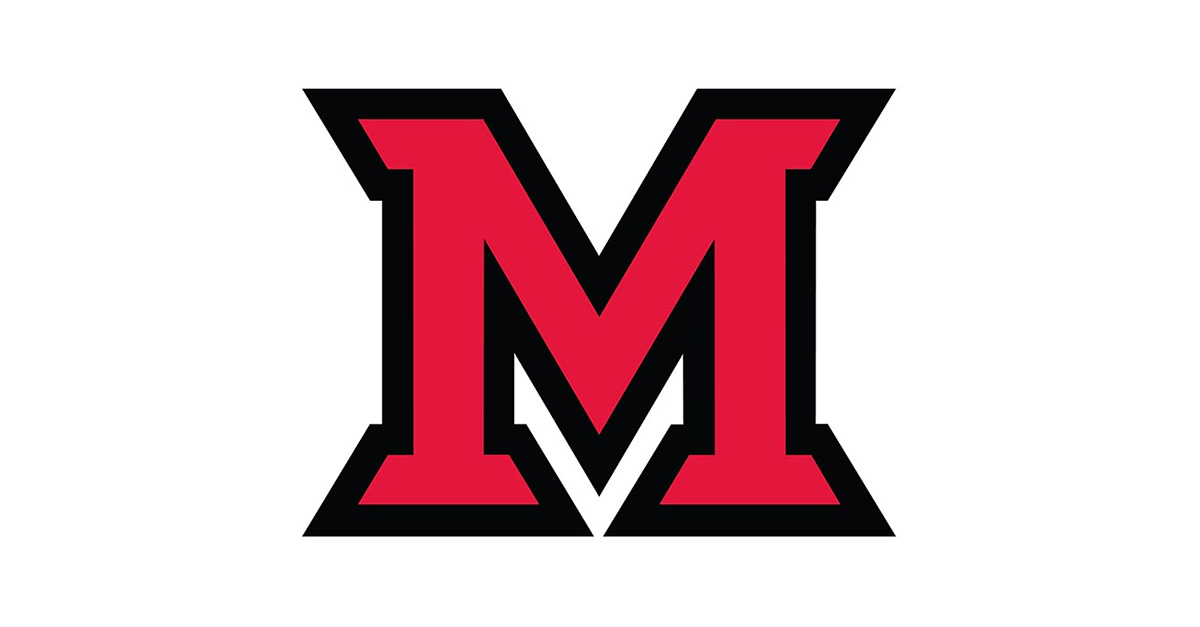 Feb 02, 2016
Written by Jason Barone, CAS director of communications
"Six days. Sixteen students. Twenty-eight guests. Miles and miles on foot and on train. And gallons of coffee to fuel the fun."
Thus begins Media, Journalism & Film (MJF) senior lecturer Patricia Newberry's blog about the NYC Media workshop, which she leads each year. Miami students spent 6 days in January, in the heart of New York City, to gain insight of the many career paths available in the world of news and media.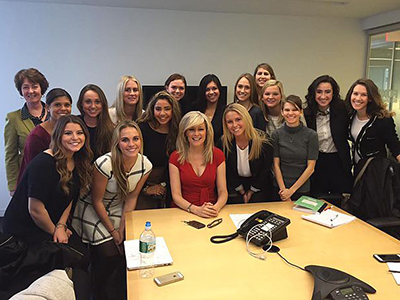 Patricia Newberry (far left) and NYC Media students with Miami alum Gerri Willis (center, in red) at Fox News (photo credit: Caroline Hoffman)
"It's really exciting to see students come to understand that the skills we emphasize in the classroom — gathering and understanding material, writing clearly, determining storylines — are essential in the world of big city media," Newberry said.
"NYC Media has created a great model for a workshop," added MJF chair and professor Richard Campbell. "It's been so successful that we're using it as a model for summer trips to Cuba and other locations."
Students dropped by over 20 different contemporary news and media organizations, including The New York Times, Fox News, Bloomberg News, NBC's The Today Show, Buzzfeed, and Vice. Prominent Miami alumni, such as Bill Hemmer and Gerri Willis at Fox News, Andy Martin at Bloomberg, Sarah Karlan and Shannon Rosenberg at Buzzfeed, and Jane Frye at ABC's The View, gave students in-depth perspectives on their roles.
"Our guests told us that media jobs in New York are abundant, but getting the job you want is work," Newberry said. "They all offered lots of valuable advice to help give students an edge as they seek jobs after graduation."
With majors that include journalism, strategic communication, and media and culture, students in the NYC Media workshop spend their first week doing research on different media organizations to understand their mission, finances, and content. Then, once in the Big Apple itself, they spend another week conducting live interviews with journalists and other media professionals. After returning to Miami, they summarize what they had learned in detailed blogs about their experiences.
"Overall, these meetings gave me a greater insight about the growing digital world," wrote junior journalism and marketing major Caroline Hoffman in her blog. "I was also happy to see that print isn't really dying like everyone thinks it is, and that many publications have found a way to keep their readership strong."
NYC Media participants with Larry Wilmore, host of The Nightly Show with Larry Wilmore (photo credit: Catherine McDonald)
Identifying "the rise of digital and online media" as an important trend in the media industry, sophomore English/creative writing and journalism major Laura Fitzgerald felt encouraged by the career advice her group received to work hard and gain lots of experience. "It takes a few steps before anyone can make it to The New York Times, but that path exists," she wrote. "It was very encouraging to see so many Miami graduates becoming successful with their degrees."
"I feel more confident than ever about where I will be after graduation from Miami," wrote sophomore strategic communications major Jordan Nuckolls, echoing her classmates. "I already feel more than equipped with the tools and resources necessary to make my mark in the world of journalism and writing."
Junior Anna Zoldesy, a double major in media & culture and sports leadership & management, summed up her experience by recommending the workshop highly to her fellow students. "From the guests to the sightseeing and simple New York experiences, I am so happy that I was able to be a part of this trip," she wrote. "[This workshop] is top-notch and a learning experience that you cannot come close to receiving at Miami in Oxford!"
The next NYC Media experience will take place during Winter Term 2017. Interested students should contact Professor Newberry for more information.
2016 NYC Media participants, with blog links, were: