National political figures present a three-way discussion about "Is This Any Way to Elect a President?"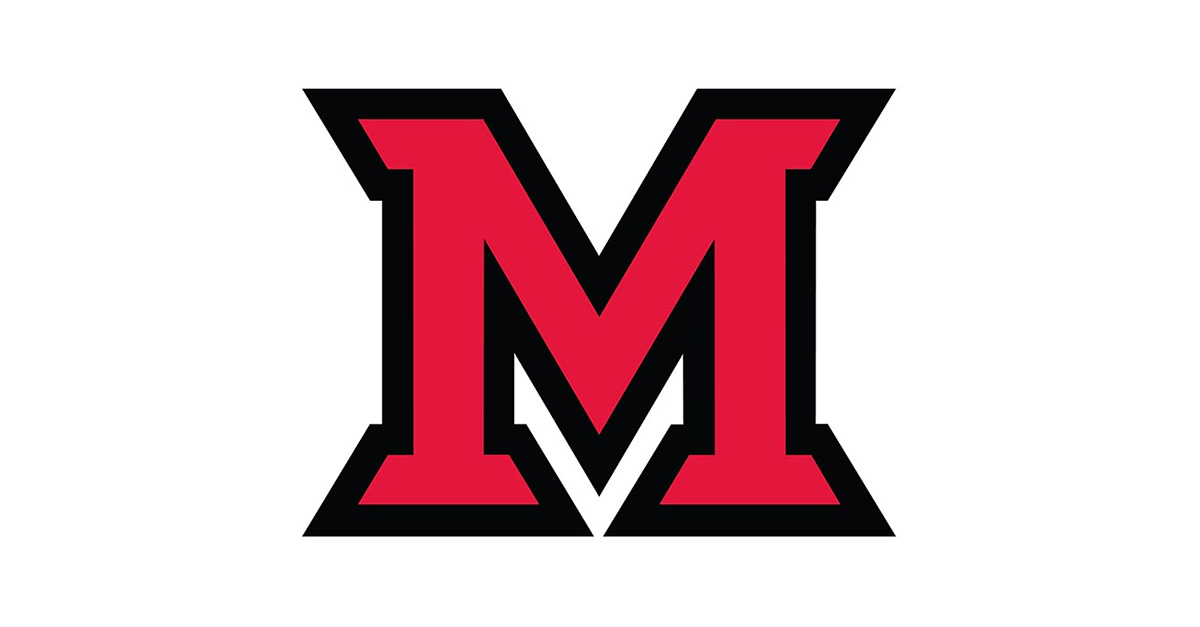 Mar 18, 2016
Written by Bonnie Meibers and Victoria Slater, CAS communications interns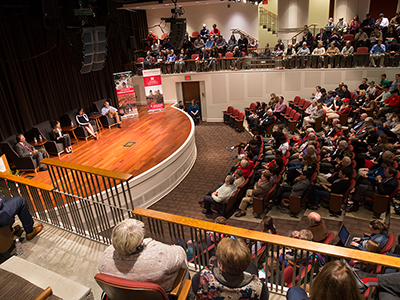 A packed audience enjoys the Spring 2016 Janus Forum.
A full house in the Armstrong Wilks Theatre welcomed well-known political figures James Carville, Alex Castellanos, and Anne Compton on Wednesday, March 9 for Miami's seventh Janus Forum, a biannual debate that encourages the community to convene and openly discuss opposing views on a specific topic.
The three guests offered their own points of view and answered audience questions in a forum entitled, "Is This Any Way to Elect a President?", which was chosen to reflect the nation's preparations for the upcoming presidential election.
Senior journalism and economics double major Greta Hallberg moderated the event and solicited audience questions via Twitter as the guests each took their turn to speak.
First to take the stage was Ann Compton, a reporter who served as a White House correspondent for ABC News Radio for 41 years, including during 9/11. Her role at the Janus Forum was to provide a journalist's unbiased perspective on the presidential race.
"2016 is the first election where I am not out in the field covering, but look where we are in communications," she said. "All of you have smartphones. These are the only tools a journalist needs — you can become your own journalist."
Spring 2016 Janus Forum participants (left to right): Greta Hallberg (moderator), James Carville, Anne Compton, and Alex Castellanos
Next came James Carville, a political consultant and co-founder of Democracy Corps, who spoke on behalf of the Democratic Party. He urged audience members with a passion for politics to pursue their dreams, even if others try to dissuade them.
"Don't let them talk you out of it," he said. "If you have a passion for it, if you want to make a contribution to our society, then that's all the reason to get involved. Don't let the naysayers tell you that it is just a dirty business."
Finally, Alex Castellanos, founder of NewRepublican.org and a regular commentator on CNN, represented the Republican Party by sharing his remarks.
"My definition of politics is doing politics with purpose," he said. "We get the government we deserve. We get the government we work for."
After the three speakers' opening remarks, the event proceeded into a question and answer session, with most questions coming from the audience via Twitter.
One of the first audience questions was for Castellanos, who was asked why he thought Mitt Romney had not endorsed a candidate yet.
Castellanos suggested that the GOP would turn to Romney if the election came down to a tie between Donald Trump and Ted Cruz. Which is why, he said, Romney asked Republicans to keep the field open.
"Maybe he could slide into the phone booth at the convention, put on his cape, and pop out," he said.
Castellanos and Carville explained the concept of delegates and superdelegates as well as winner-take-all states, like Ohio — or as Carville charmingly called it in his Louisiana accent, 'Ohier'.
The question on most audience members' minds, however, was this: What do the speakers think of Donald Trump?
"If Trump were to win, I would be the biggest fool that you could imagine — my theory would be blown to smithereens," Carville said. "Trump does not reflect what I see, the way America is changing."
Compton was critical of the way the press has covered Trump during the election season.
"For the American press, there has to be some real soul searching after 2016," she said. "How we covered campaigns and how the American people are to get the basic, good, solid, important information they need to be good voters."
Castellanos said he was "scared" of Donald Trump winning the Republican nomination for president, but he understands why voters might be turning to him as a way to breathe new life into politics.
"People have had it with our current government. No one is offering up anything new," he said. "When nothing is working, people fall to the authoritarian, the strong man. And to many, that is what Trump represents."
"Carville, Compton, and Castellanos were some of the most engaging speakers we have ever had," said sophomore Madeline Zick, the Steering Committee Chair for Janus. "It was refreshing to see them challenge each other's perspectives yet freely engage in camaraderie before, during, and after the forum."
Samantha Bredael, a sophomore chemistry major, attended the Janus Forum and came away from the lecture feeling more knowledgeable.
"It was really interesting that none of the speakers really sided with either of the highly talked about candidates, Donald and Bernie," Bredael said. "It definitely has made my voting decision more informed."