Miami's Constitution Day Conference brings in nationally recognized scholars to provide modern context to the U.S. Constitution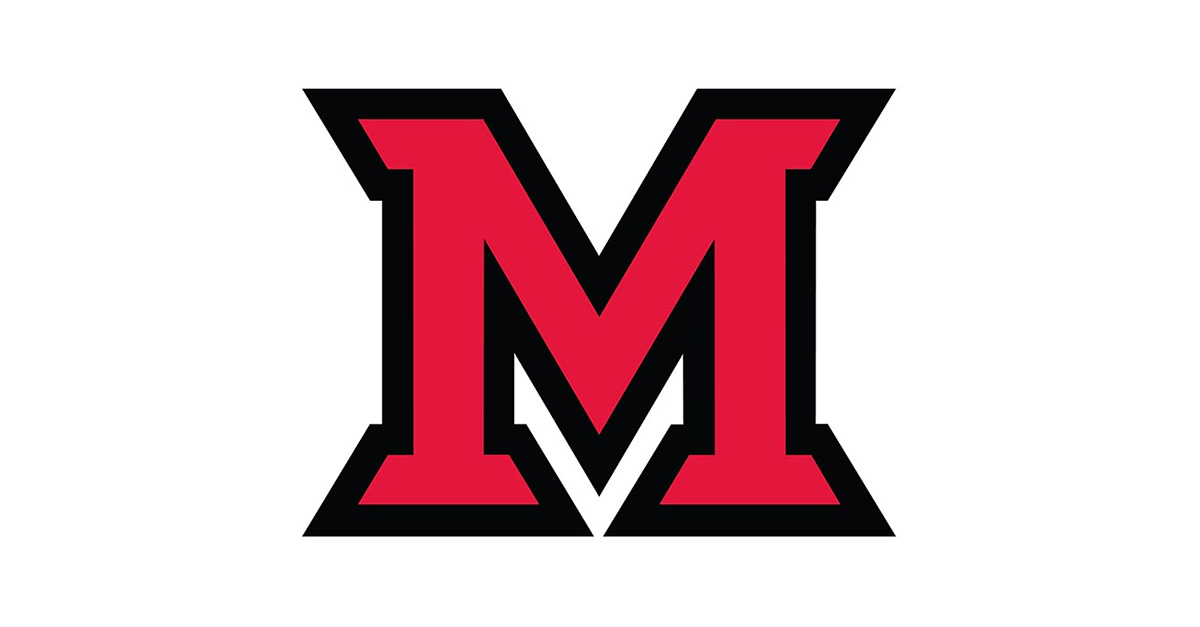 Oct 04, 2016
Written by Mary Allison Casey, Bonnie Meibers, and Rachel Zetwick, CAS communications interns

On September 22, the Miami University Janus Forum, in partnership with the Jack Miller Center, presented the Constitution Day Conference in Armstrong Student Center.
Focusing on both historical and modern interpretations of the U.S. Constitution, the day-long event consisted of two moderated roundtable conversations followed by a final presentation from two constitutional experts: Yale Law School professor Akhil Reed Amar and Director of the National Constitution Center Jeffrey Rosen.
The Supreme Court and Its Future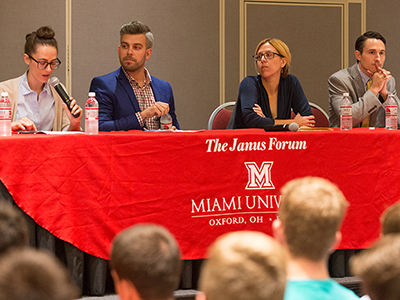 The Supreme Court and Its Future panelists (left to right): Chloe Bakalar (Princeton University), Michael Zilis (University of Kentucky), Laura Moyer (University of Louisville), Adam Seagrave (University of Missouri)
The first roundtable discussion, entitled "The Supreme Court and Its Future," was moderated by Sara Rosomoff, a junior majoring in economics and minoring in political science and Spanish. Each of the 4 presenters discussed their views on how the Supreme Court will be changing after this year's upcoming presidential election. They also shared how these changes will or should occur, in terms of such issues as online privacy, the prevalence of women in the Court, changing public approval, and the overall legitimacy of Supreme Court justices.
Chloe Bakalar of Princeton University began by addressing the Supreme Court's hesitancy to adopt new technologies and the fact that the development of the internet has led to "zero privacy," even though Americans still value privacy within their lives.
"The Supreme Court is slow to adopt new technologies," she said, questioning if the Court should have the ability to delegate rights such as privacy regulation.
Miami 2007 alum Michael Zilis of the University of Kentucky focused his conversation on the legitimacy of the Supreme Court and how public approval of the Court's handlings has reached an all-time low in recent years.
"This question of legitimacy is one we should care about in respect to the courts," he explained. The nature of the Court, he added, "has become much more harsh [and] very much facilitated by the press."
Laura Moyer of the University of Louisville talked about the demographic composition of the court and how this can affect future decisions. She highlighted that a lack of female justices may alter its decision making process, since women's decision making is often quite different than that of men. The Supreme Court demographic makeup, she added, would gain legitimacy if it "looks like America."
Finally, Adam Seagrave of the University of Missouri brought attention to the Court's "tenuous relationship to the people." He brought up James Madison's Federalist No. 39 essay and how the government must derive its power either directly or indirectly from the people.
Portraying the Constitution as the "will of the people" and the Declaration of Independence as the "American mind," Seagrave argued that, thanks to changing politics, neither the Constitution nor the Declaration are reflective of these original intents.
The Constitution and Its Future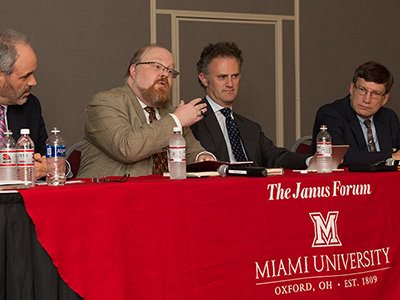 The Constitution and Its Future panelists (left to right): John Forren (Miami University), Alex Vacca (Northrop Grumman), Nathan Sales (Syracuse University), Bradley Smith (Capital University)
The conference's second roundtable, entitled "The Constitution and Its Future," was moderated by senior political science and business economics major Madeline Zick. It also featured 4 experts, who shared their perspectives on what's to come in interpretations of the honorary historical document.
John Forren, a Miami Hamilton campus professor affiliated with the Department of Political Science and focused on justice and community studies, began the discussion by outlining how constitutional change takes place. He was careful to note that a significant amount of legal action affecting what is considered "constitutional" has occurred outside of the Supreme Court, which is commonly held accountable for national deviations from our Founding Fathers' vision.
"Policymaking is taking place in every part of our complex, somewhat sloppy, decentralized judiciary system," Forren explained. He urged students to consider legislative decisions mindful of their long-term implications, citing individual liberties cases which inadvertently inspired harmful counter-legislation at the state level.
Next was Miami 1995 alum Alex Vacca, who now works for Northrop Grumman, a leading aerospace and defense technology company. He offered his opinion about the constitutional rights of individuals versus commercial entities.
"If you think about all of the 'terms and conditions' that we have 'read and agreed to,'' you'll realize how many of your preferences, geolocations, and temporal data you've shared," Vacca cautioned. "We can take questions of personal significance and consider them of commercial significance."
Development of market research technology has far outpaced Congress's ability to respond, he continued, and personal liberties have gravely suffered as a result.
Nathan Sales, a 1997 Miami alum and professor at Syracuse Law School and Bradley Smith of Capital University Law School, provided the roundtable's prevailing opinion that individuals need to be more cautionary moving forward.
"Actors other than the judiciary system are responsible for how our social values are mapped onto constitutional legislation," Sales contended, arguing that citizens are too quick to shirk blame for their legal system and seek protections on a case-by-case basis.
"Overkill on the regulatory front creates constitutional theories that dictate what is considered acceptable and what needs protected," added Bradley Smith from Capital University Law School, noting that widespread deference on enforcing the Constitution in its entirety has already irrevocably changed the system. "Moving forward, it's these theories about 'moderation' that will shape our Constitution."
"Celebrating Constitution Day: A Conversation"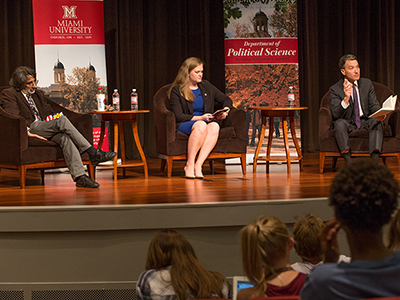 Celebrating Constitution Day: A Conversation keynote presenters (left to right): Akhil Reed Amar (Yale University), Kirsten Fowler (Miami University student moderator), Jeffrey Rosen (National Constitution Center)
Keynote presenters Dr. Akhil Reed Amar and Jeffrey Rosen joined the stage together at the end of the conference to offer their overview of Constitution Day's ultimate significance and relevance to modern-day Americans. Kirsten Fowler, a senior majoring in diplomacy & global politics and political science, served as the moderator.
With a note of irony, Rosen told the audience that Dr. Amar was his first Constitution professor at Yale. As a legal commentator and journalist, he praised his former teacher for introducing him to the subject he holds close to his heart. For his part, Amar called Rosen his "friend" and one of his "favorite students ever."
"My assignment today is to commemorate Constitution Day," Rosen began, pulling out his book Louis D. Brandeis: American Prophet, which he had written about the former associate justice of the Supreme Court. Brandeis, he said, could teach Americans today more than any other figure about how to translate the values of freedom of speech and privacy in light of today's technology.
"We need to control the expression of our unexpressed thoughts, sensations, and emotions in order to protect anonymity, liberal dissent, and cognitive liberty itself," Rosen said. When thinking about constitutional law and trying to translate what the framers meant when they wrote the document, he added, he often asks himself: "WWBD — what would Brandeis do?"
Amar then explained to the audience that while Rosen's job requires him to look at the Constitution in a nonpartisan way, his own job requires just the opposite.
"My mission as a professor is to profess the truth as I see it," Amar said.
One nonpartisan thought that Amar shared was that the time periods before and after the Constitution should be thought about as separate entities.
"If you're Christian, you separate history into BC and AD," he said. "You should do the same if you're secular: BC, before the Constitution, and AD, after the document — that's what makes your modern world."
Democracy changed everything, Amar argued, adding that other countries modeled their democratic values from America's.
"I loved hearing from the variety of experts that the Janus Forum brought," said Olivia Vandervoort, a senior majoring in political science. Many of the Miami classes she has taken, she added, are directly related not only to the Supreme Court and the Constitution's future but also to how the U.S. will proceed next year with a new president in the Oval Office.
Amar acknowledged the upcoming presidential election by emphasizing how significantly it relates to the Constitution and our nation's ever-changing interpretations of the document. "It's a constitutional decision that you'll be making in November," he told the audience at the end of his presentation.
Rosen agreed, saying, "You should vote for the presidential candidate whose views of the Constitution coincide with your own."
For more details about the Constitution Day Conference, read the September 2016 CAS press release Janus Forum celebrates Constitution Day with roundtable discussions and special guests.
See Janus Constitution Day Conference 2016 for additional information about the event.