Shideler Hall to showcase exciting renovations and career opportunities with alumni workshops, keynote speakers, and ribbon-cutting ceremony Oct 10-13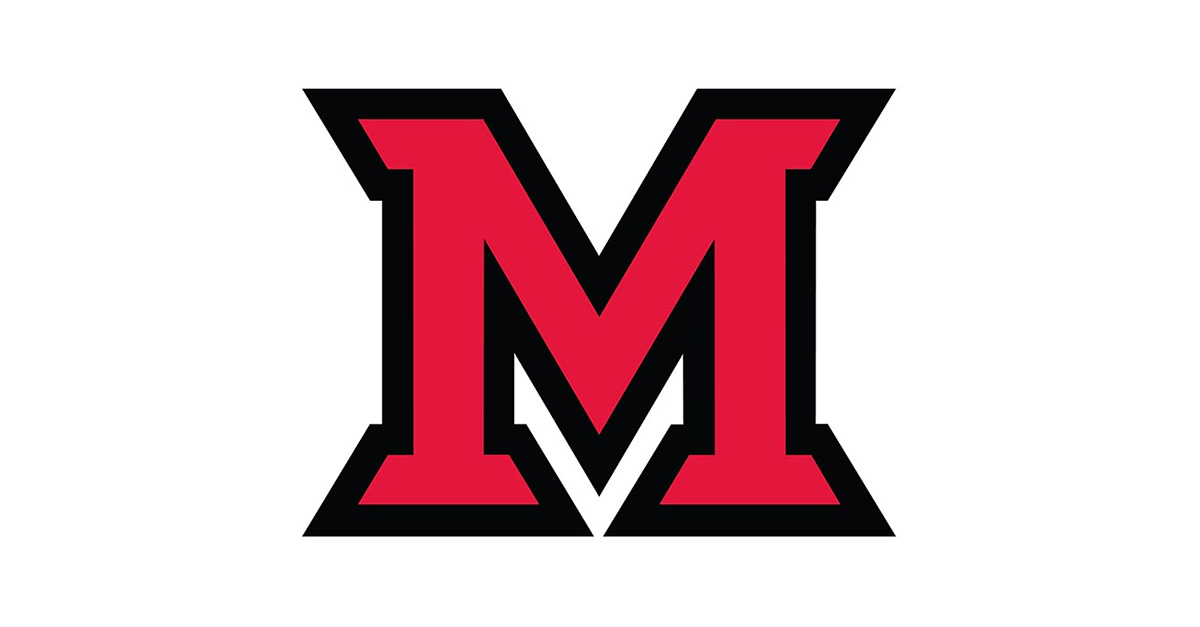 Oct 06, 2016
Written by Jason B. Barone, CAS director of communications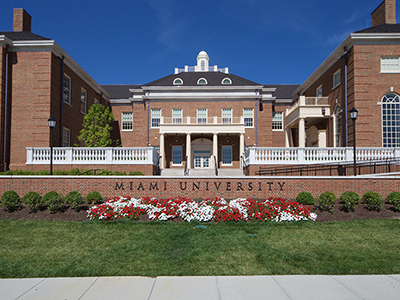 Shideler Hall from the south
Although the recently renovated Shideler Hall has been open for classes in the interdisciplinary geosciences since this past January, a special series of presentations and activities for 4 days this month will officially introduce its expanded and enhanced collaborative spaces for teaching and research to the general public.
As Miami's home for its geography, geology & environmental earth science, and environment & sustainability programs, Shideler features specialized classrooms and research spaces, a large 3D digital interactive globe, a multimedia auditorium, the updated Limper Geology Museum, and the new, state-of-the-art Geospatial Analysis Center (GAC).
Monday, Oct 10 will feature alumni workshops and career panels with a roundtable, where students can learn about numerous career opportunities in geology and environmental earth science, environment and sustainability, and geography and planning. Special geology workshops on Monday, October 10 and Wednesday-Friday, Oct 12-14 will highlight alumni representatives who will share tips and insight about careers in the environmental and petroleum industries, respectively.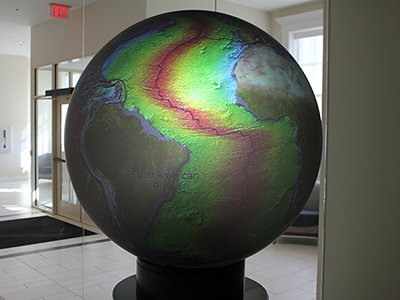 Shideler Hall's 3-D digital interactive globe
On Thursday, Oct 13, the official "re-opening" will be celebrated with a day-long schedule of presentations by keynote speakers, research poster sessions, building tours, and finally a ribbon-cutting ceremony and reception that will be attended by new Miami president Gregory Crawford, university provost Phyllis Callahan, College of Arts and Science dean Chris Makaroff, and Ohio state senator Bill Coley.
The week of events is sponsored by Miami's Department of Geography (GEO), Department of Geology & Environmental Earth Science (GLG), and Institute for the Environment & Sustainability (IES).
"We are excited to invite the public and the Miami community to help celebrate the reopening of Shideler Hall," said Liz Widom, professor and chair of GLG. "It's now a state-of-the-art facility for interdisciplinary geosciences representing the culmination of more than 3 years of planning, construction, and establishment of a vast array of modern and innovative teaching and research facilities."
Scheduled keynote guest speakers on Oct 13 are:

John Hughes, professor of geology at University of Vermont and former chair of Miami's geology department

Cynthia Sonich-Mullin, director of the US EPA National Risk Management Research Laboratory and graduate of the IES master's program

Paul Robbins, director of the Nelson Institute for Environmental Studies at the University of Wisconsin

"We're really pleased by the availability of new teaching and research spaces," said Bruce D'Arcus, associate professor and chair of geography. "They present new opportunities to expand our work in geographic information science (GISci), remote-sensing and mapping, development, planning, and sustainability."
Schedule of Activities
Monday, October 10: Career Exploration
4th Environmental Geology Workshop
9 am - 12 pm; 242 Shideler
Alumni from the Dept of Geology & Environmental Earth Science present career information about the environmental geology industry.
Career Panels
4 - 5:30 pm
Alumni from GEO, GLG, and IES participate in 3 concurrent career panels and participate in a discussion led by graduate students:
GEO Panel (32 Shideler)
GLG Panel (52 Shideler)
IES Panel (1 Shideler)
Career Roundtable
5:30 - 7 pm; 32 Shideler
All 3 panels convene to discuss specific career-related topics in a roundtable format. Students have the opportunity to network, learn about a variety of careers, and get detailed insights into their questions. Light refreshments will be available.
Wednesday, October 12: 8th Annual Petroleum Geology Workshop & Opening Talk
8th Annual Petroleum Geology Workshop
10 am - 8 pm; 239 & 242 Shideler
Throughout the day, GLG alumni from the petroleum industry will give presentations and hold discussions about careers in petroleum geology.
Additional presentations will also be offered on the mornings of Oct 13 and 14. Contact Cathy Edwards (edwardca@MiamiOH.edu) for the full schedule.
Geology & Environmental Earth Science Opening Presentation
4 - 5 pm; 32 Shideler
Emeritus geology professor William Hart: "A Brief History of the Department"
Thursday, October 13: Keynote Speakers and Ribbon-Cutting Ceremony
GLG Keynote Talk
11 am -12 pm; 152 Shideler
John Hughes: "Mineral Resources in the Future: An Example Using Apatite"
Lunch and Student Research Poster Session
12 - 1 pm; 32 Shideler and hallways
IES Keynote Talk
1 - 2 pm; 152 Shideler
Cynthia Sonich-Mullin: "Protecting Our Drinking Water for the Future: A Systems Approach to Protect Human Health"
Student Research Poster Session
2 - 3 pm; throughout Shideler Hall
Snacks will be provided.
Guided Tour
2:15 - 2:45 pm; leaves from Shideler Foyer
GEO Keynote Talk
3 - 4 pm; 152 Shideler
Paul Robbins: "No Going Back: Surprise, Serendipity, and Epiphany in a Changing World"
Student Research Poster Session
4 - 5 pm; throughout Shideler Hall
Snacks will be provided.
Ribbon Cutting
5 - 5:30 pm; front porch of Shideler
Gregory Crawford, President of Miami University

Phyllis Callahan

, Provost of Miami University
Chris Makaroff, Dean of the College of Arts & Science
Bill Coley, Ohio State Senator
Reception
5:30 - 7 pm; Shideler Foyer
Additional Information
For more information about these October events and activities at Shideler Hall, contact:
For more about the Shideler building renovations, see the December 2015 CAS press release New Shideler Hall to feature a geospatial analysis center, redesigned geology museum, 3D digital globe, and more innovations.