Students from Miami's nationally ranked Mock Trial Team leading and judging 2nd annual MockHawk Tournament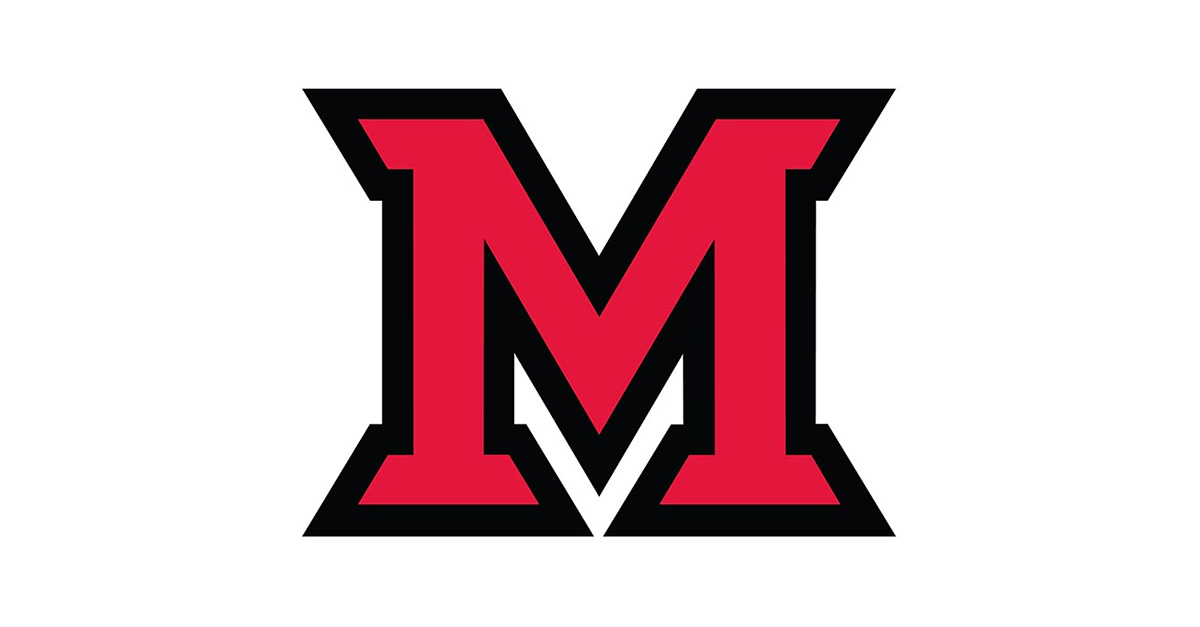 Dec 07, 2016
16 different high schools with a total of 22 teams to compete at Miami on December 18
Written by Lindsey Donohue, CAS communications intern

For its second year, the MockHawk Tournament will be sponsored on campus by Miami's James Lewis Family Mock Trial team (widely called Miami Mock Trial, or MMT). According to the Miami Mock Trial website, the team has "won more than 15 regional championships, with more consecutive appearances than any other program and more All-Americans than any school east of the Mississippi."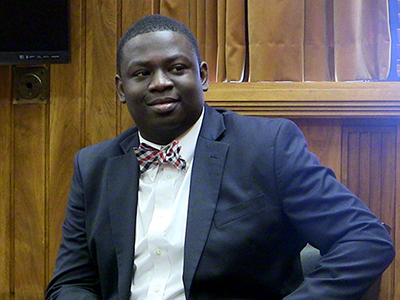 Imokhai Okolo catches his breath moments before being cross-examined by Duke University at the Grand Ole Tournament (Vanderbilt University, November 2016). Miami A, with Okolo's help, would go undefeated against Duke University.
MMT was founded in 1993 by a group of undergraduate students who were interested in pursuing careers as trial attorneys. This past April, MMT placed second in their division and third overall at the 2016 American Mock Trial Association National Championship Tournament held in Greenville, South Carolina.
Thanks to 2016 Miami and MMT alum Ben Sandlin, MockHawk is the only tournament in the fall semester open to Ohio high school competitors, giving them a chance to compete before District Competition in the spring. Almost 20 high school teams will be competing on Sunday, December 18 at the Farmer School of Business.
"The tournament gives high schoolers valuable experience," said Sandlin, who is now attending the University of Cincinnati College of Law. "Our judging pool is comprised primarily of current MMT students."
"The tournament has a twofold purpose," said Neal Schuett, the MMT coach and a visiting assistant professor of finance. "Along with providing experience and competition to high schoolers, MockHawk gives our own students the opportunity to give back to the community, allowing members to volunteer as judges."
Close Friendships Born out of Rigorous Competition
As the MMT website proclaims, "Winning isn't the goal; it's the outcome." Miami is one of the nation's top mock trial programs due to the students' dedication and hard work. They are also doing what they love, while making friends and building a second family.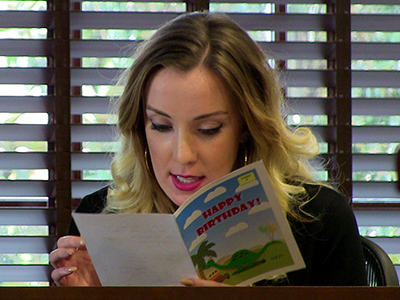 Senior All-American Miami Mock Trial Team member Maria O'Keeffe testifies for Miami A at the Grand Ole Tournament (Vanderbilt University, November 2016).
Miami senior Chase Shelton, who is triple majoring in political science, English and philosophy, got involved with MMT his freshman year. "I did mock trial in high school and wanted to move to the next level when entering college," he said. "I'm really happy I continued with it, because MMT has become my home at Miami for the past 2½ years!"
"One of my favorite parts about MMT is that it allows me to focus on something completely removed from all of my science classes," said zoology major Reeti Pal. "It has given me a broader perspective and also pushed me far outside of my comfort zone to improve my public speaking and communication abilities."
MMT members travel several weekends each semester to compete in various national and regional tournaments, so their bonds tend to be very strong.
"Being on the mock trial team at Miami has completely defined my college career," Shelton said. "The bulk of my friends are my teammates, and MMT takes up the bulk of my free time. It has afforded me opportunities I never would've had otherwise, and it's an honor to compete with some of the most intelligent students in the nation."
MMT president Henry Leaman, who is majoring in history with a minor in business legal studies, also decided to join the organization his freshman year after competing for 4 years in high school. Echoing Shelton's comments, he explained that MMT is a large reason for his choice in coming to Miami, with the close knit group becoming a second family to him.
"They're a group of friends who have supported me when I needed them most," said Leaman. "Sure, I've learned public speaking, rhetoric, and organizational skills, but the biggest takeaway has been the people around me."
Shelton, Pal, and Leaman encourage anyone who is interested in MMT to reach out to them to discuss more about what it is like to be part of one of the most hardworking and accomplished teams in the country.
"We also want current Miami students to know that the trials are open to the public to come watch," added Schuett. "And, if they have high school or collegiate mock trial experience, judges are always needed!"
High Schools Participating in MockHawk on December 18
Indian Hill (Cincinnati, OH)
St. Xavier (Cincinnati, OH)
Danville Local Schools (Danville, OH)
Orange (Pepper Pike, OH)
Jefferson Local Schools (Jefferson, OH)
Perrysburg Exempted Village (Perrysburg, OH)
Reading Schools (Reading, OH)
Springfield High School (Springfield, OH)
McAuley (Cincinnati, OH)
Pickerington Local Schools (Pickerington, OH)
Oak Hills (Cincinnati, OH)
Sycamore (Montgomery, OH)
Northmont (Clayton, OH)
Elder (Cincinnati, OH)
Mother of Mercy (Cincinnati, OH)
Talawanda (Oxford, OH)
"This is a well-represented spread of Ohio that also encompasses our champion from last year, Indian Hill, and our runner-up, Reading," said Sandlin. "State-level competition is the highest level available to Ohio high school mock trial teams, and all in all we're very happy with the diversity of schools that signed up this year."
"As a former high school competitor, I know what a fantastic opportunity the Mockhawk Tournament is as a preparation for the real competition season for high schoolers in the spring," said Pal. "Hopefully these students will be encouraged to continue participating in Mock Trial once they're in college."
Visit Mockhawk High School Mock Trial Tournament for more information.