ACE Program, with over 300 new students last fall, maintains its strong campus presence into the new year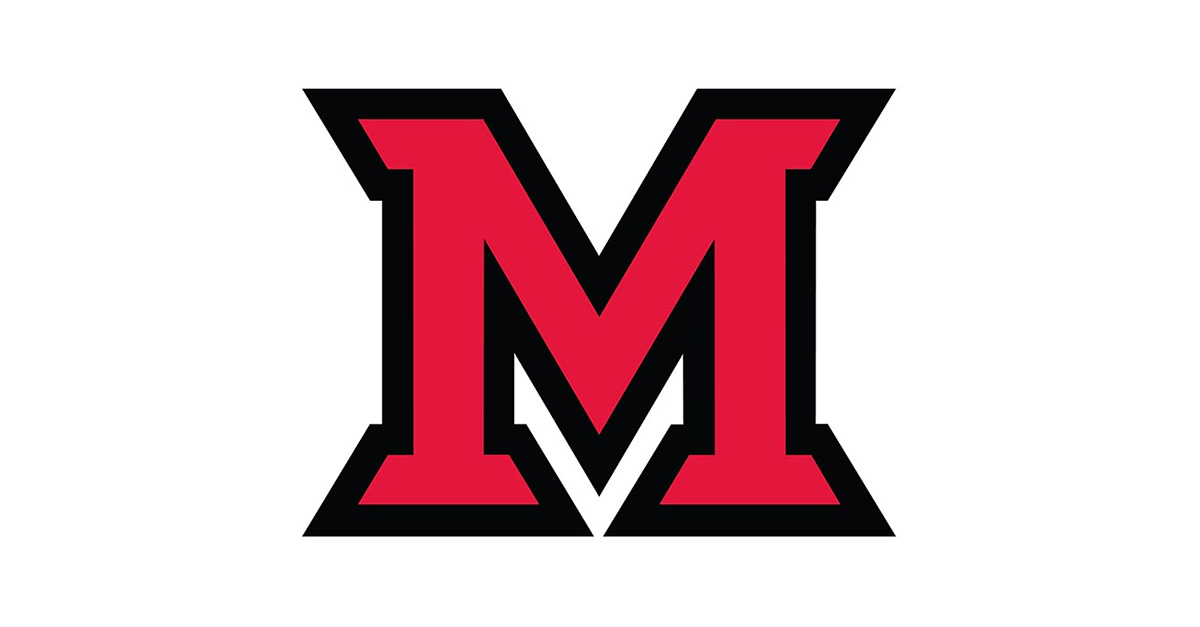 Jan 12, 2017
Written by Imani Harris and Riley Steiner, CAS communications interns
On a warm Thursday night last autumn in Bachelor Hall, dozens of students gathered together in two classrooms. They grabbed slices of pizza and sat in groups of 5 or 6, introduced themselves to each other, and began to talk about everything from clubs at Miami to travel to the 2016 presidential election.
Some groups played word-association games, and some drew cards with questions on them to spur the conversation. Someone drew a card that read, "What is the strangest thing you've ever eaten?", which kicked off a conversation about bizarre foods.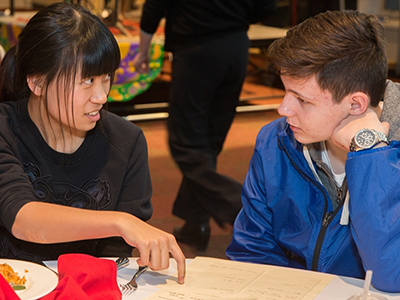 An international ACE student shares a conversation with a domestic participant.
This is a night of Conversation Café, where international and domestic students meet to talk, have fun and get to know each other. But Conversation Café is only one part of Miami's American Culture and English (ACE) Program.
The ACE Program targets those students from foreign countries, mainly China, whose high school transcript, extracurriculars, and interests are on par with other Miami students but need to boost their English language proficiency to excel in regular Miami courses.
Conditionally admitted to Miami for one semester, they take courses devoted to speaking and listening, reading and writing, and American culture. After meeting these requirements, they can then enroll as regular Miami students beginning in the following semester.
Carol Olausen, director of the ACE Program, carefully picks out classes and other programming for these students to help them better acclimate to their new surroundings and get them culturally engaged—not only on campus, but in the overall community.
"These students and their parents are super excited to come here," said Olausen. "I got to go to China last summer to speak with some of the students, and they were looking forward to meeting new people and trying new things."
Perspectives from an ACE Alum
The ACE program has grown quickly in the past few years. Senior Jieyin Liu was an ACE student during the 2014-2015 academic year. Coming to Miami from China, she found it very different from what she knew back home.
"Everything looks different," Liu said. "The culture is different, the food is different, the learning styles are different. You kind of need to take a little bit of time to adapt."
Liu's involvement with the ACE Program provided her that opportunity. She says it helped her adjust to Miami, both in class and out.
"Because I didn't just directly get into a hard class, ACE helped me to learn Miami's learning style and gave me extra time to get to know the school and culture, versus diving into school without knowing anything else," she said.
Liu also was able to make friends with other international students, since some were in a couple of the same classes.
"I feel that ACE students perform better in other classes than international students who go right into Miami Plan," she added. "We practice reading and writing in a very authentic way, so we are more prepared."
The ACE Program has continued to grow its opportunities for international students. Close to 300 ACE students enrolled in the Fall 2016 semester, and around 50 new ACE students are expected to arrive for this spring.
View from a Current ACE Student
Amelia Burgos is a current ACE student, coming to Miami from Panama. When she was trying to decide where to attend college, her academic advisor back home suggested Miami.
"I've always wanted to come to the U.S. because of all the opportunities we have to get involved," Burgos said.
One of the things she loves about coming here, she says, is the interaction between professors and students.
"When I got to campus, I loved the connection between the students and staff," she said. "I like the system, in which professors have conferences with students. I get the feeling that they care and they really want you to learn."
Former student Liu agreed, saying that in China she was used to classes with 200 students. Here at Miami, she said, "you are much more engaged with the teacher, and they have much more time to focus on individual students."
In order to help ACE students not only with writing and grammar, but also with carrying out conversations that domestic students have every day, Olausen recruits peer tutors to engage with ACE students on a more casual and direct level.
Bridging the Linguistic and Cultural Divide
The ACE Program offers numerous activities to bring students together across campus, including conversational activities in various residence halls, additional orientation workshops, and the Oxford Empty Bowls Project, where students decorate and donate bowls to raise funds for ending hunger and increasing awareness of food insecurity in Butler County.
Sophomore Spanish and zoology major Maggie Laing is an ACE conversation partner who loves working with ACE.
"It's my dream job," she said, "because after graduation I want to teach English as a Second Language (ESL)."
"Education doesn't just belong to one culture or another," Olausen added. "There is a lot of great conversation to be had between cultures. We need to be able to appreciate and get to learn each other's differences."
Besides classwork, ACE students converse with domestic students about how to navigate a relationship with an American roommate, how to take full advantage of extracurricular opportunities, and more.
Burgos jumped right into the many student organizations that Miami has to offer. She plays intramural soccer, is a member of Toastmasters, and plays on the Quidditch team. When she feels homesick or overwhelmed by homework, these are ways for her to relax and have fun with friends.
"That's the main reason that I wanted to come here to the U.S. so badly," Burgos said. "Since I was in elementary school, I wanted to find ways to get involved. One of my best friends is on the Quidditch team, and they're amazing people. It really helps you adapt."
Although ACE students and domestic Miami students have demonstrated an interest in engaging with each other, cultural and linguistic differences can sometimes pose a challenge.
"Sometimes when you take class with domestic students, it's kind of hard to engage in their conversations," Liu said. "And if the teacher says, 'Let's form a group,' you always see Asian students group together and domestic students group together. Students who don't communicate well are often shy, so they will wait for a teacher to assign them to a team."
Freshman political science major Justice Hubbard, an ACE conversation partner, agreed that the language barrier can be an intimidating challenge for domestic and international students alike.
"There are words and phrases that we, as domestic students, intuitively know," Hubbard said. "For the international students, you can tell that there are some things that just fly right over their heads. It works vice-versa as well, though. They have their own sayings and idioms that I believe are a lot funnier than some of ours!"
Looking beyond ACE
Laing believes that as international students move beyond the ACE Program with the skills they learned, the language barrier will become less of an obstacle, and domestic and international students will be able to engage more with each other.
"The international students think maybe they'll make more domestic student friends when they get to choose non-ACE classes next semester, and I definitely agree," Laing said. "There'll be more opportunities for the two groups to communicate."
ACE is always looking for domestic students to get involved, either as tutors or just someone the ACE students can talk to or get coffee with.
"It can be intimidating for the domestic students," Olausen said. "But just know that our ACE students are just as nervous. It's a great program to get involved with, and it's a lot of fun!"
"I didn't think it would go this smoothly, but it has," Burgos said. "It has gone over my expectations."