Miami's third annual CIQS Day encourages young women to pursue STEM fields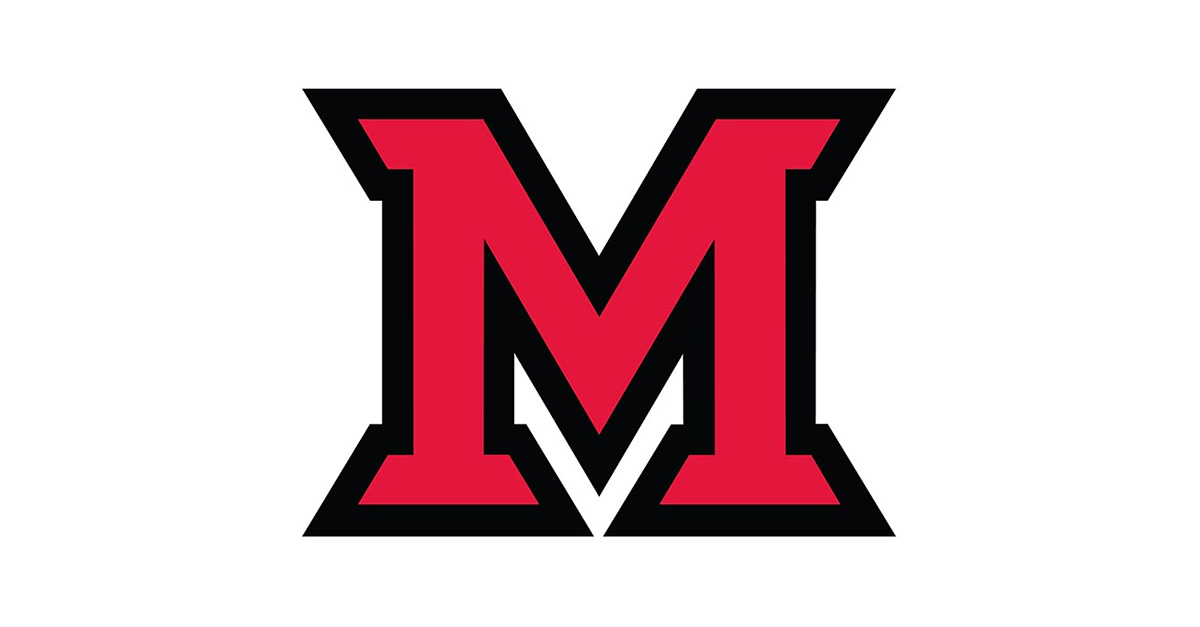 Jan 18, 2017
Written by Madison Witherell, CAS communications intern
On Tuesday, January 10, the College of Arts and Science's Department of Statistics partnered with the College of Education, Health and Society to host its 3rd annual CIQS Day for 109 girls representing 7 regional high schools.
The idea of CIQS, or Careers in Involving Quantitative Skills, is to allow young women interested in STEM (science, technology, engineering, mathematics) professions to visit Miami's campus, interact with students and faculty, participate in department-led activity presentations, and meet alumni who understand the importance of honing high-caliber quantitative skills.
"Before CIQS Day, there was a similar event on Miami's campus inspired by Sonya Kovalevsky, the first major Russian female mathematician," said Lynette Hudiburgh, statistics professor and CIQS Day coordinator. "We revamped that program and expanded the focus from math to all STEM fields."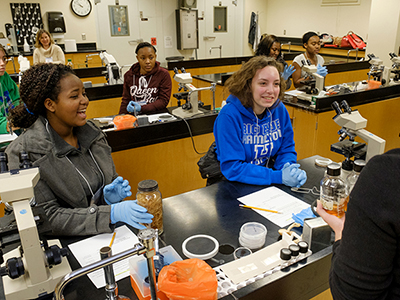 Several CIQS 2017 participants receive instructions for a laboratory experiment.
According to the U.S. Census Bureau, women are underrepresented in STEM, accounting for just 26% of such workers. Hudiburgh explained that she wants girls to understand how important it is to close the gender gap in the STEM fields.
"Different genders bring different strengths," Hudiburgh said. "Women are typically more outward-focused and bring more compassion to these areas."
Through the activities and presentations during the day, the high school girls saw firsthand how their love of math and science could translate into a related career. This was one of Hudiburgh's main goals for the event.
"We want young women to be aware of all the different career options in STEM," she said. "You can do anything with good quantitative skills."
CIQS Day began at 8:30 am with a welcome speech from Dr. Renate Crawford, and then it was jam-packed until 2 pm with hands-on activities, a student panel, and 'Women in Industry' presentations — all of which combined learning with fun.
Many of the high schoolers' favorite parts of the day were the CIQS activity sessions, which allowed the girls to think creatively and work directly on different aspects of STEM.
"My favorite activity was 'Teamwork in Engineering'," said Talawanda High School sophomore Valerie Green. "We got to work in teams to design the tallest freestanding structure."
Both Cincinnati College Prep Academy sophomore Kiara Hardy and Dohn Community High School senior India Wesley said that their favorite activity was 'Survey Research: Turning Words into Numbers', where students measured abstract concepts such as stress, happiness, and leadership to turn them into data.
"I was surprised by how much I enjoyed a presentation on survey research," said Wesley, who plans to be a mechanical engineer. "But all the activity presentations really taught me to leave my comfort zone, widen up, and make friends."
Current and former Miami students also got involved with CIQS Day.
Miami graduate student Shannon Fasola and postdoctoral fellow Maria Kozowska helped lead 'Intro to Earthquakes', where the high schoolers learned not only about the basic concepts of earthquakes but also looked at seismic data in real time using one of Miami's seismographs.
Miami alumnae Briana Bialosky, Caroline Kren, and Kelsey Warsinke, who have degrees and careers in chemistry, mathematics, statistics, marketing, and decision sciences, spoke during the 'Women in Industry' presentation.
Bialosky and Warsinke work at 84.51°, a business development company, and Kren works at Medpace, a clinical research organization and drug and medical device development firm. All three of them stressed that a degree in STEM doesn't mean that you are limited to technical fields.
"Although it can sometimes be hard to see how to apply STEM skills to a job, don't rule it out," Bialosky told the high school students. "When taking quantitative classes, problem solving is the most valuable aspect, and those abilities are applicable to any career."
By the end of CIQS Day, it seemed the high school girls grasped not only how fun STEM can be, but also the importance of what it means to be a woman in math and science.
Amy Yang, a junior from Talawanda High School, said she hopes to be a software engineer. "Women should make up half of the STEM fields," she said. "It is important for them to pursue the things they want to do and to not be afraid."
"Although a career is STEM isn't going to be easy, it will be so rewarding," added Hudiburgh. "Girls can do it."
With all the smiles and talk about math and science at the event, it appeared that the participants got that message loud and clear.
Participating Schools:
Chaminade Julienne Catholic High School
Cincinnati College Preparatory Academy
Dohn Community High School
Hamilton High School
Talawanda High School
Western Hills High School
Winton Woods High School