Inside Hollywood gives students a foot in the door to the entertainment industry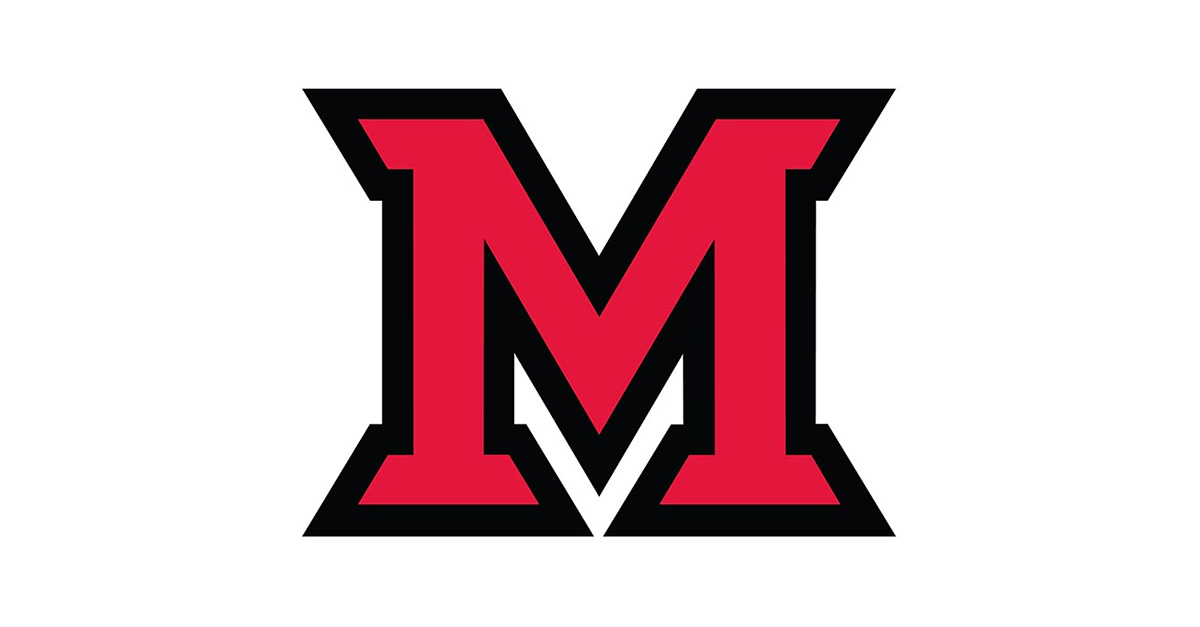 Feb 05, 2018
Written by Katy O'Neill, CAS communications intern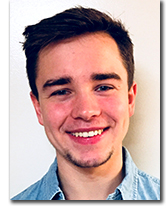 Braydon Hayes
Braydon Hayes, like many college students, did not have an idea of what he wanted to do after graduation. As a senior and double major in history and media and culture, he saw the quickly approaching graduation date as a need to find a focus.
"I told myself I needed to do something to find a career path," Hayes said. "I've always been super interested in media, especially movies."
So, when professor of media, journalism & film (MJF) Howard Kleiman sent an email this summer to the MJF department students about the Inside Hollywood program, Hayes was immediately intrigued.
"I had heard about the program, but I put myself through school, so I've never been able to afford a study abroad or away experience," Hayes said. "But, something told me I needed to make this happen, and after the first informational meeting I was blown away."
Hollywood or Bust
For the past 4 years, Miami has hosted Inside Hollywood during 3 weeks of January term. As its website boasts, it is a 3-credit program in Los Angeles that "takes students inside the entertainment industry, including film and television preproduction, production and editing, script development, casting, entertainment law, administration and finance, development, distribution and marketing."
Hayes immediately applied for the opportunity, interviewed, and was accepted.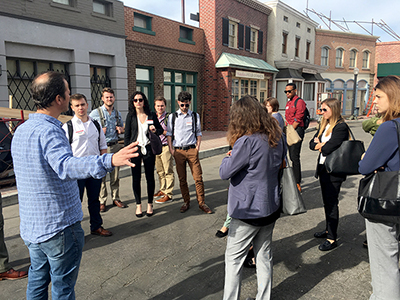 Students with NCIS producer and Miami alum on outdoor set of show
"I would have sold my car to be able to make it happen," he said. "Thankfully, it ended up working out, so I didn't have to!"
This year, 16 students of different majors and classes travelled to Los Angeles with Kleiman, who directs the program.
"Participants can be any major," said Kleiman. "Yes, the majority is media and culture, but we've had two theatre majors. What is important is their interest and knowledge in film. They don't have to be committed, but I like students who at least imagine the possibility of doing something in media."
The program continues to be successful because of the strong Miami alumni network in the Los Angeles area that provides Miami students with experiences, shadowing opportunities, and job connections.
"The most rewarding thing is that there are roughly 30 alums out here working in the industry, and they would all tell you that they got their job because of the contacts they made from this program," Kleiman said. "If you do it, you can get something going and change your life."
"The people out here are super willing to help because they were in our position once," added Hayes. "Miami alumni helped them out, and now they are trying to help us out to return the favor."
In-depth and Immersive Experiences
Inside Hollywood comprises interactive speaker sessions, field trips, dinners with professionals, and an intensive shadowing component. The students are busy all day, every day making connections and gaining in-the-field experience.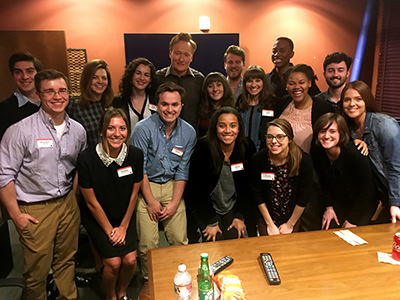 Conan O'Brien poses with Inside Hollywood students.
Some field trips included watching a taping of Jeopardy and meeting the entire crew, watching NCIS: Los Angeles filming, talking to the FOX promotion team, and touring the NFL studio. Additionally, the students visited the Conan show and spent 30 minutes meeting with the host, Conan O'Brien, himself.
"Conan is always a high point," Kleiman said. "Watching the students at the show, chatting with each other, meeting with Conan and his producers, they are just so excited. It's fun to watch."
For the first two weeks of the program, the group travels around Los Angeles to join sessions with people in the entertainment industry and listen to their experiences. Students are assigned to research their speaker and ask questions to understand their experiences, positions, and gain connections and advice.
"95% of the speakers the students have never heard of, but they are great producers, directors, writers," Kleiman said. "The students are making these incredible connections, and that's what is truly special."
Advice and Mentorship from Industry-connected Miami Alumni
During the speaker sessions, Hayes met Miami alum Jason Brown, a first assistant director and member of the Directors Guild of America (DGA).
"The way he described his job really interested me," Hayes said. "Jason was very honest about how difficult the job can be and how much responsibility comes with it, but he was also very encouraging and willing to stay in contact and help in any way he could."
Hayes was also able to discuss the position with DGA member Taylor Schenck, a 2016 graduate of Miami's media and culture program who shared her own Hollywood experiences.
"Taylor took the time to break down exactly what a first assistant director does and all of their responsibilities on and outside the set," said Hayes. "Her advice was really encouraging and insightful."
Speaking with Brown and Schenck was a big part of determining Hayes' career goals. "It sounded like I would fit perfectly in the job, and I was sold on being an assistant director," he said. "The job entails a proclivity for organization, management, and attention to detail, which I have always found to be strengths of mine."
During the final week of the program, the Inside Hollywood students are individually assigned shadowing roles in various parts of the entertainment industry to gain in-field experience.
"Some of them watch and walk with their host, see what they see, and talk about the industry," Kleiman said. "Braydon was reading scripts for his shadowing supervisor. He read it, summarized it, and reported back on whether or not the script is worth producing."
Hayes shadowed Navid Mcllhargey, who has been in the entertainment industry for over 15 years and currently works at F. Gary Gray's production company, RadicalMedia. Gray has directed movies like Fast and Furious, The Italian Job, and Straight Outta Compton.
"Reading screenplays was actually really interesting and rewarding," Hayes said. "When you're reading certain types of scripts you can visualize the film playing in your head, and that's when you know it's good. Others are harder to get through and just aren't engaging. So, depending on how you look at it, it could be you just sitting in a cubicle reading a very second-rate story, forcing yourself to get through 130 pages of material, or it can be a wonderful experience if the story is worth telling."
A Path forward beyond Graduation
Kleiman admits that students think they learn more in Inside Hollywood than they do in the classroom. Between the connections and the industry experience, the program is unlike any course that Miami offers.
"It really makes the entertainment business imaginable for students," Kleiman said. "So many Miami students are from the Midwest or the east coast, and they think the entertainment business is for west coast students. They can now imagine getting their foot in the door and into the industry because they can follow up with their connections."
Without the Inside Hollywood program, Hayes said that he would not have figured out the path he wants to pursue post-graduation or have the connections to do so. His newfound experiences have made the industry seem more accessible.
"You get a general sense before you come out here, but you don't really understand how life changing the program is until you do it," he said.
Despite putting himself through college and paying for the experience on his own, Hayes called the entire program "truly priceless."
"If you are truly passionate about and want to create media, this program is by far the number one thing that you need to put on your list to do," Hayes said. "There is nothing like this around. We are very fortunate and blessed to have the alumni network, and Inside Hollywood is by far the best thing I have ever done. It is setting me up for a potential career."