Pearson Hall: The upgraded home for Miami's biology, microbiology, zoology and botany students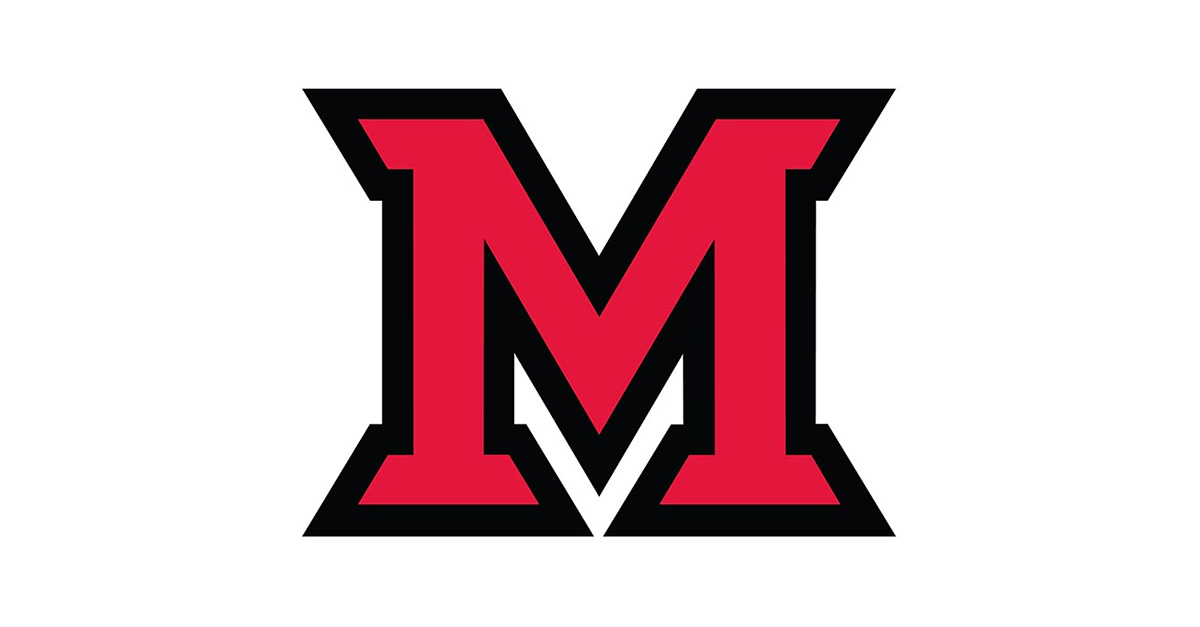 Mar 28, 2018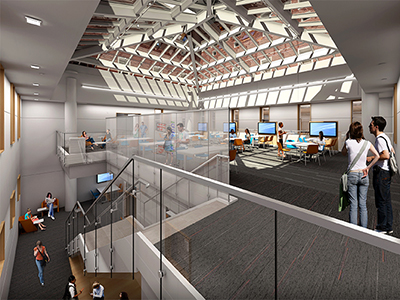 Artist's rendering of glass-encased atrium
As the headquarters for Miami's Departments of Biology and Microbiology, Pearson Hall is currently undergoing its first serious renovation in its 33-year history.
Both chair and professor of biology Tom Crist and chair and professor of microbiology Luis Actis have been overseeing the approximate $65-million transformation of Pearson into a contemporary structure with state-of-the-art teaching and research laboratories and updated classrooms and group spaces.
Phase 1, to be completed by Fall 2018, is focused on half of the building's necessary heating, cooling, and lab exhaust systems as well as half of its teaching and research laboratories. It will also introduce a modernized public welcome area on the ground floor, while adding a brand-new glass-encased atrium in the center of the building — once an underused interior courtyard. Phase 2, set for completion in Summer 2020, will finalize all labs and classrooms.
Pearson is visited and utilized by more than 80% of all Miami undergraduates. Over 8,000 students take classes in the building each year. Likewise, 96,000 hours of laboratory and related research are conducted annually by undergraduate and graduate students enrolled in STEM (science, technology, engineering, and mathematics) independent study courses.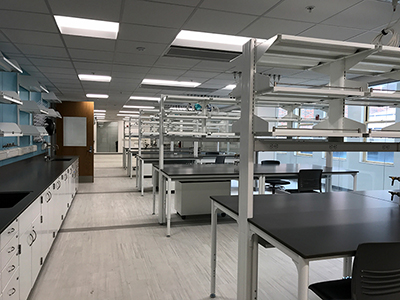 New 3rd-floor laboratory
"In Pearson we are developing new advanced, modular lab spaces that can be reconfigured, expanded or contracted as the scope of the research changes," Crist said. "The flexibility of these modernized spaces will increase productivity, enhance partnerships and facilitate collaborative projects."
With the replacement of many concrete block walls with full-height glass walls, numerous labs and classrooms will have natural lighting, thus providing a safe and productive collaborative environment for education and research. Replacing the ventilation and water-conditioning systems with new efficient systems will reduce the energy footprint by over 60% and obtain LEED silver certification.
Some renovations for the first phase were completed over spring break and are already in use.
"The greatest and most exciting impact of all our renovations will be to undergraduate and graduate students in the Departments of Biology and Microbiology," Crist said. "This is crucial in preparing them for careers in modern workplaces while we continue recruiting and retaining both high-quality students and preeminent faculty."
The Pearson renovation addresses one of Miami's highest need academic buildings and abides with the university's long-term capital plan to renovate its STEM facilities.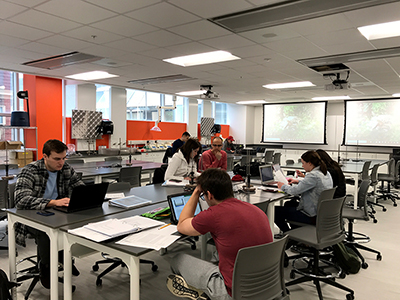 Students working in new classroom
"Our life sciences programs in biology and microbiology are world-class," said Crist. "Rehabilitating Pearson allows us to capitalize on our strengths and maintain our cutting-edge research and teaching offerings to students."
"We are creating a modern teaching, training, and research hub that will promote and empower the connections between classrooms and research labs," added Actis. "These facilities will foster the instruction of the next generation of educators, scientists, and citizens, who will have an impact on the quality of life in Ohio and across the nation."
Help ensure Miami's fulfillment of this mission: