Bearded Lady Project comes to Miami to boost the image of women in science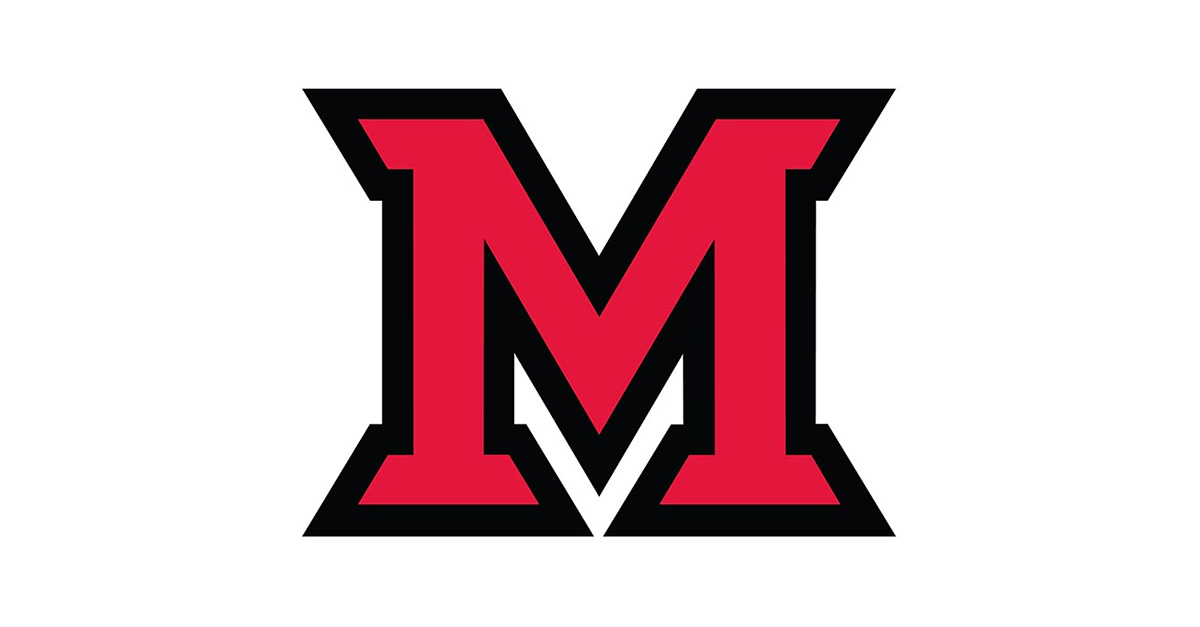 Apr 06, 2018
Written by Bonnie Meibers, CAS communications intern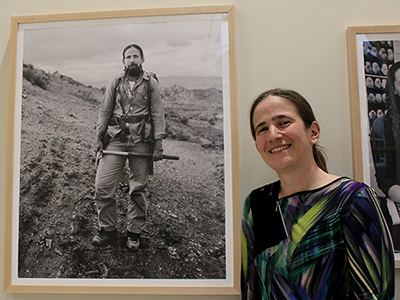 Ellen Currano poses with her bearded self.
Former Miami assistant professor of geology Dr. Ellen Currano grew up wanting to be a paleontologist. Although she had female colleagues and professors during her undergraduate and graduate studies, she found she was often the only woman among a given project's field team.
This scarcity of women led to Currano's project, "The Bearded Lady Project: Challenging the Face of Science." It consists of 38 black and white photos of female paleontologists out in the field wearing fake facial hair as well as a documentary film that explains the project and introduces the scientists who participated.
"The exhibit tries to call to mind the stereotype of the rugged bearded man, who often represents what a paleontologist looks like, thus making a playful statement about gender bias," said Currano, now an associate professor at the University of Wyoming.
The project began touring in March 2017 and came to Miami on Thursday, March 29. The project team also includes documentary filmmaker Lexi Jamieson Marsh and fine art photographer Kelsey Vance, both of whom are Oxford residents.
"Miami is where the Bearded Lady Project was born," Currano said.
The exhibit's opening event consisted of a screening of a short documentary in Shideler 152. In the film, Currano and other participants in the project talked about struggles that women in the geosciences face. Currano spoke briefly after the film and answered questions.
"There's no reason chemically, physically that women can't be paleontologists," Currano said in the film. Although the Bearded Lady Project specifically addresses issues in paleontology, Currano pointed out that these issues apply to all scientific disciplines.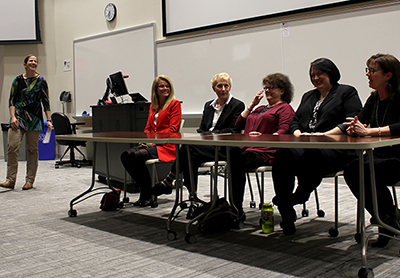 Ellen Currano (left) shares a laugh with panel members (left to right) Renate Crawford, Ann Rypstra, Linda Marchant, Carrie Tyler, and Ellen Yezierski.
The film and Currano's presentation were followed by a panel of 5 female scientists from Miami's faculty:
Renate Crawford (Physics)
Linda Marchant (Anthropology)
Ann Rypstra (Biology)
Carrie Tyler (Geology and Environmental Earth Science)
Ellen Yezierski (Chemistry and Biochemistry)
Currano led the panel discussion, asking the women what got them excited about science, why they wanted to be scientists, and what challenges they've faced as women in science.
Crawford talked about balancing work and family as the only woman in her department, and later as the chair of her department. "If you don't like the rules, become the rule maker," she said.
Rypstra said the lack of female role models as professors and scientists was a challenge.
"I didn't know I could be a scientist, I didn't know I could succeed, until I did," Rypstra said.
Many of the women talked about specific times they felt discriminated against.
"I had a physics professor, in my senior year of undergrad, tell me that I didn't belong in the class because I was a woman," Yezierski said.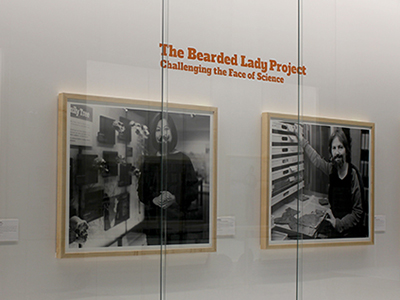 A portion of the Bearded Lady exhibit in Shideler Hall
"We have a long way to go. I'd like to see more men becoming advocates for women," Tyler said. "When I'm out in the field with a bunch of men, people usually assume that any women in the group are the students and the men are the professionals. All it takes is for one of the men to introduce me as 'Dr. Tyler.'"
Currano also asked the women what advice they would give to their former selves before heading off to their first research experience.
"You have to be brave about failing, I think," Marchant said.
Roxanne Ornelas, associate professor of geography, felt this conversation about women in the sciences was an important one to begin having.
"We're breaking barriers just by talking about this," Ornelas said. "We're at a crossroads right now in the geosciences, so I'm hopeful we'll get our own 'MeToo' moment. This makes me want to go out and get a beard!"
Second-year environmental science graduate students Madeline Maurer and Rachel Spahr agreed with Ornelas, saying that the job market in their field is majority male.
"But that's going to change," Maurer said with a smile. "It makes me want to go out and continue to work in science, to become a mentor. It makes me want to succeed."
"It really was an inspiring talk and was empowering," Spahr added.
If you didn't get a chance to attend the exhibit opening, the photos will be on display in Shideler Hall until June 11. For more information, read the March 2018 CAS press release Bearded Lady Project comes to Miami to shake up gender-based stereotypes of geoscientists.