Miami's Bateman Competition team takes Honorable Mention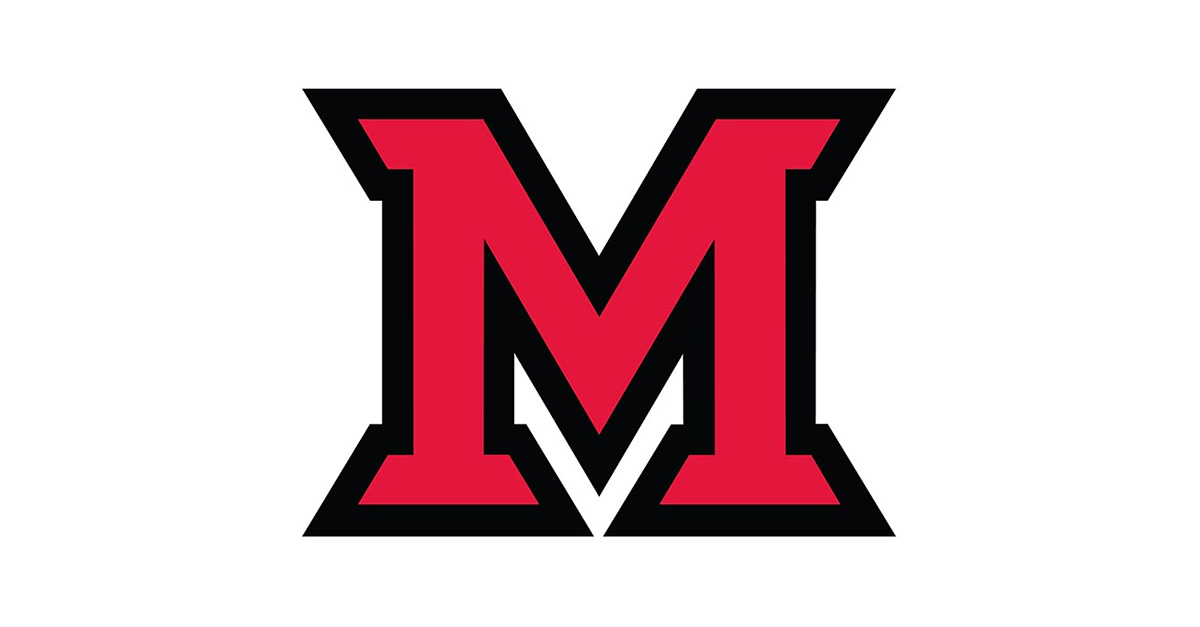 May 11, 2018
Written by Madeline Malloy, CAS communications intern
Every year, the Public Relations Student Society of America (PRSSA) hosts the Bateman Competition. In this national competition, PRSSA selects a client that 84 colleges and universities work with to come up with a strategic plan to solve a particular objective for the client.
This year's client was With Purpose, a nonprofit organization that supports the funding for childhood cancer research. Starting last September, Miami's own Bateman team came up with over 10 different tactics to achieve their main goal of raising overall awareness on campus and in the Oxford area.
Students from across the nation started developing ideas and plans on how to raise awareness of With Purpose on their campus and within their communities. They had to be ready to implement their plan in the allotted time from February 15 to March 15.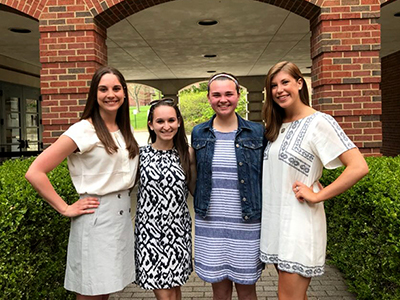 Miami University Bateman Team members (L to R) Allison Pierce, Madeline Malloy, Maddie O'Toole, Vivian Drury
Miami's team was made up of the following PRSSA members:
Vivian Drury
Strategic Communication; English:Creative Writing; Italian Studies; Journalism
Alec Hoelker
Strategic Communications; Political Science
Madeline Malloy
Strategic Communications; Psychology
Maddie O'Toole
Strategic Communications; Political Science
Allison Pierce
Strategic Communication; English:Professional Writing
They asked fellow students to sign a petition to send to the House of Representatives to require the National Cancer Institute to increase its budget for childhood cancer. They got 773 signatures and also put together a video to feature on Miami's PRSSA Facebook page of Miami students explaining why they "cherish their childhood."
But the team's favorite tactic during the implementation phase of the competition was establishing their partnership with the local business, Bagel & Deli. The Miami Bateman team created their own bagel to be sold in Bagel & Deli and named it the Lunchbox Bagel.
Alec Hoelker explained why it was a favorite. "The bagel was delicious in all aspects to start, but to walk into one of the busiest restaurants Uptown and see our own team's bagel gave me joy," he said.
The bagel was a blueberry bagel with banana, peanut butter, and cinnamon. The Bateman team, working with Sam's mom, the founder of With Purpose, created a bagel using Sam's favorite foods. They thought carefully to make the bagel into a fun, kid-friendly snack for everyone.
The students submitted their final strategic plan on April 6, but it was much more than the competition for this team.
"I really enjoyed Bateman because it gave me a chance to apply everything that we are learning in the classroom," said Allison Pierce. "I learned a lot about PR, got to work with some awesome group members, and was able to support such an amazing cause in the process."
Out of the 84 entries this year, 20 received Honorable Mention, one of which went to Miami's Bateman team.
"This is very commendable," said Shara Clark, instructor in the Department of Media, Journalism and Film and faculty advisor for the Bateman Competition. "It's been years since Miami's team has received this recognition. I'm so proud of the work these students put into the plan. They have spent a considerable amount of time and energy to spread awareness for an important cause."
Congratulations to the Miami Bateman team, and look out for the 2019 Bateman Competition announcement in the fall!
Results of the PRSSA 2018 Bateman Case Study Competition
Finalists
California State University, Long Beach
Kent State University — KSU Gold
Louisiana State University
Honorable Mentions
Chapman University – Team 2
DePaul University – Fighting Five
Indiana University
Miami University of Ohio
Minnesota State University Moorhead – Dragons Fight Cancer
Minnesota State University Moorhead – The Fierce Five
Ohio University
Oklahoma Christian University
Olivet Nazarene University
San Jose State University
St. John Fisher College
Syracuse University
Texas State University
University of Alabama
University of Florida
University of Nebraska-Lincoln
University of South Carolina — McKissick Communications
University of South Florida
University of Wisconsin Oshkosh
Washington State University – Team 1