Featuring new airy, wide spaces, Phase 1 of Pearson Hall renovation comes to a close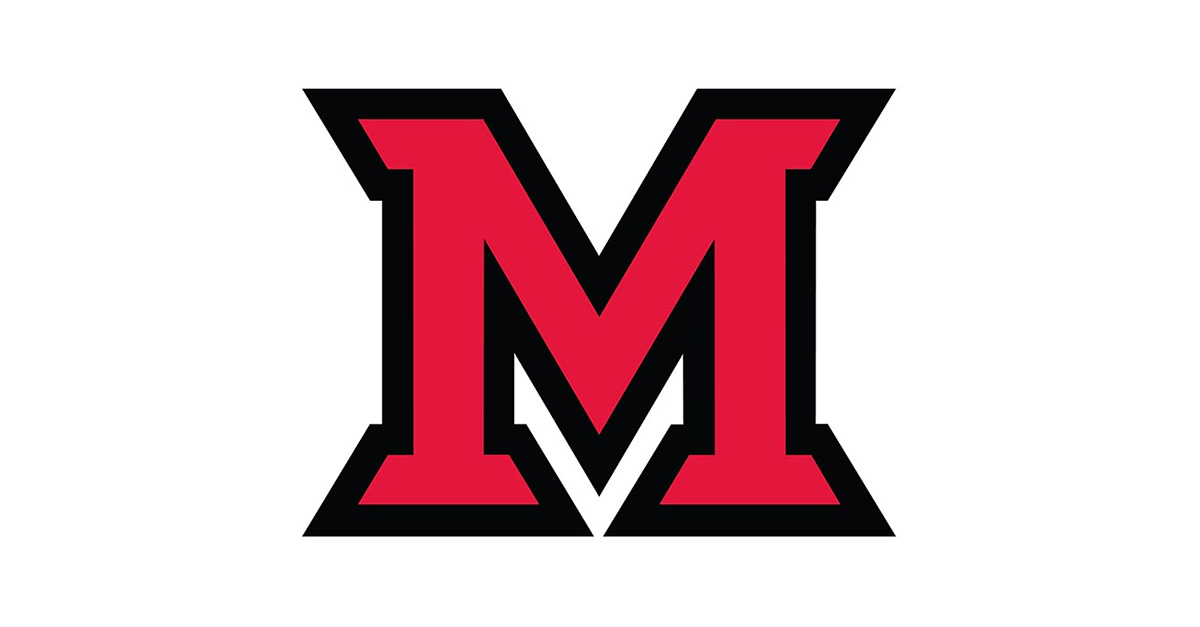 Aug 22, 2018
Written by Jason Barone, College of Arts & Science director of communications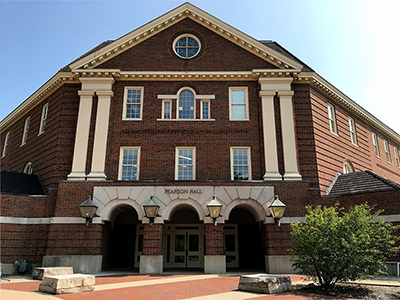 Pearson Hall exterior
Biological science majors returning to campus this fall are in for a pleasant surprise: the ongoing renovation of Pearson Hall has finally borne fruit. Beautiful new open study spaces, classrooms, and labs throughout the first, second, and third floors of the building have been freshly completed for interdisciplinary, collaborative use.
"The Pearson renovations will provide a modern teaching, training, and research hub that will promote and empower the connections between classrooms and research labs in the biological sciences," said Luis Actis, professor and chair of microbiology.
John Porchowsky, Pearson's project manager from Miami's Physical Facilities department, has been overseeing the renovations since they officially 'broke ground' in June 2017.
"Before, Pearson was very compartmentalized, Porchowsky said. "Labs were subdivided and very specialized, which limited flexibility and resulted in the need for extensive renovations when uses changed."
"On this project, one of our objectives was to create an open and flexible design," he added. "So now you'll see a more modular layout allowing greater collaboration and versatility. By keeping large lab equipment in centralized locations and installing movable lab casework and overhead utility connections, research labs can now be easily reconfigured."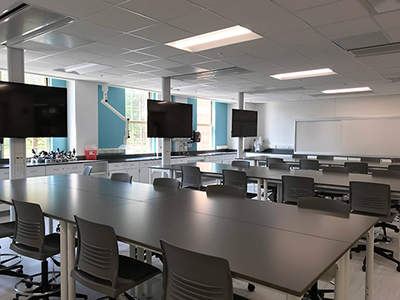 Renovated Pearson Hall laboratory
Some examples that Porchowsky pointed out were long, movable benches and desks with multiple functions, more energy-efficient overhead ceiling service panels, and generous use of natural light to allow the building to feel brighter and more spacious. Because they produce a lot of heat, large powered lab equipment such as freezers, growth chambers, and autoclaves have been rearranged in shared rooms to save both space and energy.
Highly durable Trespa countertops and biobased floor tiles have been installed to significantly reduce the cumulative wear and tear that occurs in the lab. Classrooms and convergence spaces have been fitted with TV-equipped, movable partitions to enable both smaller breakout sessions and larger groups. Many classrooms feature multiple kinds of vertical surfaces, such as glass or whiteboards, that can be written on directly for greater collaboration.
Porchowsky explained that such upgrades, taken as a whole, will reduce Pearson's overall energy footprint by more than 50 percent, contributing to its expected LEED (Leadership in Energy and Environmental Design) gold certification.
"Our new chilled beam system cools the building and helps us achieve desired setpoint more quickly and much more effectively," Porchowsky said. "This has allowed us to reduce air changes in the spaces from 8 an hour down to 6."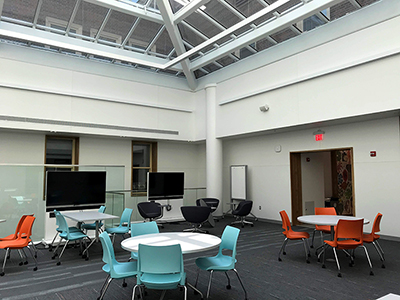 Pearson Hall atrium
Perhaps the visual highlight of the renovation project is the centrally located glass-enclosed atrium, which used to be Pearson's underused courtyard. Available as another place for study or collaboration, the atrium is capped with an elegant glass pyramid. Students can bask there in the natural sunlight, helping to realize the space's original purpose.
In addition, nature artist Charley Harper's eye-catching tile mural, 'Web of Life,' has been moved from the original lobby to serve as a colorful backdrop of the new open area, where it can be appreciated by more visitors.
The Departments of Biology and Microbiology, now sharing their office suite and most classrooms and labs, will continue to make their homes in Pearson. They are joined by the upgraded Mallory-Wilson Center for Healthcare Education, headed by incoming director Joseph Carlin. Pearson's redesign is reflected in the Mallory-Wilson Center's support of the Department of Nursing's activities on the Oxford campus, overseen by chair and associate professor of nursing Brooke Flinders.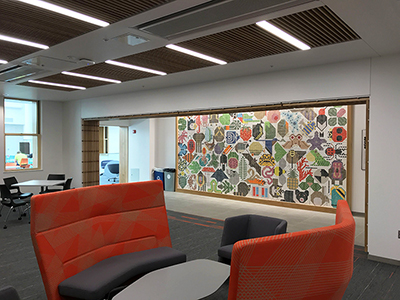 Charley Harper's tile mural, 'Web of Life'
"Our center's expansion fits within one of our longer-term goals, which is to serve as a focus of pre-healthcare education at Miami regardless of division, department, or program," said Carlin.
"Now that biology has nearly 1,200 majors and the largest number of graduate students in the College of Arts and Science, Pearson will become an even larger focal point for the college and the university," added Tom Crist, professor and chair of biology.
Original construction on Pearson Hall began in 1983, and it was first opened to the public in 1986. Phase 2 of the $65 million renovation begins in September and will largely focus on third floor classrooms and research labs in the north end of the building. The entire project is expected to be completed by the end of summer 2020.

See also: