Poetry and production: Two CAS professors unite on a podcast to discuss sound through a humanities perspective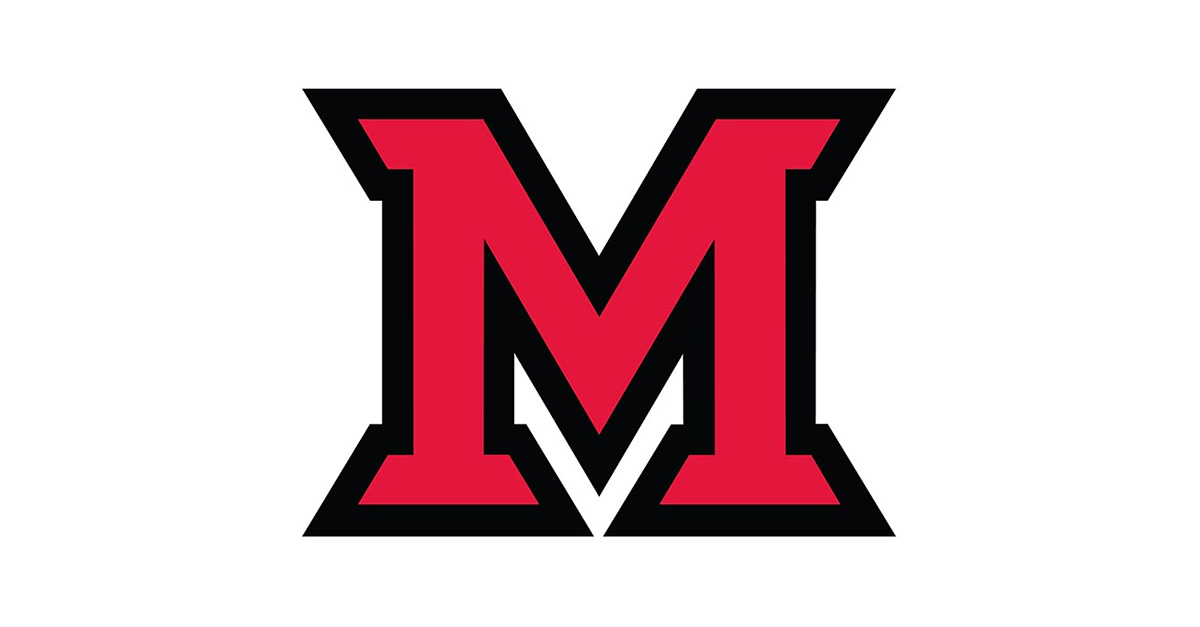 Feb 26, 2019
Written by Frannie Comstock and Tori Levy, CAS communications interns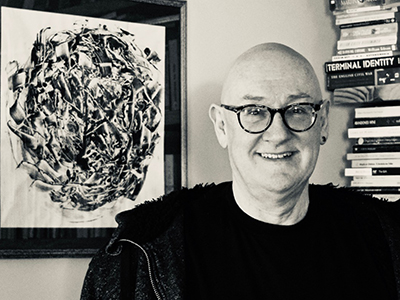 cris cheek
Like many areas of niche academia, the field of "sound scholarship" may sound dry to those not familiar with it. Professors cris cheek (English/Creative Writing) and Mack Hagood (Media, Journalism & Film) are working to change that preconception with their podcast Phantom Power, which examines the work of sound scholars, sound artists, and musicians, using a mix of humor and careful audio production.
"Cris is a poet, and I'm a media scholar," said Hagood. "We're both very interested in sound. It's a place where we can explore cutting-edge work on sound in the arts and the humanities in a way that appeals to specialists and a wider audience at once."
The name of the show, now starting its second season, is a reference to sound, exploring the field of sound studies — the examination of sound in terms of cultural practices, forms of communication, and its very material force or resonance.
"The name 'Phantom Power' is, on the one hand, the voltage that's supplied to certain types of microphones that they need to run, but it also makes you think of this invisible force that sound is," said Hagood. "It's always affecting or influencing us."
Hagood and cheek developed their podcast after receiving a Collaborative Research Grant, which is sponsored by the Humanities Center.
An Aural Exploration of the Sonic Arts and Humanities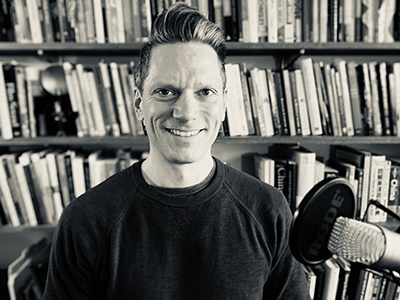 Mack Hagood
What makes the show work well is the difference between Hagood and cheek's fields. "Typically, one of us interviews someone, and then we edit it to refine the story. We then bring it to the other person, get on our mics, and have a conversation about it," Hagood said.
Hagood said that it's helpful because they can both draw from their own expertise but also stand in for the listener when it's not something they are familiar with.
Cheek's interest is focused on how sound is a part of our everyday environment.
"We sort of screen sound out. Note how much of the Internet, for example, is about looking but not so much about listening," he said.
"Doing a podcast was one of those things that I've had in my mind for a long time," said Hagood. "One of the things that we always talk about in sound studies is that we're doing all this research on sound and then we just write it out."
Being a podcast, the focus is on listening. Unlike most academic podcasts, which tend to be lo-fi and full of specialized language, Phantom Power uses a careful blend of sound effects, field recordings, music, and banter to bring complex theories and artworks to life.
"The show has explored diverse topics such as how the 'voice' of a writer interacts with the interior voice of the reader, the sound in the eye of a hurricane, the vocal communication of rats in New York City, the work of contemporary sound artist Lawrence English, the 'chopped and screwed' hip-hop of Houston, and the ways prejudicial listening can perpetuate racism," said Hagood.
"We want to stimulate questions that bring listening to the front and center as much as looking, seeing, and hearing," said cheek. "We examine how listening in this manner affects us. I don't think we think nearly enough about how we make our world through sound, like our voices."
Cheek feels that understanding and teaching better listening could serve many practical uses.
"We could do really interesting things with geologists, with geographers, with physicists, with chemists, all about the function and the place of sound inside their disciplines," cheek said.
"I don't think we think nearly enough about just how we make our world through sound like our voices," he added. "It's about listening."
Check out Phantom Power on Stitcher, iTunes, and other podcasting sites.