Honoring Miami "roots and wings": Rebecca Messina '94 addresses nearly 1700 bachelor's and master's graduates at annual CAS spring recognition ceremony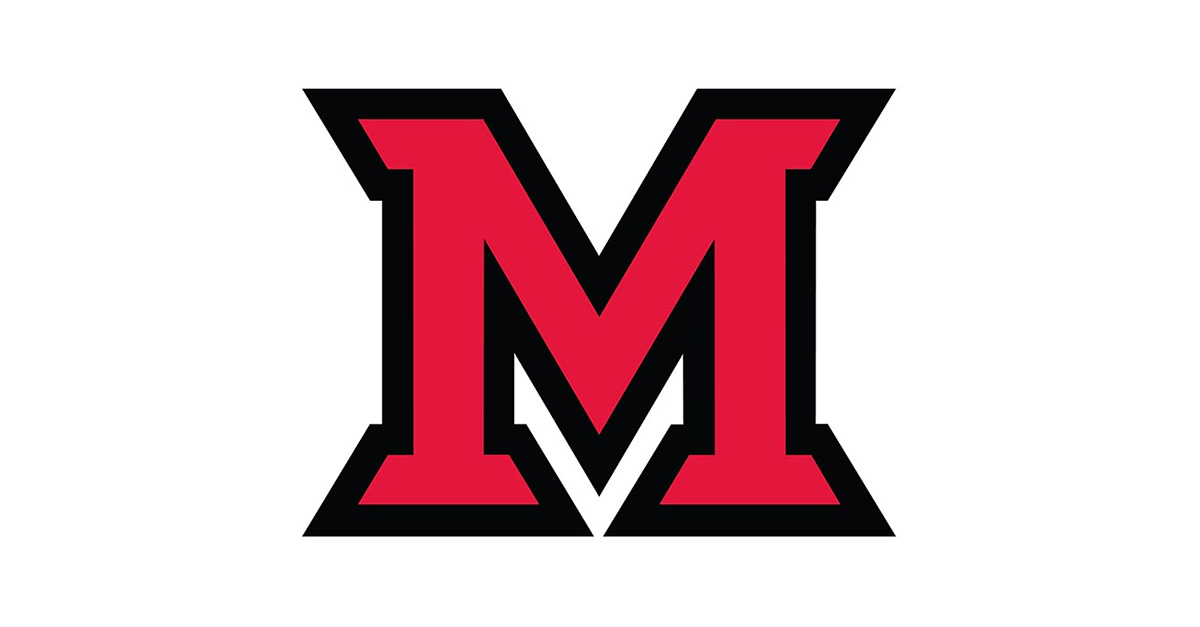 May 30, 2019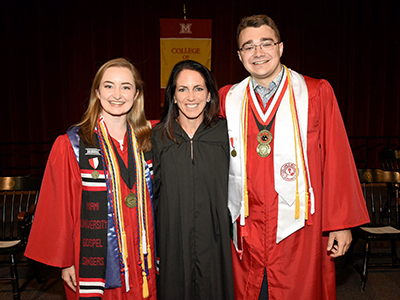 Recognition ceremony speaker Rebecca Messina (center) with graduating seniors Emily Tatum and Jacob Bruggeman.
On May 18, the College of Arts and Science, highlighted by speeches by Rebecca Messina '94 and Jacob Bruggeman '19, celebrated the achievement of 1521 bachelors and 176 masters graduates at the 2019 Recognition Ceremony.
Dean Chris Makaroff began the evening proceedings with a breakdown of some key achievements from members of the CAS class of 2019, including:
124 students graduating with Miami University honors
77 students with departmental honors
376 students with Latin honors
Becoming a Global Citizen
Use Your Roots and Wings Video Transcript
Makaroff introduced Rebecca Messina by referring to her steady advancement through powerful roles at Coca-Cola, Beam Suntory, and now Uber. "Her approach is to embrace empathy and vulnerability as she learns from those around her while also believing in herself," he said.
Taking the stage, Messina addressed the sea of CAS students in red caps and gowns with a story of how her small-town roots, first in her hometown of Batavia, New York and then in Oxford, Ohio, empowered her to embark upon a successful, globe-spanning career.
"In coming to Miami I went from one small town to another," she said. "But I can tell you, 25 years later, that small towns can lead to pretty big worlds. It is not where you come from that defines you, it's what you think and how you believe."
Those roots, she said, along with the support of family, ultimately give young people wings to transform into new global citizens who have "the wind in their backs, the belief in themselves that they can fly and be anything and go anywhere."
Messina explained that her early days at Miami, when she worked part-time as a babysitter for a local family, led her to Atlanta-based Coca-Cola.
"What started as a 3-month internship turned into 22 years at the Coca-Cola Company in realizing my dream of becoming a global citizen," she said. "From living in Atlanta to Santiago, to Sydney to Paris, to see more countries that I can count, to be hospitalized in tons of them, but schooled in countless cultures and life lessons."
Her global experiences have also enabled her to speak four languages — and, with a Dutch husband and Dutch-speaking children, she revealed that she is currently tackling her fifth.
"Language is more than just about getting by," she said. "It's a window into a culture … so I've recommitted, restarted my lessons, and at almost 47, I am learning Dutch. You are never done!"
Knowing Our "Temporal Bandwidth"
Expanding Temporal Bandwidth Video Transcript
Jacob Bruggeman, who majored in political science and history, was the 2019 Student Speaker. Before coming to the podium, Dean Makaroff read off a partial list of the awards and positions Bruggeman had garnered during his four years at Miami: the 2017-2018 Gilder Lehrman History Scholar Award, the 2018-19 Joanna Jackson Goldman Memorial Prize, a three-year Ohio Public Leader Fellow, history editor of The Cleveland Review of Books, review editor for the Urban History Association's blog The Metropole, chair of the Dean's Student Advisory Council, and more.
"When we ask if our degrees were worth what we have sacrificed in the pursuit of them, we should be asking what they are worth to us, as individuals, as people—not just as future employees," Bruggeman said. "How we've lived at Miami, and how we might live better still because of what we learned here, and what we remember of our friends and mentors, matters just as much as any job or salary."
He also introduced the concept of "temporal bandwidth," from Thomas Pynchon's Gravity's Rainbow, which he described as "an awareness of our experience as extending into both the past and the future."
Acknowledging his history major, Bruggeman advised his fellow graduates to pay better attention to the past.
"To dwell in the past is to make it into our home, to interpret and reinterpret it for us—to help us live better here and now, and in the future," he said. "To dwell in our memories of Miami is to make our time here worth something to us, here and now, and for years to come."
The CAS Platform Party
In addition to Dean Makaroff, Rebecca Messina, and Jacob Bruggeman, the 2019 CAS platform party included:
Richard Blath '68, Chief of Urology with St. Louis Urological Surgeons at Christian Northeast Medical; Chair of the Alumni Board of the Mallory-Wilson Center for Healthcare Education
Pat Haney, Professor of Political Science; Associate Dean
Bryan Marshall, Professor and Chair of Political Science
Herbert Jaeger, Professor and Chair of Physics
Linda Marchant, Professor of Anthropology
Emily Tatum, a graduating senior majoring in international studies and political science; member of the Dean's Student Advisory Group
James Oris, University Distinguished Professor; Associate Provost for Research; Dean of the Graduate School
Renée Baernstein, Professor of History; Senior Associate Dean
Steve Wright, Professor of Statistics; Associate Dean
Ted Peters, Assistant Dean
Shelly Jarrett Bromberg, Associate Professor of Spanish & Portuguese; Director of Liberal Education
Steve Lippmann, Professor and Chair of Sociology & Gerontology