English department celebrates National Translation Month with professional authors and translators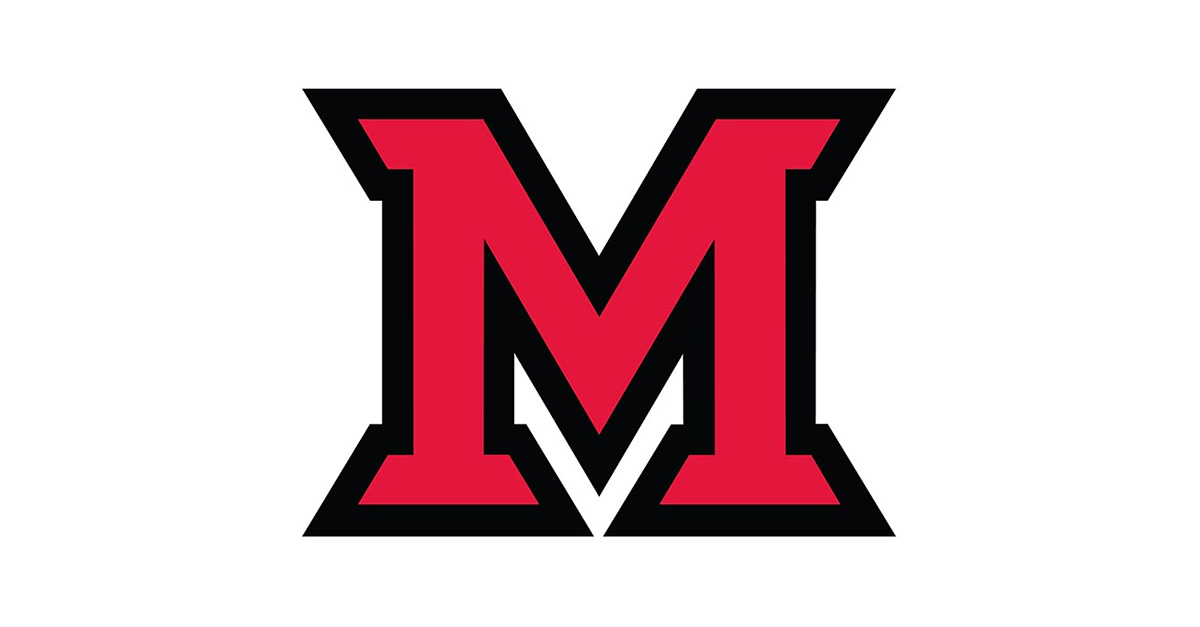 Sep 24, 2019
Written by Rachel Zurilla, CAS communications intern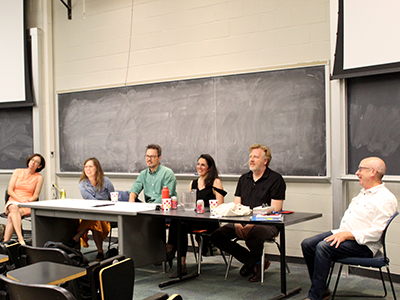 Translation Symposium Panel: (L-R) Margaret Luongo, Tara Shea Nesbit, Roy Kesey, Poupeh Missaghi, Martin Corless-Smith, and Keith Tuma
The Department of English welcomed three creative writers and translators to Miami on September 16 and 17, 2019 in honor of National Translation Month. The translators, Poupeh Missaghi, Roy Kesey, and Martin Corless-Smith, participated in a reading from their creative work on the 16th and a Q&A panel for students and faculty on the 17th.
To begin the panel discussion, each translator spoke about the unique projects they're working on and gave attendees insight into what translating literature really looks like. Missaghi translates from and into Persian, Kesey translates from French and Spanish into English, and Corless-Smith translates from Italian into English, as well as works by the ancient Roman poet Horace. Each author read excerpts from their translated work for the audience before diving into the panel.
"Less than 1% of the fiction and poetry published in the United States are works of translation," said Margaret Luongo, director of Creative Writing and an associate professor of English, as she opened the panel. In comparison, Italy publishes about 20% annually in translation.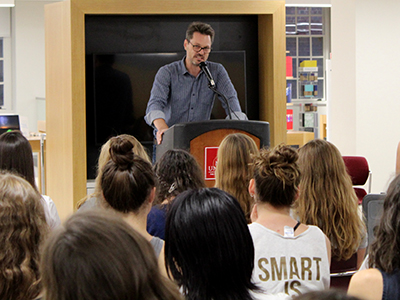 Roy Kesey addresses the audience.
Each panelist gave an insightful and humorous look into why they started translating and how it has evolved for them over time.
"I translate [works] into Persian that I enjoy," said Poupeh. "I tend to translate things [into English] that are different from what the mainstream publishers put out."
While Corless-Smith primarily translates the works of Horace, Kesey has been working on translating a novel from Spanish to English with an author who is still alive.
"It's very different translating someone who's been dead for a long time and someone who is very much alive, and you meet them and go to parties with them," Kesey said. "There's a certain weight there to not mess it up."
The panelists explained how translation isn't just taking a piece of text and word-for-word translating from the original language to English. Translators do more than write words, they essentially re-write an entire story.
Jared Bruett, a senior majoring in interactive media studies and creative writing, spoke to why he believes translation in literature is so important.
"I think every language originates from a culture that has its own ideas, philosophies, thoughts, people talking about different things," he said.
"You also have to deal with the issue of moving a culture's ideas into another culture's language which comes with its own biases and ideas," Bruett continued. "So, the question of how you navigate those things I think is really interesting and every person is going to have their own idea … and the best solution is to hear from the people who are doing that."
The Translation Symposium has been happening for roughly 10 years and is supported by Miami University Press, the Humanities Center, the Creative Writing Program, and the Department of English.