Empathy and the Religious "Enemy": Miami students conduct interviews with Westboro Baptist Church members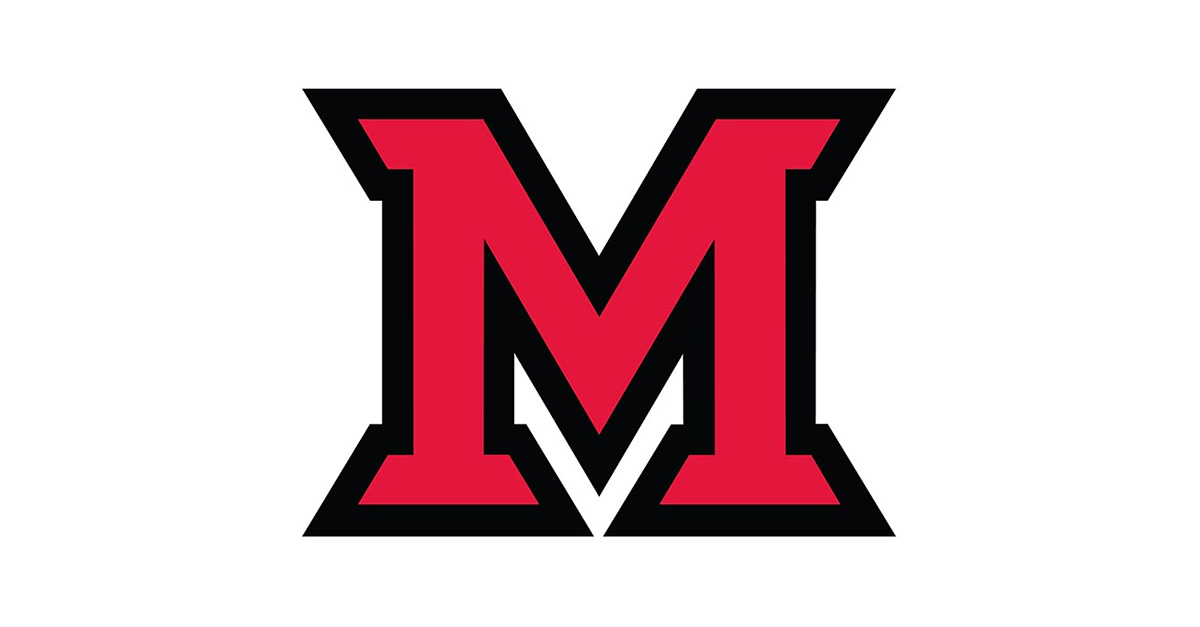 Oct 07, 2019
Written by Chi Pham and Dania Puente, CAS communications interns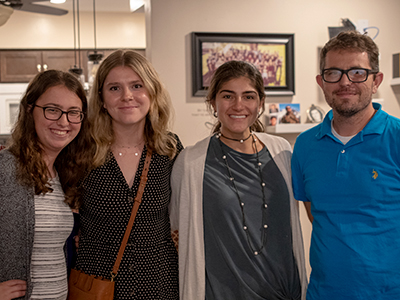 Alexa Lawhorn, former Miami (now OSU) student Mary Beth DeRuntz, Sofia Vlahakos, Jacob Z. Phelps
This past summer, sophomore Alexa Lawhorn and senior Sofia Vlahakos travelled to Topeka, Kansas for 5 days with assistant teaching professor of comparative religion Hillel Gray to meet and interview members of the controversial Westboro Baptist Church (WBC).
Vlahakos is a psychology and comparative religion double major from Houston, Texas. She was selected as a research assistant for fieldwork during the summers of 2018 and 2019.
"I wanted to participate in the research because I was interested in WBC and wanted to practice my ability to be respectfully curious and do ethnographic-style research," she said.
Lawhorn, from Springboro, Ohio, is double majoring in history and comparative religion. This was her first time participating in such a challenging research trip.
"This research employs such an interesting perspective," she said, "and I think that it is important to listen to others in an empathic and non-judgmental manner."
Meeting with the "Enemy"
Empathy was the core objective of the research trip, which is part of Gray's ongoing project, Empathy and the Religious "Enemy." Empathy here refers to an understanding of another's emotional landscape; it is neither sympathy nor agreement. Consisting of field work, public scholarship, and student engagement, the project was also the focus of Gray's section of the REL 402 capstone course, in which both Vlahakos and Lawhorn are currently enrolled.
"The project's objective is to increase academic and public understanding of radical oppositional religious groups," said Gray. "It currently studies two small, marginalized groups, the Westboro Baptist Church and the anti-Zionist Neturel Karta, whose tactics outrage people. While outsiders typically ostracize and dehumanize these groups as a mythic 'enemy,' our project is exploring a relationship-building, critical-empathic response."
The Westboro Baptist Church is a Kansas-based church known for its public picketing against the LGBTQ+ community, Jews, Catholics, politicians, U.S. soldiers, and other groups. Since the 1990s they have displayed extremely controversial behavior, including actions against gay people and protests against Jewish institutions. It is listed as a hate group by some organizations.
Gray explained that his project is not about changing the human subjects who are researched, but rather changing the researchers themselves and other outsiders.
"We're focused on answering the question of how can we connect and interact with people whose beliefs or actions are deemed intolerable," he said. "In other words, in an era of divisive polarization, how can we better practice nonjudgmental, empathic listening?"
Upon their arrival to Topeka, Gray and students met with local residents from the LGBTQ and Jewish communities. They then conducted 15 hours of interviews of Westboro Baptists. Student researchers also observed WBC's pickets, a hymn sing, a bible study, and a church service. The visit concluded with dinner at the house of devout WBC member Steve Drain.
"All of them were very nice and welcoming," said Lawhorn. "I didn't really feel uncomfortable."
Lawhorn mentioned that WBC members who were more averse to the research project simply didn't talk to them. However, a lot of them were very interactive and friendly, including Shirley Phelps-Roper, daughter of the church founder Fred Phelps Sr.
Vlahakos explained that interaction and receptiveness varied from member to member. "The reality is that this group is made of members with distinct personalities, and they receive things differently," she said. "Some are more receptive with our project goals than others, and it is easier to connect with those people."
Unexpected Discoveries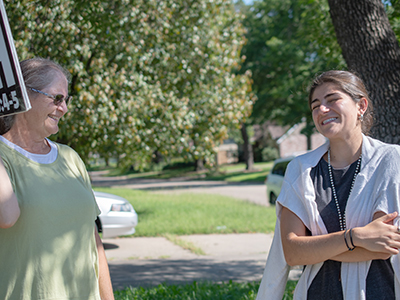 Rebekah Phelps-Davis and Sofia Vlahakos
This year, Gray altered his approach a little to see what he could gather from giving the church members the opportunity to ask him questions in order to get to know and understand him better. Gray, who is Jewish, has made an effort to keep his personal details and life completely separated from research until this year.
"We were really pleasantly surprised to see how willing they were to ask Dr. Gray personal questions," said Vlahakos. "Fred Phelps Jr., who as the oldest of the founder's sons has not been as willing to have interviews with us, was surprisingly really open."
"He called us warm and welcoming," said Lawhorn. "We were like, how can this be possible?"
"We expected them to ask about his religious beliefs, but a lot of time they would only ask the kind of questions we asked them," Vlahakos added.
Lawhorn explained that some interviews were "emotionally draining," not necessarily due to the topics voiced, but due to Lawhorn actively trying to be present throughout the whole interview. "I wanted to make sure I was being the most empathic and non-judgmental person I could be," she said.
Vlahakos said that younger church members were more cautious when interacting with the Miami group, especially in the presence of older members. "For me, it was mixed feelings," she said. "While I understood that they consciously kept us at arms-length, it hurt my feelings when they commented that they do not really value relationships with outsiders."
Despite some awkward moments, this experience changed both Lawhorn and Vlahakos more than they would have ever thought.
"I feel like I can be a more empathic person," said Lawhorn. "Now I can truly listen to someone who I don't agree with, and I never thought I could do that."
"This trip gave me the understanding of the boundaries of my own empathy," said Vlahakos, who had also participated in the 2018 summer research trip and found them to be very different.
"It was easier for me to be in the interviews this year," she said. "It was easier to absorb what was in the interviews because I did not feel the initial nervousness that I had the first trip."
On October 28, the students will be hosting a presentation on their project experience at 7 pm in room 0025 of the Farmer School of Business. It will also include a talk by a Undergraduate Summer Scholar, senior comparative religion and English literature major Nellie Given, who spent her summer researching  the ultra-Orthodox, anti-Zionist, pro-Palestinian Jewish group Neturei Karta and doing fieldwork interviews with Gray in New York.
Learn more about Gray's research and his student team on the project's blog, "Going the Critical Distance."
Learn more about programs and research opportunities in the Department of Comparative Religion.