Bestselling author Ruta Sepetys reveals the compelling backstory behind the little-known truths that her novels convey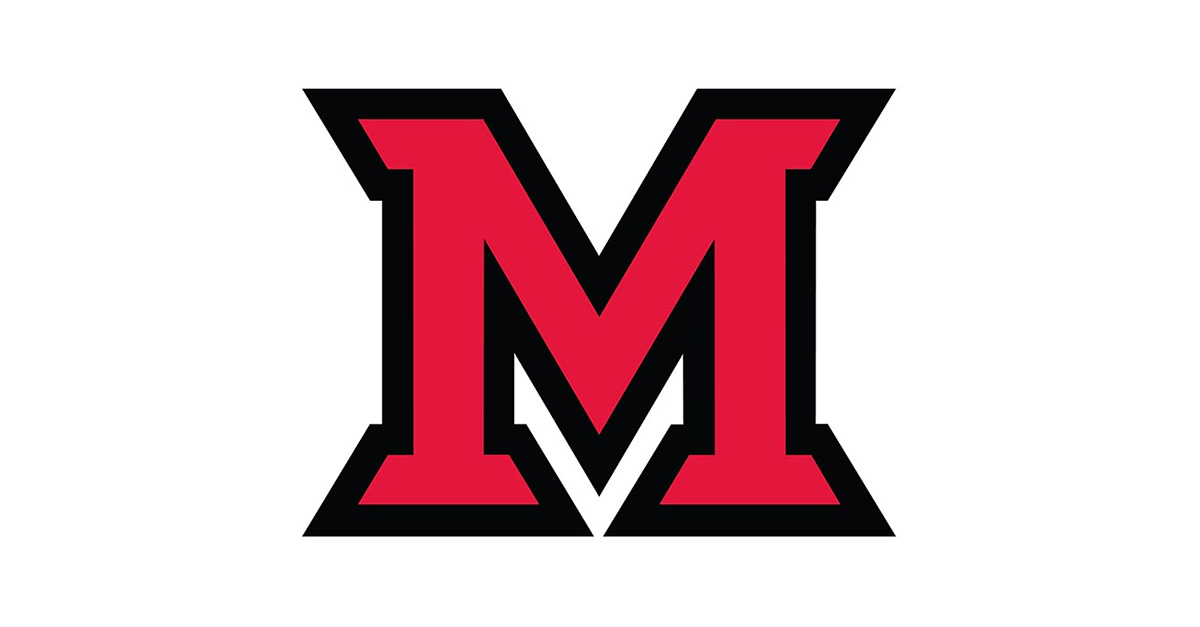 Nov 07, 2019
Written by Bethany Sersion, CAS communications intern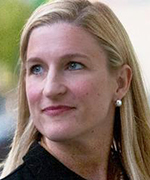 Ruta Sepetys
Internationally acclaimed New York Times bestselling author Ruta Sepetys visited Miami's Wilks Theater on Tuesday, October 15 to talk to students about her novels. The event was co-hosted by the Department of Teacher Education and the Havighurst Center for Russian and Post-Soviet Studies. Havighurst Center director and professor of history, Stephen Norris, interviewed Sepetys on stage before a full audience.
Sepetys has published her books in over 60 countries and 40 languages. Bestowed the Cross of the Knight of the Order by the President of Lithuania and honored with a postage stamp, she writes to educate and provide a voice for those marginalized or discriminated against in history, through fictional stories derived from history.
Associate professor of literacy Katherine Batchelor, gave a brief introduction, remarking on the impact of Sepetys' writing. She claimed that ever since she finished reading Between Shades of Gray, which depicts a young Lithuanian woman struggling against the Soviet Union's oppressive Stalinist regime of the mid-20th century, she watched for Sepetys' writings and was on the lookout for the release of each upcoming book.
"I read Between Shades of Gray in one night, and it enlightened me," Batchelor said. "I kept asking, 'Why did I not know about this history, and why is this not mentioned when we study World War II in school?'"
Sepetys explained that when she discovered that many people didn't know about this aspect of Lithuanian history, she set out to change that. She has contributed to the world's understanding of Stalin's deportation of Lithuanians and the struggle of Lithuanians during World War II.
Totalitarianism is a recurrent theme throughout Sepetys' books. Her first three novels are based on stories inspired by family experiences. Her father fled Lithuania and came to the United States at the age of 15. Members of Sepetys' family had been deported to the North Pole in Siberia, and others were sent to prison camps.
"After realizing that my freedom had come at the expense of my grandfather's family members, I concluded I was going to write a book — one girl, her dream of freedom, and a voice to speak for the millions of victims of totalitarianism who had never had a chance to tell their story," Sepetys said.
She thought over whether she could understand what her family had experienced as if it was a firsthand story of her own and present the story to readers in a way that they, too, could understand.
"I write my stories from the inside out," Sepetys said.
Writing Between Shades of Gray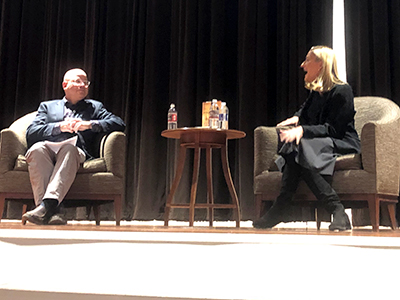 Stephen Norris and Ruta Sepetys
Before Sepetys starts writing, she revealed that she first reads nonfiction related to the topic. She looks at academic papers, journals, and diaries. Then, she travels to the part of the world that she is going to write about. For her 2016 novel, Salt to the Sea, for example, she travelled to the harbor in the Baltic Sea where the transport ship Wilhelm Gustloff departed from before it was sunk by a Soviet submarine in January 1945.
"I wanted to be there and see for myself," Sepetys said.
Sepetys also spoke to witnesses in Lithuania who had experienced the deportations. She told how they explained their desperation.
"When I interview people, I interview 50 people to create a composite for one character," Sepetys said. "I want to represent a broad range of human experience."
Sepetys captures a historical moment into a fictional story. She researches and writes at the same time.
Impact of Sepetys' First Novel
A feature film, Ashes in the Snow, was made based on Sepetys' Between Shades of Gray. It was filmed in Lithuania and became the highest-grossing film of all time in that country. Survivors, many of whom were children at the time of the Lithuanian deportation, were cast in the film.
"It was such a surreal experience seeing the characters that you created from these composites all represented and standing right in front of you speaking the words that you wrote," Sepetys said.
In Between Shades of Gray, Sepetys created a character, the Soviet prison guard Nikolai Kretzsky, who proved to be a nuanced, complicated character and not a pure villain. As Sepetys recounted, some readers in Lithuania did not like this depiction and accused her of a pro-Russian bias. As she explained, she wanted her story to be more human, to reveal the shades of gray encompassing both Lithuanian and Soviet lives.
"I wanted all sides of the story to be told," she said, adding that while interviewing survivors, she had been told stories of compassion on the part of the Russians as well as stories about Lithuanians who had helped put the deportation list together.
Sepetys also talked about how some would buy her book by mistake, thinking it was the novel Fifty Shades of Grey. She said that this was unintentional, but admitted that the title similarity was somewhat of an advantage when it came to book sales.
Many students attended the talk and, afterward, the line in front of Sepetys' table with books for sale stretched all the way through the middle of Armstrong Student Center.
"I want to be Ruta's best friend," said middle childhood education major Jessica Grothaus afterwards. "The book was eye-opening."
Batchelor summed up Sepetys' powerful prose by stating, "Ruta reveals hidden stories of recent history, gives a voice to the silenced, and intertwines themes of identity and heritage, all driven by the emotional strain of writing historical fiction."