Alumni Career Panel informs students on prospective careers in geology, geography, environmental science, and more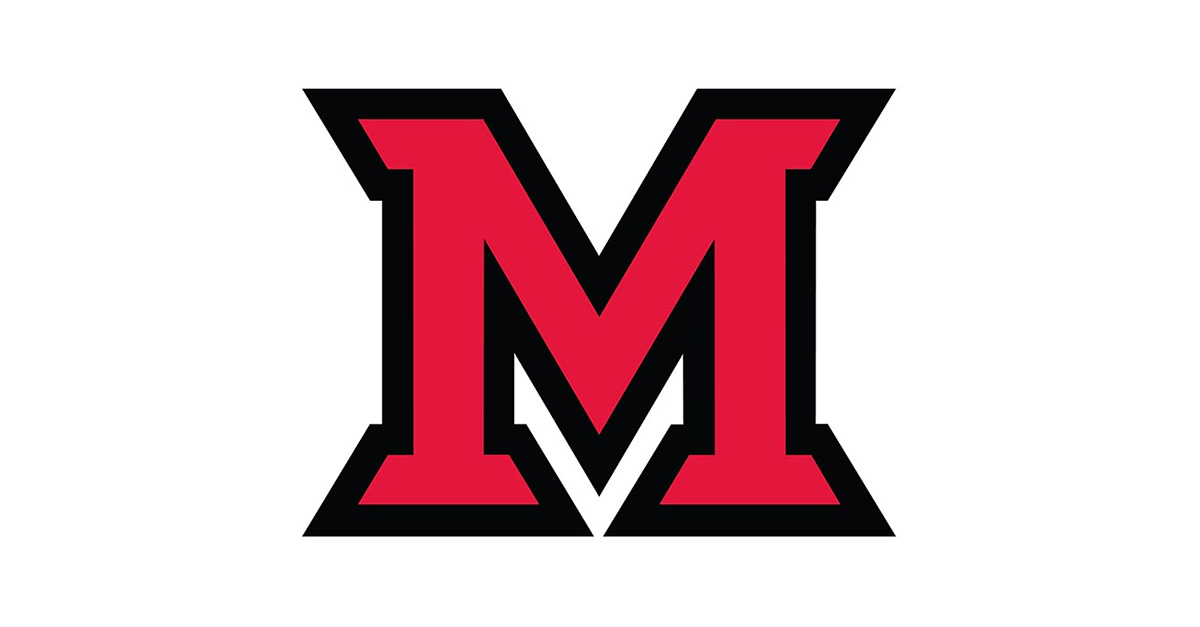 Dec 06, 2019
Written by Bethany Sersion, CAS communications intern
On November 11, the Institute for the Environment and Sustainability (IES), the Department of Geography, and the Department of Geology and Environmental Earth Science held the 4th annual Alumni Career Networking Event to provide current student majors insight and advice on preparing for life after they graduate from Miami.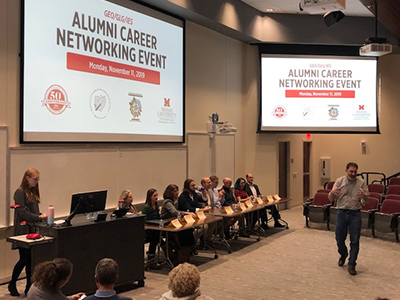 Jonathan Levy introduces the panel to the audience.
Representing the three departments were director of IES Jonathan Levy, chair and professor of geography Marcia England, and chair and professor of geology and environmental earth science Elisabeth Widom. The panel was moderated by Hannah Pigg, assistant director and CAS liaison from Miami's Center for Career Exploration & Success.
Offering advice to help empower students and optimize their potential, the panel of 9 successful Miami alumni discussed a wide range of topics, including how to stand out as an intern or job candidate. The participating alumni were:
Dan Barnett ('85 BA Geology), Parr, Brown, Gee & Loveless
Matt Brueseke ('97 BA & '06 PhD Geology), Department of Geology, Kansas State University
Tammy Jett ('89 MEn), Duke Energy
Nathaniel Kaelin ('09 Urban & Regional Planning), Mid-Ohio Regional Planning Commission
Hannah Koonce ('12 Geography), Atmos Energy
Daniel Tidyman ('16 Sustainability), City of Hamilton
Laura Walkup ('13 MS Geology), United States Geological Survey
Marion Wells ('11 BA Zoology & '13 MEn), Crawford, Murphy & Tilly
Clayton Whitney ('84 MEn), Smith Management Group
"Going above and beyond, being eager and trainable, and making connections will absolutely make a difference in getting your foot in the door," Koonce said. Currently working in Dallas, Texas as a compliance specialist, she has the responsibility of making sure her energy company complies with state and federal regulations.
Brueseke teaches at Kansas State University as an associate professor of geology and director of graduate studies. He is also pursuing research in igneous petrology, tectonics, and ore deposits. "Internships can help you determine what you do and don't want to do," he said. He explained that he started off with a visiting faculty position, allowing him to determine if this was really what he wanted to do before he committed.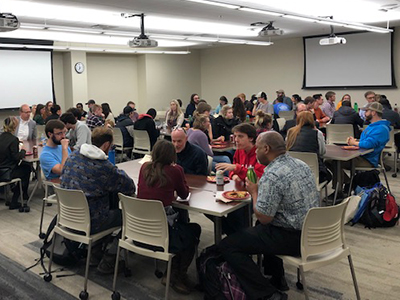 Students met with alumni in small roundtable groups after the panel discussion.
Wells, who is employed as an environmental scientist at a consulting firm, emphasized that an intern who shows perseverance and embodies that they "want to learn" stands out to employers. "Through word of mouth, people will make room for a hire if they have the staffing and resources available," she said.
Wells has been working in environmental consulting for 7 years and found her job through networking. "It was not a posted position," she added.
Barnett, a lawyer in Salt Lake City, Utah, said that he combined his two passions: law and environmental sustainability. He works on cases in construction law and deals with environmental litigation. "It's funny to talk about my first job because I spent a lot of time in school," he said. "I was 39 before I got my first job!"
For those going into the workforce who are unsure of what they want to do, Jett suggested that students pay mind to every opportunity and see where each takes them. As an environmental specialist at Duke Energy working on water resources, gas/electric utilities, and hazard/waste, she got started at the company after completing a Cincinnati Gas and Electric internship.
"The job that I took was not something I was particularly fond of, but it morphed into something that I love," Jet said. "Extrapolate your skills and think of what you can bring to your company."
Asked by moderators about the most interesting thing they had studied on the job, Brueseke said there was a time when he was collecting samples and performing detailed studies of mines, which he described as "amazing."
"At first, my research was done at a small scale and eventually progressed into a large-scale study of the Yellowstone volcanic field," he said.
Walkup is a geologist who does field mapping and analyzes volcanic ash from tephra deposits from all over the western US, including Mt. Rainier. She said that she started out in a 3-month internship with the federal government, which turned into 13 months and eventually into a full-time job.
"The most interesting part of my job so far has been finding a new volcanic ash layer that no one knew about!" Walkup said.
Many of the panelists said that their occupations are hands-on and often involve either indirectly or directly helping people.
After the panel discussion, the students were able to meet in small groups with the alums at a roundtable event. These interactions helped students acquire insight as they anticipate the many exciting opportunities of their potential careers.
Alex Knutt, a sophomore majoring in environmental earth science and co-majoring in sustainability, said she was strongly considering the advice of the panelists. "I want to work with people and not in a lab," she said, adding that she has already gained hands-on experience through an internship with the Brookfield Zoo in Brookfield, Illinois.