Miami hosts first Career Discovery Conference to offer guidance for international students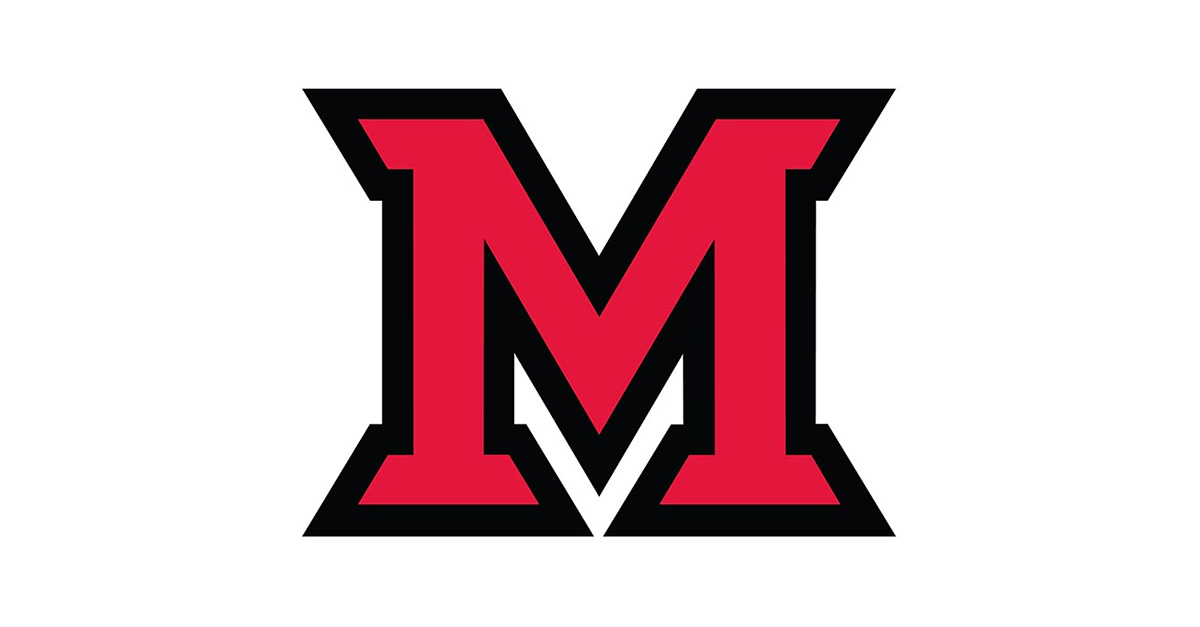 Dec 13, 2019
Written by Madelyn Neal, CAS communications intern
On November 16, Miami's American Culture & English (ACE) Program and Center for Career Exploration & Success (CCES) held the first Career Discovery Conference, designed to assist international students in learning how to navigate job and internship searches in the United States and abroad.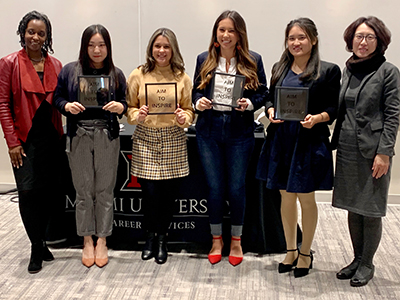 Tekeia N. K. Howard (far left) and Eun Chong Yang (far right) pose with some of the student award winners.
The event was spearheaded by ACE associate director Eun Chong Yang and associate director for diversity initiatives & on-demand career advising Tekeia N. K. Howard from CCES, in conjunction with Global Initiatives, the College of Arts and Science, the Graduate School, and the International Faculty and Staff Association.
Throughout the day, 9 undergraduate and graduate student presenters from 8 different countries shared their unique experiences and advice, ranging from experiences in the Peace Corps to securing a medical research internship.
The graduate students were:
Angela Trubceac (educational leadership)
Ines Alba (educational psychology)
Syed Hassan Raza (educational leadership)
Xiuhan Chen (educational psychology)
Undergraduate students who participated were:
Khoi Hua (chemistry major; Japanese minor)
Woo Suk (Alex) Kwon (computer studies major; business analytics minor)
Nan (Ronan) Luo (strategic communication major; interactive media studies co-major)
Dania Puente (strategic communication major; East Asian languages and cultures major)
Raghavee Neupane (microbiology major; premedical studies co-major; global health minor)
Luo, who is a senior, emphasized the importance of overcoming fear, especially coming to Miami from a tiny rural town in the Jiangxi province of China. In her presentation entitled "Building Your Confidence Step by Step for Your Future Job Seeking," she listed her main challenges as the language and cultural barriers as well as uncertainty in herself.
"You can never conquer differences, they just exist," Luo said. "So, when I notice cultural differences, I learn different cultural values and teach my own. Don't worry about the differences you have with others, just try to be open minded."
Luo added that stepping out of her comfort zone was essential to her success and encouraged other students to do the same.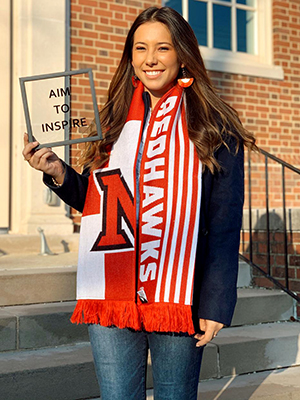 Dania Puente with her award for first place among undergraduates
Puente, also a senior, has already earned a summer 2019 internship and subsequent full-time job offer from JPMorgan Chase upon graduation. In her presentation, "How to Earn a Corporate Internship from On-Campus Jobs," Puente elaborated on identifying skills that students already have, listing many on-campus job opportunities in order to combat the assumption that the only on-campus jobs that exist are those in dining halls.
"You all already have so many skills that you don't even realize," Puente said. "As you're looking for a job, it's important that you are able to communicate what you've already learned to potential employers."
Neupane, a junior, ended the conference by presenting on how she secured a medical research internship.
"Being premed is hard as it is, as only about ⅖ of [domestic] applicants are accepted," Neupane said. "But the statistics are even more daunting for international students." Most research projects, she explained, are privately funded, making international students automatically ineligible. As a result of opportunities being fewer and farther in between, timing is everything.
"If I could change things now, I would start looking for and applying for internships a lot earlier," she said. "It's easy to get overwhelmed and experience burnout, but know that with every move you make, you're closer to achieving your dream position."
After every presentation, students in attendance cast votes for the most impactful presentations, for which professional development prizes were distributed at the end of the conference.
Graduate students Xiuhan Chen was awarded first place for "Free Traveling Brings Career Connections," and Ines Alba won second prize for "How Challenges at Work Lead to Academic Success."
For the undergraduate students, Puente's presentation earned first place and Luo earned second.
ACE associate director Yang said that she hopes this event will be the first of many similar activities, because she believes the effects could be far reaching. "I talked to a couple students who said they were from the Middletown campus," she said. "I'm thankful that our advertisement spread to Miami regional campuses. It's wonderful that they are here!"
For Oxford campus students as well, this event provided essential information to their job searches.
"I learned a lot about the assets that international students possess that can help them get jobs, said senior architecture major and interactive media studies minor Ali Darwish. "It's really nice to have people that are similar to you that have had these great experiences. It makes them so relatable, and it's very encouraging."
"Although being an international student adds another layer to an already complex process, these 9 presenters emphasized the possibility of succeeding by putting yourself out there," he added.
"It's hard [as an international student] but it is possible, said senior chemistry major Hathaipat Arayangkul. "[I learned that] it's important to be open-minded and keep looking for internships no matter what."