InterfACE mentorship program integrates international students into the broader Miami community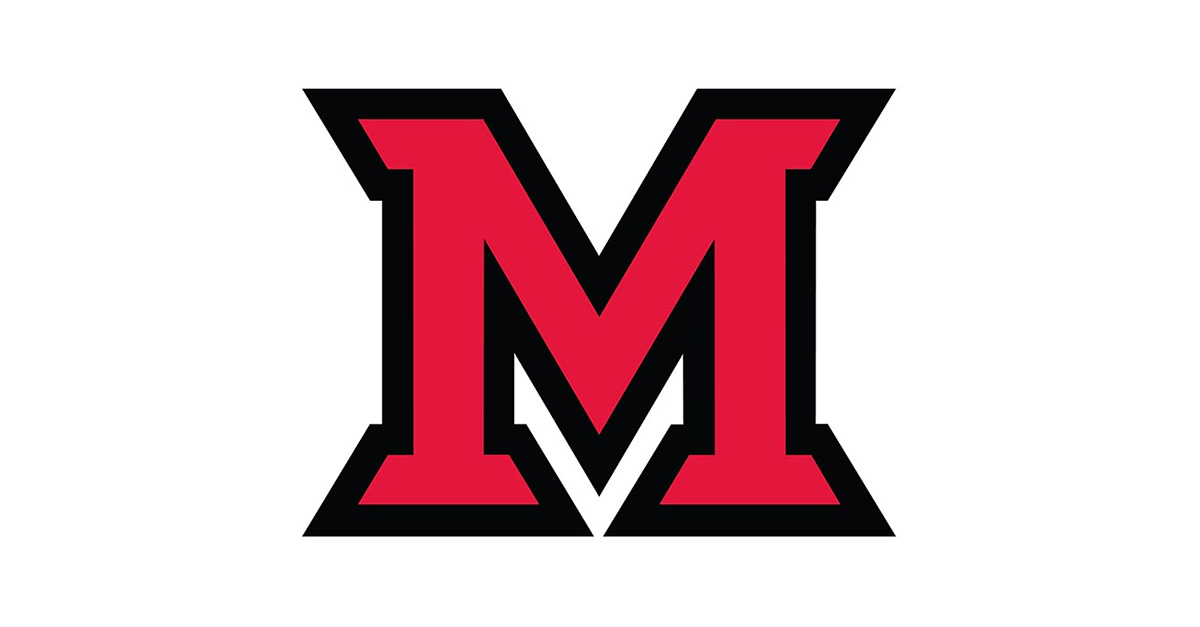 Jan 09, 2020
Written by Caroline Igo, CAS communications intern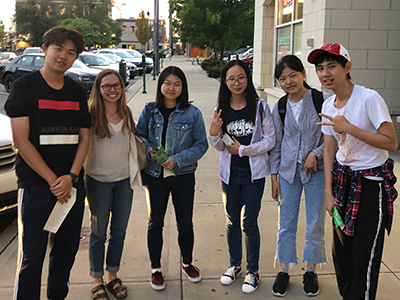 This mentor group headed Uptown for a tour of Oxford and dinner off campus. In addition to weekly meetings, mentors took students out to engage in campus and community events and activities throughout the semester.
The American Culture and English Program (ACE), which has been a part of the Miami University curricula since 2011, seeks to facilitate the linguistic, cultural, and academic transition of international students to Miami. More recently, a mentorship program called InterfACE has become a large part of ACE's overall success.
"ACE provides students with high-quality English language instruction and a challenging and supportive intellectual environment," said Carol Olausen, ACE director. "Combined with cultural and co-curricular opportunities, ACE supplies all the necessities needed to achieve success at Miami."
InterfACE pairs up international students with older Miami students throughout the academic year. The program's intention is to enlarge social circles and to further connect international students to Miami.
"Students in ACE have access to ACE-specific programming," said Olausen. "This includes intensive academic advising, InterfACE peer mentoring, designated writing lab with ACE trained tutors, orientation events, and class-led cultural excursions."
InterfACE Mentors
"This is my third semester as an ACE mentor, and I really enjoy it," said junior creative writing major Zach Goetsch. "The most engaging part is the connection you form with the students. It is really important for their adjustment to Miami culture. It definitely frames the Miami experience."
Each mentor is assigned to a group of about 6 international students. Each Tuesday, the students meet with their mentors for workshops as well as "check-ins" on how they are doing. Mentors gets to know each student personally throughout the semester.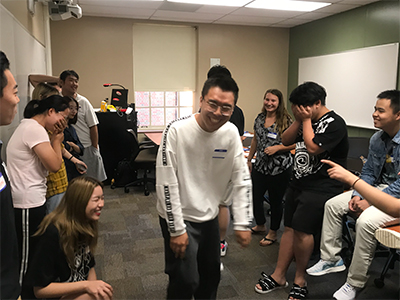 Students enjoy an ice breaker game where they have to try NOT laughing as they walk past their classmates laughing.  Each weekly meeting opened with a game followed by a discussion between mentors and ACE students in their mentor groups.
"At first, the students were really shy, but it is so rewarding when they open up. We now have a well formed relationship," said Goetsch.
"I have found every aspect of my ACE experience to be rewarding beyond words," added Courtney Madl, a senior international studies and Italian studies double major and InterfACE mentor. "My few semesters at InterfACE have allowed me to develop friendships and learn from numerous captivating international students."
"My 6 students this semester have been nothing short of tremendous. All of the students are driven, engaged, and dedicated to improving their English to fully matriculate into Miami's undergraduate programs," said Madl.
Madl said the mentorship program enabled her to discover more about Chinese culture, language, and tradition, which is helpful for her own studies."For example, one of my students introduced me to the Confucius Institute's Tea Club," she said.
In addition, InterfACE groups and their mentors have several outings that occur outside of required Tuesday sessions.
"Sometimes we go to a restaurant together Uptown. Other times we go to events thrown by Miami," said sophomore zoology and Spanish major, Breanna Bernal. "Some of us went to 'Fallin' for Goggin' this past fall."
"We spend about an hour to an hour and a half with our groups during the outings," said Bernal. "It is something to look forward to every week."
"I think ACE is successful because ACE doesn't just focus on the academic transition of students, but also on the social and cultural needs of students transitioning to life at Miami University and in US culture," said Olausen.
Miami Community Events and Activities
Tuesday sessions inform ACE students on a different topic each week. It is then followed by a discussion with peer mentors to check understanding. Mentors answer any questions that they might have.
Throughout the fall semester, ACE students attend the following workshops and presentations and frequently have follow up conversations with their mentors, particularly around topics related to campus support services:
Residence Life: How to get involved on campus and navigate roommate relationships.
Academic Integrity: What does academic misconduct look like in the US?
CAS Advising: What are the tools for understanding majors and courses? How do you plan a schedule?
Academic Advising Fair: All divisions are present for an event exclusive to ACE students so that they can explore majors and requirements.
Career Services: What are your interests in considering future majors and careers? What tools are at Miami to support this?
Rinella Learning Center: Time management and study skills.
Community Standards and MUPD: What are the expectations for students at Miami and in the USA?
Health, Wellness, and Student Counseling Centers: How to navigate health as a student at Miami.
King Library: Dedicated ACE support sessions held throughout the semester.
"Students who complete the ACE program have demonstrated success in meeting the academic benchmarks of the program through the support of a highly dedicated faculty," said Olausen. "They have had numerous experiences on campus to support them in meeting and interacting with diverse Miami students."
"Our goal is to make sure that ACE students are welcomed and supported during their first semester at Miami, so that they can best see how to envision their future throughout the rest of their academic career and beyond," she said.
"I have been at Miami for three months now," said ACE student Yanlong 'Slaughter' Yang. "I talk to my mentor every week about how it is going and how I am. I have made a lot of friends from the program."
Yang, like all ACE students, has to pass the ACE program in order to declare a major within the university. "ACE is the bridge that connects international students to Miami," he stated. "If I skipped ACE, then I would be lost."
"Without InterfACE, I would never have had the opportunity to participate in these activities that have undoubtedly transformed my college experience," added Madl.