Faculty and students research the return of beavers to the Midwest and Miami's campus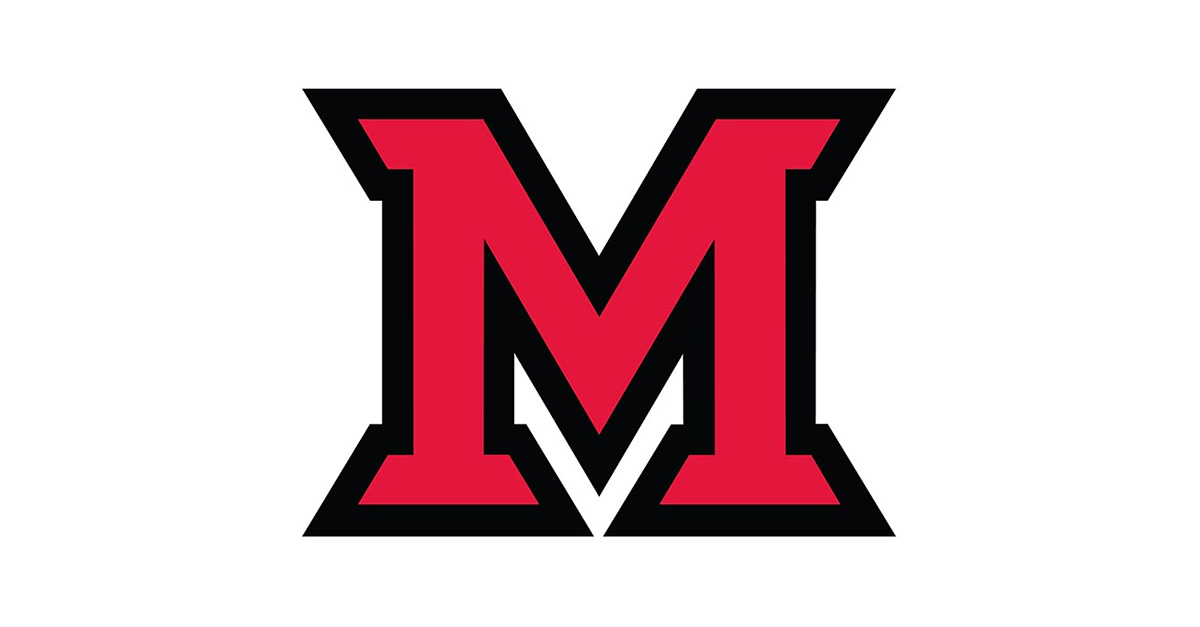 Mar 17, 2020
Written by Phoebe Campbell, CAS communications intern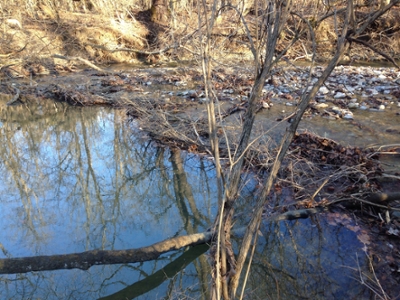 Beaver dam on creek
After disappearing from Ohio, beavers are making a comeback. They've reappeared on Miami's campus, and researchers are studying the impacts on the environment and water quality.
Bartosz Grudzinski, professor of geography and fluvial geomorphologist, has been collaborating with graduate and undergraduate students to research the return of beavers to Ohio and their impact on the environment and local water quality.
Grudzinski completed his doctorate program in Kansas, and as a river scientist, "I was interested in human impacts on rivers, land use impacts, and how we have altered the landscape of natural environments," he said.
He never saw any beavers in Kansas, however. "Historically, we had between tens to hundreds of millions of beavers in North America," but he explained that they were eradicated due to the fur trade of early settlers.
Grudzinski then moved to Ohio and began exploring the local environment. On a canoe trip, upon noticing the impacts of beavers on streams and lakes, he asked himself, "What kind of impact is it having on water quality?"
Graduate and Undergraduate Researchers
So Grudzinski created a research project centered in Hueston Woods, which found that beavers were having a positive impact on the quality of water. The first step to understanding this impact was finding all of the beaver dams.
This is where graduate student Teng Keng Vang comes in.
Vang received his undergraduate degree in ecology at the University of California, Santa Cruz. When applying for graduate research programs, he saw Grudzinski's listing for the position to further his research on beavers.
"I was given a lot of leeway with what I could do with the project, as long as the end deliverable was a predictive model of beaver dam occurrences," he said.
After arriving at Miami, Vang began surveying for beaver dams in the surrounding areas, starting with Hueston Woods. "Then we pretty much spread out to any green space in the southern half of the Great Miami River Watershed," he said.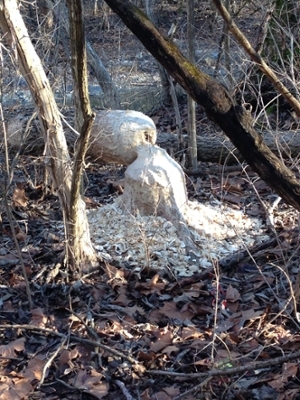 Beaver sign
His research was quite the physical endeavor. It required him going out into the woods, hiking along streams, and taking the GPS coordinates everywhere he saw a beaver dam. "Based upon that information," he said, "I built a predictive model, predicting where beaver dams are likely to occur."
He also chose to collaborate with two undergraduate students, environmental earth science major/sustainability co-major Claire Stock and geography major/sustainability co-major Izzy Aristizabal, on his research project.
"When I was an undergrad, I had grad students who taught me a ton, and without their teaching, there's no way I could have done this project," Vang said. "So I felt I had a responsibility to pay it forward and do that for other students."
"We did this research in the dead of summer and in waders, so the conditions were rough, but it was very rewarding to get out and help Teng with his study and take on my first undergraduate research position," said Stock. "I learned just how much work is required when conducting a study from start to finish."
Vang also insisted that the undergraduate assistants were crucial in completing his field research in a timely manner. Without their involvement, "it would have taken me at least two or three times longer to do it."
"If there is someone else out there with you, you are much more willing to take a risk," Vang said. "If you look across a river, you can see the surface just fine; you just don't know what's under the surface."
With an undergraduate student with him, however, he was able to test the waters, knowing someone would be there to help if he got stuck.
Impact of Beavers on the Environment
"Beavers have kind of a mixed reputation for their environmental impact," Grudzinski said. "What people often see are trees cut down, and sometimes they cut down really old trees that we want to keep around."
Many people look at this as a detrimental impact to the environment, but Grudzinski disagrees. "I don't believe that they damage the environment in that sense," he said. "Overall, I think they are improving the environment because when they cut down trees, they don't just cut them down for no reason. They are building dams or using them to sustain themselves during winter."
Grudzinski said that although he has not conducted extensive research of his own on beavers, based on studies within the region he believes that they're improving water quality and increasing biodiversity.
Vang pointed out the effect that beavers, as "big keystone species," are having on the local environment. "Their impact on the environment is disproportionate to their size," he said. However, like Grudzinski, Vang was not convinced that beavers' impact on the environment is negative.
Beavers on Miami's Campus
Since Grudzinski's first sighting of beavers in Oxford, their population has grown rapidly. "Even in the last 5 years that I've been here, they're spreading throughout this area," he said.
He noted a particular place that beavers can be observed around campus, "Now on Harkers Run, there is a swinging bridge just upstream — there is a beaver's dam."
Vang explained that little research of this kind has ever been centered around the Oxford area.
"All of the previous literature on beaver dam work, I would say 90% of it, was done in the Rocky Mountains, Sierra Nevada, Cascade Mountain range, Canada, and other mountainous areas," he said.
Their research conducted in a flatter region like southwest Ohio, however, has been useful in studies elsewhere in the world. "There have been teams of researchers doing studies on beavers in South America, and what we're seeing is that our findings corroborate their findings," said Vang.
From the west coast to Canada to South America, evidence of the comeback of beavers can be seen right here on Miami's campus. This provides an opportunity for faculty and students to do innovative geographical research, right in their backyard.