Preaching Goes Viral: COVID-19 prompts students to collaborate on a religious response initiative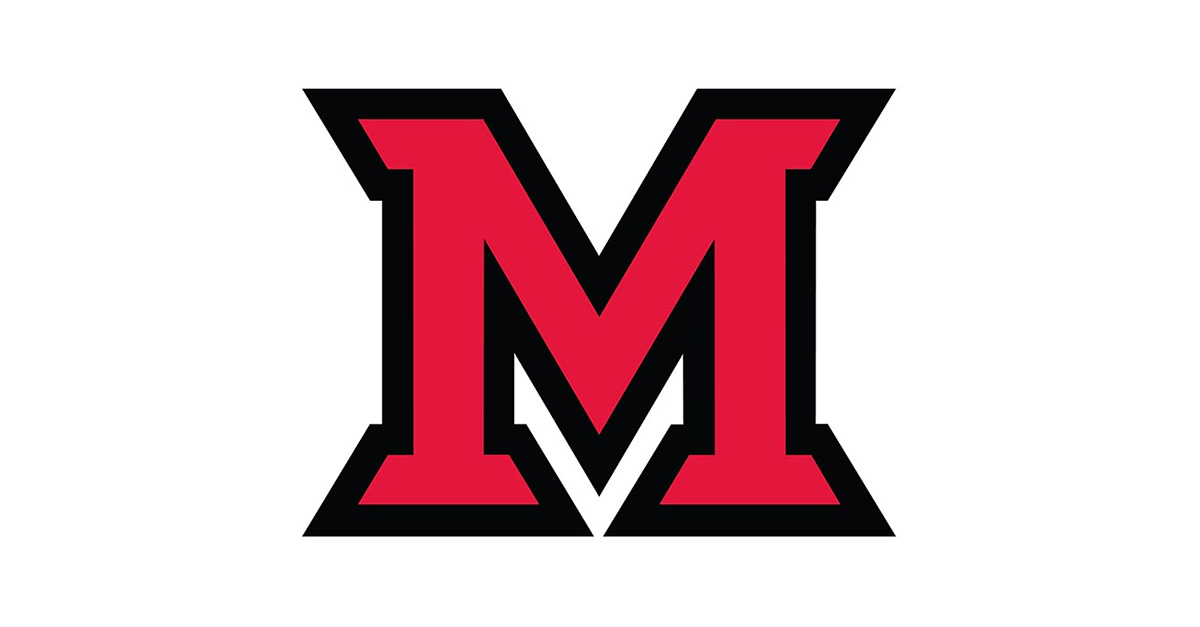 May 15, 2020
Written by Kelly Marsella, CAS communications intern
When classes transitioned online at Miami University in March as a result of COVID-19, Hillel Gray, an assistant teaching professor in the Department of Comparative Religion, initiated a special research initiative called Preaching Goes Viral. Students from his REL 101-Introduction to Religion and REL 286-Global Jewish Civilization classes began compiling and analyzing data to understand the religious responses to the pandemic.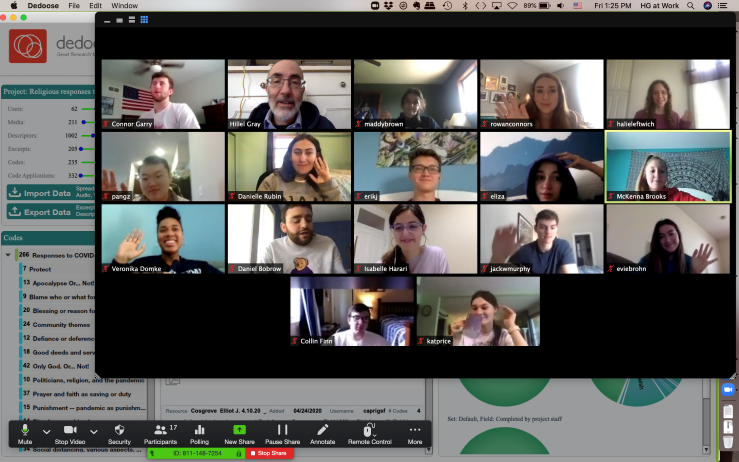 Participants in REL 101-Introduction to Religion meet in a Zoom session. This screenshot was used in President's Crawford tweet showing that the class database had reached 1000 items.
"Preaching Goes Viral is an ongoing project of gathering and analyzing religious responses to a global pandemic from various religious groups," said Gabby Burke, an early childhood education major working on the project. "One objective is to better understand themes that are arising within religious communities during times of quarantine."
As an extension of Gray's ongoing project, Empathy and the Religious 'Enemy', the new initiative is intended to help people make sense of these unprecedented times. Although any material can be submitted, such as sermons and religious writing, Gray said he is hoping to expand on that.
"With Preaching Goes Viral, we want to be able to collect and study changes in rituals, new prayers and hymns, images of lived religion, and personal reflections of moving into and out of religious life," Gray said.
During an uncertain time for people across the United States, the pandemic and everything surrounding it can be overwhelming.
"Many people are focused on what the media has to say about new guidelines, orders, and so on," said Maddy Brown, a social work major and student of Gray. "Therefore, our different focus on this pandemic we are living through makes the project unique."
The submissions will create a digital archive of the variety of religious responses.
"Our goal is to analyze the responses found in the U.S. and beyond and create a large database that will be easily accessible to the public," said biology and premedical studies major Veronika Domke, also one of Gray's students.
The database is not available to the public yet, but Gray explained he soon expects it to be.
"We have been working with digital staff at Miami University Libraries on a prototype within a web publishing platform," Gray said. "This innovative database already has hundreds of media files and more than 3,000 references that users can search through."
With different religions and regions of the United States represented in the database, users can gain insight into religious groups and focus on what Gray calls "religious literacy," which includes "an impartial understanding of diversity within religious groups, their historical contexts, and their artistic creativity."
"As a person of faith, I also love learning about all the different religions and their opinions on COVID-19," said Brown.
As the semester comes to an end, Gray is planning to continue the Preaching Goes Viral initiative over the summer. He is actively looking for student interns to make this possible.
"I hope my current students walk away from the experience with having been actively engaged with a live, historical event in a very practical way," he said.
And they are.
"My favorite part about working on Preaching Goes Viral is working with Dr. Gray," said Brown. "He is such a great leader and brings so much positivity, which is very much needed during these times."
Editor's Note: Below are a few updates since the May 15 publication date:
We are collaborating with the Roy Rosenzweig Center for History and New Media at George Mason University, which will include a new website for Preaching Goes Viral, both for data submissions and access to the collection for Miami students, for scholars, and for the public. Miami librarians are spearheading the design and database management of the new website, including Matt Benzing, Eric Johnson, and Elias Tzoc.
Sixteen summer interns joined the Preaching Goes Viral initiative and researching a variety of religious subcultures.
For the Fall semester, Preaching Goes Viral will serve as a core digital resource for two sections of REL 101, a section of REL 101H, and a course on Medicine, Morality, and Religion (REL 360A), where pre-med, nursing, humanities, and other students will focus on the bioethical challenges posed by the global COVID-19 crisis.