Generation COVID: Film studies students turn their quarantine experiences into a documentary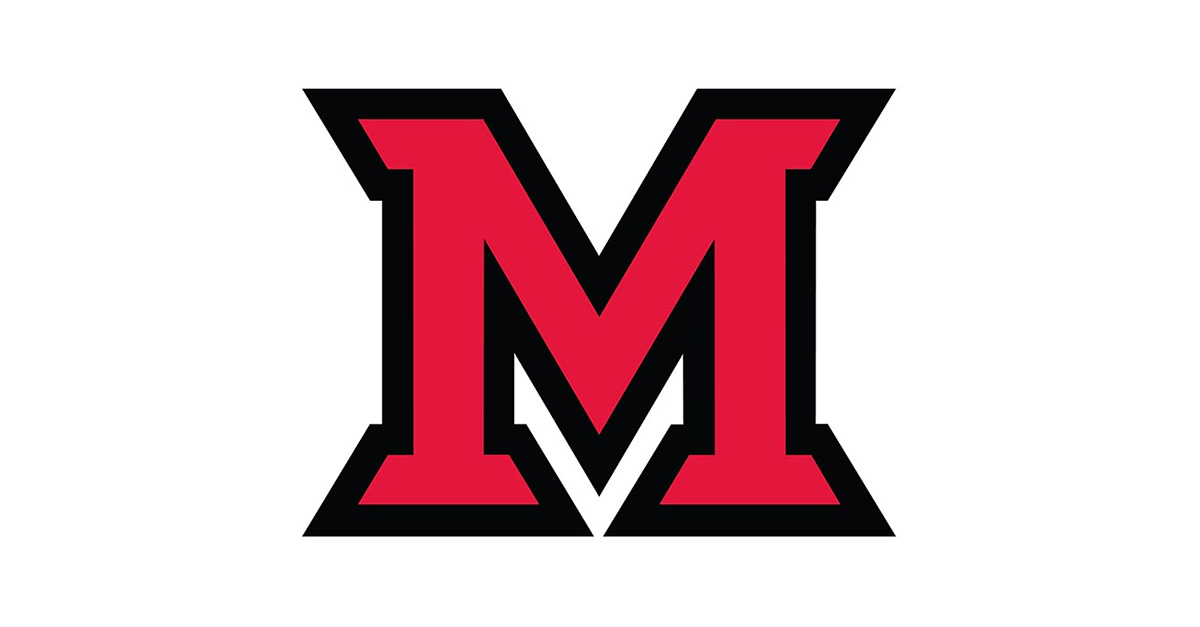 Jun 08, 2020
Written by Allison Haeger, CAS communications intern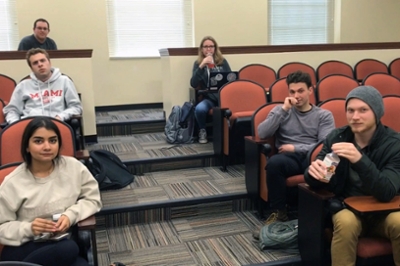 Some of the students in Andy Rice's documentary film production class on March 10, 2020
On March 10, Miami University students were informed that all spring classes would be taught remotely in response to the increasing number of COVID-19 cases in the United States. Andy Rice, assistant professor of comparative media studies and film studies, recorded the shocked reaction from students in his documentary film production class, FST 350.
This scene would later be incorporated as one of the beginning sequences of the student-produced documentary, Generation COVID: Coming of Age While Six Feet Apart.
As the film shows, some Miami students interpreted this news to mean more freedom and time for fun with friends in between classes — but many did not realize the effect coronavirus would have on their lives. And by March 13, Miami students were being told to move out of their dorms and back home if they were capable.
"The class quickly agreed to work collaboratively on a film about the impact of COVID-19 on the students' lives," Rice recalled. "I restructured the syllabus to show short, low-budget, experimental, personal films about family issues, or made at home."
Introducing the Filmmakers
Each collaborator began working on personal portraits of either family members or themselves that demonstrated what family life in quarantine is like. These sequences were later combined by Rice to create the final 42-minute film. In order of appearance, the students are:
Zion Miller, a senior international studies and comparative religion double major from Des Moines, IA
Victoria Vulgamore '20, a recently graduated international studies and comparative religion double major from St. Petersburg, FL
Eric Green, a senior political science and strategic communication double major from Chicago, IL
Bryce Mysona, a junior interactive media studies and film studies double major from Lebanon, OH
Valentina Wolf, a junior political science and film studies double major from Westlake, OH
Jack Lichtenstein, a junior American studies and film studies double major from West Chester, OH
Patrick Guerreau, a senior media and culture and creative writing double major from Akron, OH
Amber Hockstok, a sophomore public administration major from Westerville, OH
Toby Green, a junior business and film studies double major from Granville, OH
Chandler Williams, a senior creative writing and media and culture double major from Cincinnati, OH
From this collage of scenes, however, it was clear to Rice that there was a lack of diversity. "Students in the class were mostly middle class, and mostly white, and so were the characters featured in the film," he said.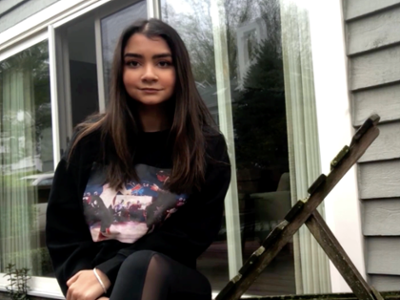 Valentina Wolf at home
Valentina Wolf had similar concerns as her professor. "Communities of color were disproportionately impacted by the virus, and unfortunately that story was difficult for a largely white class to tell," she said.
In response to this, Victoria Vulgamore came up with the idea to conduct recorded Google Meet interviews with additional sources, and Patrick Guerreau followed through with online meetings to give a broader perspective on the impact of COVID-19 on Americans. Some of those featured included Miami's current student government president, small business owners, teachers, multiple medical personnel, and an essential worker. The incorporation of these interviews with student perspectives and backstories during lockdown make up the documentary.
Obstacles in Making Generation COVID
Amber Hockstok filmed her mom's transition from in-person to online teaching as a high school science teacher, which was difficult because of the change in resources teachers and students were provided with.
"One of our biggest obstacles as a group was communication and making it a single coherent film," Hockstok said.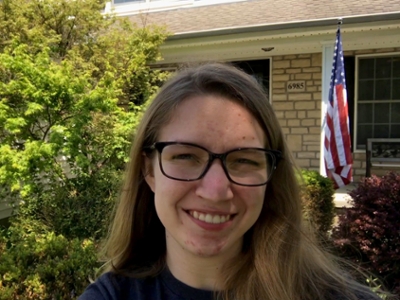 Amber Hockstok at home
Much like her mom, Hockstok recognized how the lack of the latest available technology, normally accessible in the Department of Media, Journalism & Film's facilities in Williams Hall, presented obstacles in the making of Generation COVID. Instead of using high-tech cameras and editing software, students had to film the majority of the project on their phones and try their best to create a coherent film in light of each person experiencing unique coronavirus circumstances.
"We certainly struggled a bit, and since we couldn't get it perfect, we let each of our segments have their own 'personality' in a way," Hockstock said.
She emphasized that embracing the fact that the film wouldn't be entirely consistent would aid in portraying one real impact of COVID-19 in itself through the production.
Creating the Characters
"I really enjoyed making this film overall because it felt like we were creating something of value rather than just another class project to get a grade for," said Zion Miller.
As a filmmaker on this production, Miller felt that one of the more critical aspects of the film was the personal storylines featured, which worked to humanize the documentary.
"Especially as the pandemic becomes more and more politicized on partisan lines, I think it's easy to forget that we're all just regular people trying to get by in various ways," said Miller. "This documentary reminds people that there's a very personal aspect to this pandemic."
Jack Lichtenstein shared Miller's viewpoint on the importance of building up backstories to develop characters into something more than another coronavirus statistic.
"I think that the more personal segments were done for the sole purpose of making ourselves more relatable," Lichtenstein said, bringing up his interest in true crime. "It felt wrong to me to not include it somewhere in the film."
Future of Generation COVID
The students are excited to share the production, one possible avenue being through film festivals. Because of the documentary's relevance with COVID-19, Miami University Special Collections will be archiving it for their collection on life during the pandemic.
Because the semester is over, Rice is not sure if a follow-up film on life transitioning back into society during COVID-19 is possible from the same group of student creators, but he does believe it would be relevant to the times of today.
"What does it mean for college students to grow into adulthood amid a halted economy?" Rice said. "This question about growing up, probably with a great deal of college debt, against the backdrop of a looming depression and ecological crisis is perhaps the fundamental question of our moment. And it is a question that deserves more films."
If a sequel is made or the current film extended on, Wolf said that she hopes the documentary will focus more on the minority experience during coronavirus.
"I think a second transition film must include the voices of those risking their lives to leave their homes and protest in large crowds against police brutality," Wolf said. "In retrospect, it will be impossible to talk about COVID-19 without discussing the Black Lives Matter movement."
Hockstok said that she is interested in creating a follow-up film covering adjustment back into society, one which would likely receive the same praise Generation COVID has.
"Although we won't be together as a class, I would love to see either the next class, or ourselves somehow, create a second film when we start adjusting back," said Hockstok.