Western Program professor Nik Money invites students on a nature walk to discover wild mushrooms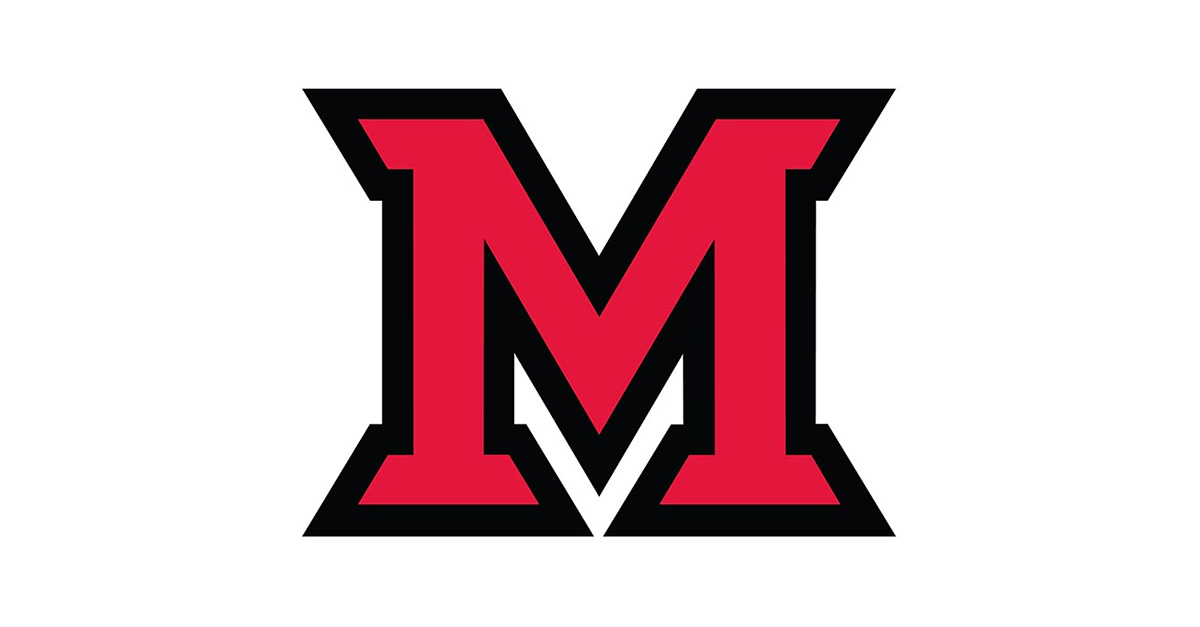 Sep 23, 2020
Written by Bethany Sersion, CAS communications intern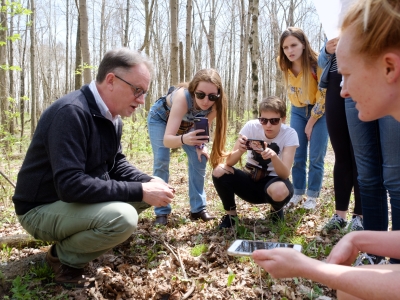 Nik Money and students examine life at the forest floor in Western Woods (April 2018).
Professor Nik Money, mycologist and director of the Western Program, is taking students on a botanical journey into the Western Woods to study mushrooms on October 16, from 2:30 to 4 pm.
"I've been fascinated with mycology, the study of fungi, since I was an undergraduate student at Bristol University in the 1980s," Money said. "I was first introduced to fungi by a biology professor who described the difference between fungi and plants, and this really captivated me."
Mushrooms are the fruit that are produced by 16,000 different species of fungi. Fungi engage in rapid activities both above and below ground. Those that grow on rotting logs release 30,000 microscopic spores per second, creating clouds of particles.
"Special lighting can reveal this fairy dust falling from the cap of a mushroom," Money said.
Money has been a professor at Miami since 1995 and has taken groups of students on numerous mushroom walks over the years. He is hoping for plenty of rain before the walk because this provides the best conditions for the fungi.
"In some years, the mushrooms are spectacular," Money said. "In others, it is difficult to find anything, so I get very excited when it rains a lot."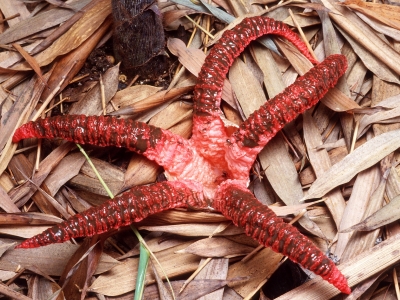 Octopus stinkhorn mushroom (from Money, N. P. 2017. Mushrooms: A Natural and Cultural History. Reaktion Books, London)
Many mushrooms reside in the Western Woods. Professor Money will discuss how these mushrooms came to be here and what this means for the overall environment.
Species that thrive in the Western Woods are there for a reason. Mycorrhizal mushrooms are a species that connect to the roots of living trees and support the health of forests. A common mushroom found in the Western Woods is Calvatia gigantea (giant puffball), which, as Money describes, can expand to the size of a soccer ball.
"The 'meat' inside a young puffball is pure white, but as the mushroom ages, this flesh darkens and is transformed into trillions of microscopic spores," Money said.
Another mushroom species, the destroying angel, is poisonous.
"It is a beauty and a beast," Money said.
He hopes that students who join him on the mushroom walk will gain an understanding of the biology of fungi, but he nods to the fact that the greater purpose is to connect with nature.
"I could claim that the walk will provide students with a powerful introduction to the biology of the fungi, but, truthfully, the objective in the age of COVID is simply to get outdoors and feel more connected to the natural, non-human environment," Money said.
The mushroom walk will begin at the College Woods Loop, south of the Boyd Hall parking lot of Miami's Oxford campus. Those who wish to join can meet Money at 551 Western College Dr. However, due to the need for social distancing, the number of participants for this event is limited. To reserve a spot, please contact Billy Simms (simmsws@MiamiOH.edu).