Freedom Rider Betty Daniels Rosemond shares her story with Miami students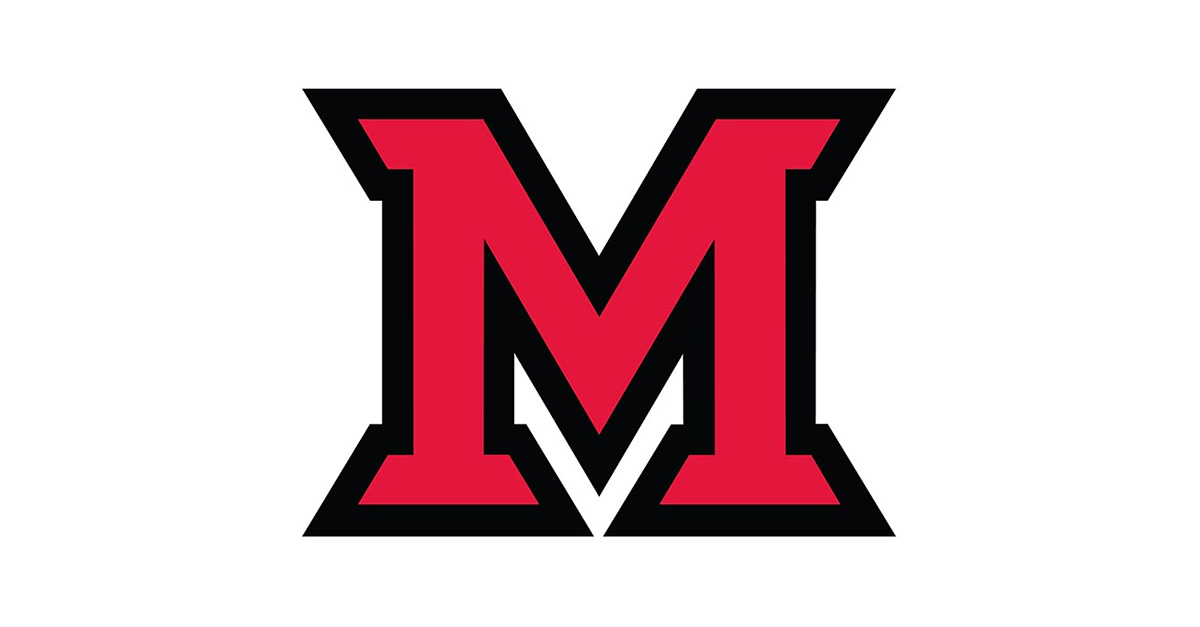 Mar 15, 2021
Written by Hanna Reams, CAS communications intern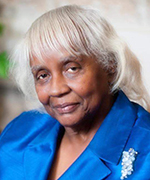 Betty Daniels Rosemond
Betty Daniels Rosemond, a Freedom Rider who fought for racial justice, spoke with Miami students in instructor of social justice Mark Curnutte's class on Thursday, March 4 to share her experiences as a member of The Congress of Racial Equality (CORE) in 1961.
At the time, Rosemond was 22 years old and attending Louisiana State University when she came home one afternoon to her mother crying. Her mother had been turned away from registering to vote even though legislation had been passed that allowed African Americans to vote.
"I came home, and my mom was in tears," said Rosemond. "And I wouldn't let that continue to happen because no one wants to see their parents in tears."
That was the defining moment that inspired Rosemond to become a Freedom Rider.
Freedom Riders were groups of civil rights activists who traveled on buses from state-to-state in efforts to test the implementation of the Supreme Court decision that outlawed segregated interstate buses and bus terminals. These actions took place during the summer of 1961 within the segregated South.
One of Rosemond's first rides was from New Orleans, Louisiana to Mobile, Alabama, along with 4 other CORE members.
Peaceful Attitudes of the Civil Rights Movement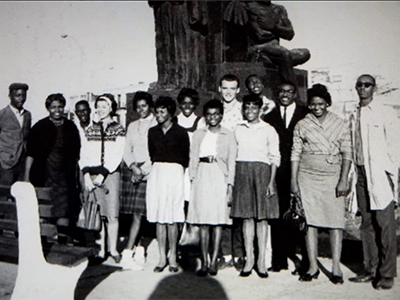 Betty Daniels Rosemond (5th from left) and other Congress of Racial Equality (CORE) members
Throughout her time as a Freedom Rider, she had been slapped, spit on, and arrested, yet she never resorted to violence.
"The civil rights movement was a nonviolent movement," said Rosemond. "And if you could not be non-violent, you could not participate in that movement. So, we had to be trained to be non-violent."
CORE required its members to go through training to prepare for what they may encounter.

"There were people that would harass you in the training," said Rosemond. "The CORE members were like the protestors that we were yet to face, so with everything in the training they were letting us know what it would be like once we were out there and doing what we were trying to do."
One of the many stories that Rosemond shared was about an experience she had while protesting in downtown New Orleans.
"I was on the picket line one day, and my path was blocked by two young white boys," said Rosemond. "They were maybe 13 or 14 years old, and they walked up, they began to harass me… they began to call me names, and all of a sudden, they both spit in my face. And that was very hurtful.

"So, all I could do was stand there and look at them and tears began to roll down. And the Lord spoke to me, and said forgive them, they know not what they do. So, I forgave them right then…and then it came to me that no one is born hating. No one comes into this world hating, it's a learned environment and because of that, it is up to us. We are compelled to love each other, so no matter what happened, our mind was made up and nothing was going to turn us around."
Long Arc of Justice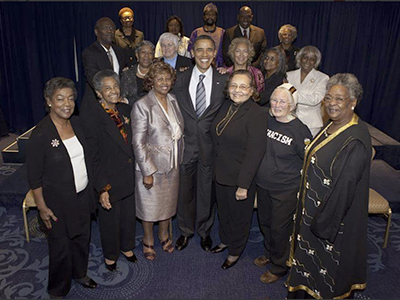 Freedom Riders with President Obama; Mrs. Rosemond in white (far right)
Despite facing adversity, Rosemond never gave up.
"I never considered stopping because it was something that was necessary," said Rosemond. "If we want to see change in the world, we must be the change that we want the world to see."
Rosemond's journey came full circle when her mother finally got to exercise her right to vote in New Orleans.
"I was so happy when we were allowed to vote," said Rosemond. "My mom eventually did get to vote, and I'm glad of that."
Professor Curnutte said that he had invited Rosemond to speak with his EMPOWER I and Creating Global Peace courses via WebEx so his students could hear her stories and learn from someone who made history. Many Freedom Riders, including Rosemond, were college students.
"Students need to hear these messages from people who lived them," Curnutte said. "I want my students to not only learn this material but also realize they are capable of living lives of purpose. Mrs. Rosemond inspires them and shows them how they can do the same."
Senior sociology major Cam Wanke said she admires Rosemond's ability to love others even in difficult times.
"I thought her stories were very inspiring because she emphasized how forgiveness and love are big parts of how she got through so many tough and scary situations throughout the years of her activism," said Wanke. "I think she's really strong for forgiving people who wanted to hurt her, because that's not an easy thing to do."
Rosemond left students with advice about how they too can make an impact.
"We must love one another," said Rosemond. "Change will happen. We shall overcome, and there are things we can do without being violent. And that is what I would say to the young people. And today I would say to everybody, speak up, stand up, look up, pray up, everything is up."