GIC Career Day offers insight into the job world from an interdisciplinary perspective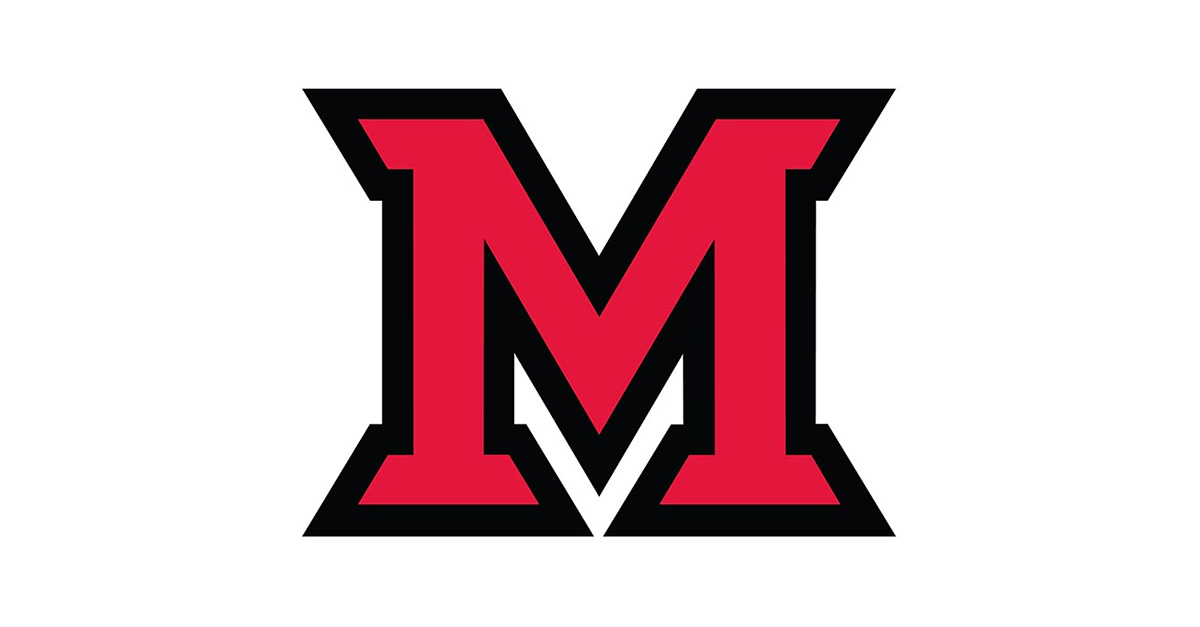 Mar 11, 2021
Written by Emmett Knee, CAS communications intern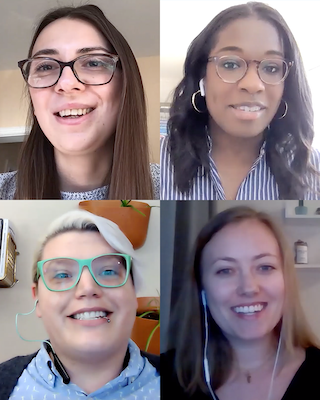 Clockwise, from top left: Kateryna Botsu '12, Taylor
Robinson '09, Kristen O'Connell '12, and Katie Mey '12
On March 3, over 140 students, faculty, and alumni participated in GIC Career Day, hosted by the Department of Global and Intercultural Studies (GIC). The three-part event featured a resume workshop, a LinkedIn and Alumni Connect workshop, and the highlight of the event, an alumni panel and discussion.
The event was organized by associate teaching professor Oana Godeanu-Kenworthy and assistant teaching professor Dilchoda Berdieva, in collaboration with Beth Zink, associate director of Miami's Center for Career Exploration and Success. 
"The one-day event is for GIC majors and minors, designed to help them maximize their chances on the job market after graduation by learning how to showcase the interdisciplinary skills they acquire in their respective majors," said Godeanu-Kenworthy.
GIC Career Day was launched as a departmental initiative last year and is now on its second edition in an online format. The event is intended to occur yearly. This year, the department collaborated with Miami's University Advancement, with associate director of alumni relations and CAS liaison J.J. Slager leading a workshop to teach students how to connect with alumni using the Miami Alumni Connect platform. 
"The resume workshop, hosted by Miami's career center specialists, was meant to assist students in crafting an effective resume and cover letter that would be useful in both the job search and networking," said Godeanu-Kenworthy. 
Four GIC alumni conduct panel discussion
The highlight of the event was the alumni panel that featured four of Miami's most outstanding alumni with GIC majors. They included:
Kateryna Botsu '12 (international studies) is now working as a strategy assistant at the International Monetary Fund (IMF).
Taylor Robinson '09 (American studies and entrepreneurship)is now working as an internal communications manager at DropBox. 
Katie Mey '12 (women, gender & sexuality studies and psychology)now serves as the director of gender-based violence prevention at Virginia Tech University's Women's Center. 
Kristen O'Connell '12 (international studies and Italian studies) now works as a governance and partnerships coordinator at the Global Community Engagement and Resilience Fund (GCERF). 
Professor of global and intercultural studies Kimberly Hamlin moderated the panel. Before beginning, she said, "The students in GIC, as you will see, tend to have the most fulfilling careers." 
All four alumni stressed the importance of a multidisciplinary education and approach to the working world, and they expressed extreme gratitude for the experiences that Miami, and GIC in particular, were able to provide. 
Valuable insights from alumni speakers
"I found myself unsure of what I wanted to do, or even could do in college," said Mey, who was a first-generation student. "What was so attractive about my women's, gender & sexuality studies major was that I could do a lot of everything [...] around a number of issues. Having that breadth and depth at the same time is unique."
Students posed questions to the panelists regarding their areas of study. The alumni unanimously responded that their majors provided them with a toolbox of skills, like critical thinking, that are applicable in a variety of professional realms.  
"I had always been interested in the way that culture impacts the way that people think," added Robinson. "I was able to make my American studies major what I wanted it to be, taking that content and translating it over to the PR/social media side."
"It really is equity that I'm passionate about," added Mey. "Having that time to discover that in both my majors during my time at Miami really set me on the path that I'm on today." 
The panelists also presented a variety of useful tips and words of wisdom. They implored students to pursue what they're interested in and take advantage of GIC's interdisciplinary curriculum. 
"Don't be too stuck on getting your dream job," said Robinson. "A lot of times people fantasize about their dream job, but you might get there and it might not be big enough for you." 
"I reached out to a lot of alumni via LinkedIn and the Alumni Connect site," said O'Connell. "Ask for advice to hear about their experiences." 
"Miami exposed me to an international environment and gave me an opportunity to study abroad, learn different subjects, and study multiple foreign languages," said Botsu. "I think those are some of the benefits of interdisciplinary study." 
Students were moved into breakout rooms to further connect with the panelists and to ask more in-depth questions. Many expressed gratitude to the panelists and the event's organizers for the unique experience that combined opportunities for professional development and personal connection. 
"As someone who doesn't quite know what profession to pursue, it was really cool to hear about all of the different avenues that I can explore," said senior international studies major Abby Godawski.  "One alum was even able to give me some advice about attending grad school abroad."
The Department of Global & Intercultural Studies offers one co-major and 5 interdisciplinary majors: American Studies; International Studies; Latin American, Latino/a & Caribbean Studies; Women's, Gender & Sexuality Studies; and Critical Race & Ethnic Studies.