Cryptocurrency experts debate viability and call for students to get involved in future development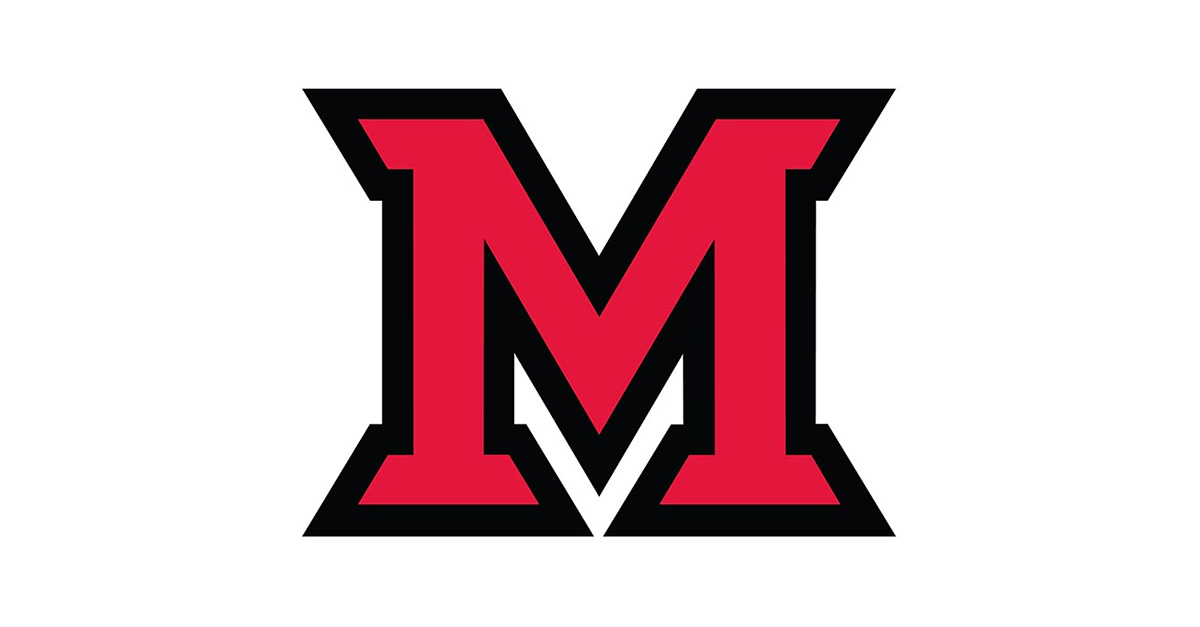 Oct 25, 2021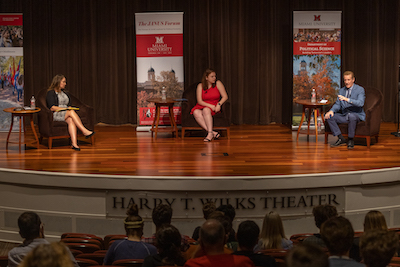 Rosie Rios, Reena Murphy, and Todd Buchholz on the Wilks Theater stage for the October 2021 Janus Forum.
Written by Allison Haeger and Maddie Bryant, CAS communications interns
Miami University's Janus Forum hosted Todd Buchholz and Rosie Rios to discuss their opposing viewpoints on "Cryptocurrency: The Future of Money, or the End of the State as We Know It?"
The October 6 event was sponsored by alumnus Thomas W. Smith (Miami '50), the Menard Family Center for Democracy, and the Department of Political Science. Audience members could submit questions via Twitter, and many were also provided by the Miami University Blockchain club . The student moderator was Reena Murphy, an Environmental Science graduate student and Miami graduate from Chemistry & Biochemistry.
Rios is the CEO of Red River Associates, co-host of 2021 reality investment show Unicorn Hunters, a member of the board of directors for the blockchain company Ripple, and served as the 43rd U.S. Treasurer from 2009–2016.
A former White House economic advisor under President George W. Bush, Buchholz is now a managing director at Tiger Hedge Fund and a bestselling author.
Can we handle crypto?
As opening statements were laid out, it became clear Rios is all for the expansion and integration of cryptocurrency into everyday life.
"We cannot stop the innovation of crypto, but we can certainly guide the process forward," said Rios. "Crypto is not going anywhere."
On the other hand, Buchholz opposes the current implementation of cryptocurrency into society, explaining that the country is ready for all the wrong reasons: the United States is deeply in debt, and there have been many recent economic crashes all around the world. These pushes towards using cryptocurrency, he said, show how unprepared leaders in D.C. are.
"In Washington D.C. there is not much knowledge of cryptocurrency, and certainly not much knowledge of blockchain," said Buchholz. "Even though now is the time, we do not have the tools to do it."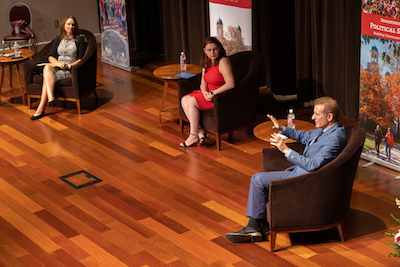 Todd Buchholz emphasizes a point at the October 2021 Janus Forum.
In her opening statement, Rios cited that the World Economic Forum predicts 10% of the world's GDP will be tokenized by 2027 and that 80% of countries are beginning the process of forming their central bank digital currency. Rios listed providing real-estate opportunities, fractional investments, and better-facilitated art collectibles as justifications to keep cryptocurrency in development.
At the end of her opening statement, Rios asked, "How do we allow them [cryptocurrency, social media] to continue to innovate, and transform, and help our economy but still protect our investors, protect our civilians, protect mainstream, and really leverage crypto in a way that it was intended to do?"
Buchholz emphasized the fact that bitcoin and other cryptocurrencies are not backed by anything, and since there is no financial intermediary, they are not truly viable currencies.
"Bitcoin today cannot transact more business than we all could do in Yager Stadium in an hour's time," said Buchholz. "We all walk in there and buy four different things. If we were to do that, it would use up the entire world capacity of bitcoin transactions."
The good, the bad, and the ugly
A few questions in, the moderator asked why cryptocurrency seems like a favorite for terrorism and criminal activty, like ransomware attacks, and does this mean cryptocurrency is inherently bad? Is cryptocurrency existing like the bad guys in the Wild West?
In response, Buchholz shared a story about receiving a letter in the mail trying to blackmail him into sending an anonymous group $4,500 in bitcoin. He talked about how the nature of cryptocurrency is inherently secretive and promotes illegal activity.
"I do think the illicit activity has been energized by the availability of crypto," said Buchholz. "The virtue of crypto is that it is secretive."
In her rebuttal, Rios asked the audience if they've ever received the letter Buchholz mentions—no one raised their hand. When she inquired which form of monetary value is most often used for blackmail and other illicit practices, an audience member responded, "It's giftcards!"
"Any type of currency with value also has the good, the bad, and the ugly," said Rios. "There are many other valuable items used for illicit activity, but that doesn't mean you stop the source of that value. It means you look at ways to combat that illicit activity."
Following this, Buchholz conceded that he doesn't think crypto is the ruler of the Wild West.
"I don't think the mission of people in crypto is to devise a way to fool people—they're devising ways to cut out financial intermediaries, and I applaud them in trying," said Buchholz. "My argument is not that they haven't been trying -- my argument is that they haven't done it yet." Buchholz also questioned whether the sheer cost of cryptocurrency is worth the benefit, highlighting the large amounts of energy it takes to keep miners, who work on computers to generate the digital currency, active.
Both perspectives focused on how much further cryptocurrency must develop before it can get close to acting as a world currency. Rios sees the future of cryptocurrency in the genius of young people.
"I believe in this generation, I am invested in this generation," said Rios. "Find your collective voice, areas of common interest, and send that to your representatives. Use that power you have, and use it wisely. Contradict, challenge, discuss, and debate—constantly. That is our democracy, that's what we're founded on."
"This was a deep dive into cryptocurrency with two incredibly knowledgeable experts," said Bryan Marshall, chair of the Department of Political Science. "A great event and opportunity for students (and all of us) to learn about the benefits and limitations, as well as the future innovations we may expect in this highly dynamic realm of financial policy."
"Cryptocurrency is a very hot topic in some circles, and yet many of us know nothing about it," said Patrick J. Haney, associate dean and professor of political science. "And the controversy around it runs a full gamut of issues, from political and economic to environmental, and even to the very nature of governance. For nearly a decade the Janus Forum has tried to bring essential topics to campus from a range of perspectives, and this event was no different."
The Janus Forum will host another discussion this coming March.