John Pepper, former CEO of Procter & Gamble, discusses leadership and the value of the humanities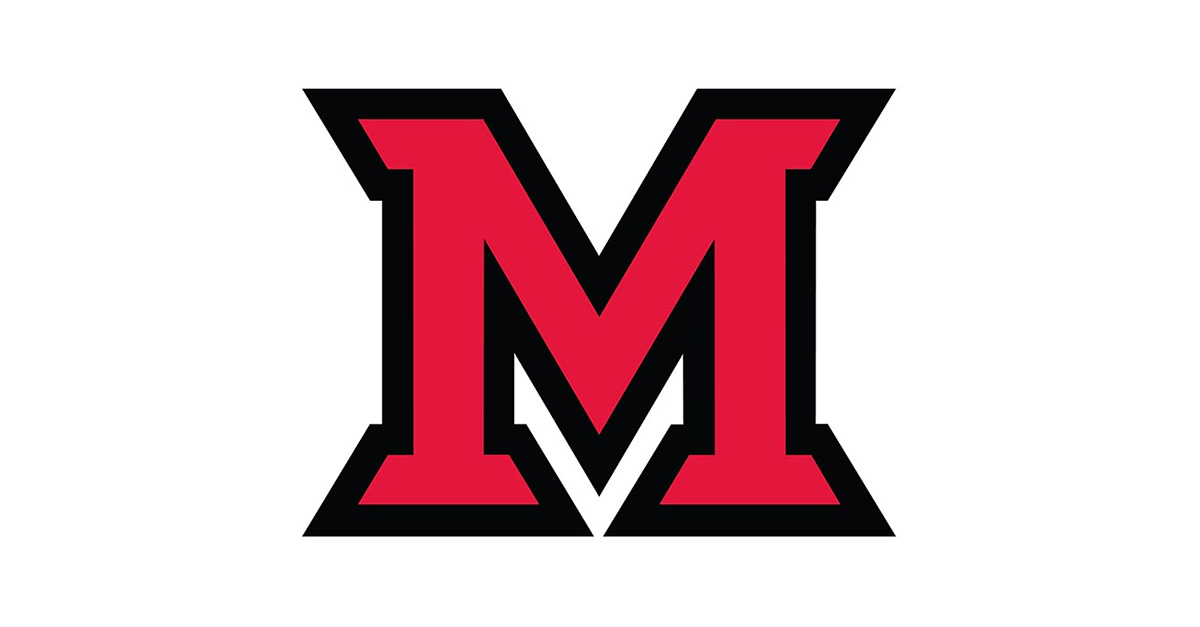 Oct 11, 2021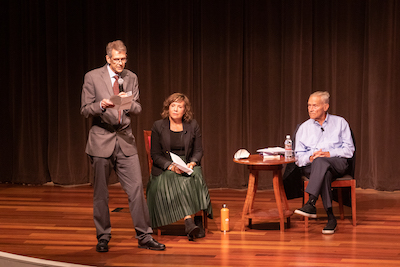 Dr. Kimberly Hamlin and John Pepper await Dr. Wietse de Boer's introduction at the beginning of the lecture.
Written by Caroline Cruise, CAS communications intern
Miami University welcomed John Pepper for a lecture "History, Leadership, and the Good Life" on September 22. Pepper is the former CEO of Procter and Gamble, The Walt Disney Company, and co-chairman of the National Underground Railroad Freedom Center. In the lecture, he mainly talked about the value of humanities education for leadership and career success.
Despite the lecture being held on a rainy Wednesday evening, Wilks Theater was almost at capacity with students and faculty. It was hosted by the Humanities Center and the Department of History.
Pepper, a 1960 graduate of Yale University, said that his undergraduate history degree played a significant role in his personal growth and success as a businessman.
"As I learned about the lives of Lincoln, Churchill, and Nelson Mandela, I've seen that courage and persistence count for everything," he said during his opening remarks. "I've learned that major victories are never easily won."
He also noted that his history studies honed his communication skills and led him to explore and appreciate other cultures, which helped him run a large company and conduct business overseas.
However, the value of the humanities extends beyond professional development. Pepper stressed that studying and learning from those who came before us is crucial for the advancement of society.
"The values [individuals] embodied, the risks they took, the challenges they overcame… knowing all these things makes it clear that progress is possible, but it is not inevitable," Pepper said.
Connecting with students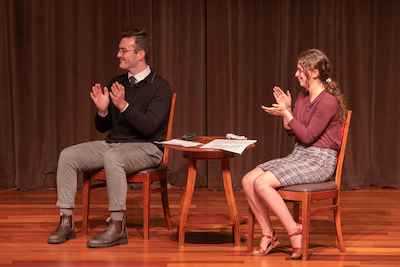 Students Aidan McKeon and Alexa Lawhorn applaud at the end of John Pepper's lecture.
After his opening remarks, Pepper engaged in a question-and-answer session with seniors Aidan McKeon (majors in History and Arts Management) and Alexa Lawhorn (History and Comparative Religion). The discussion was moderated by Kimberly Hamlin, Professor of History and Affiliate of the Women's, Gender, and Sexuality Studies Program.
Pepper expanded upon his definition of leadership, stressing that "the magic glue that makes any organization succeed is surely capability, but also trust among the players."
He also spoke fondly of his undergraduate education, recalling a course on the American West that inspired him to become a history major. Pepper assured students that the skills they acquire from college will translate to the real world.
"There are so many professions where the liberal arts provide the foundation for who a person is," he said. "At the end of the day, companies are interested in how well you think, how well you express yourself, and how well you write."
Pepper's remarks provided a new perspective for many students in the audience, helping them connect with his love for learning.
"It was really nice to hear a businessman in defense of history… especially because I always saw business and history as antagonists," said Toni Heilman, a freshman History major.
The lecture also resonated with business students. "I liked what [Pepper] said about different generations having different truths," said freshman marketing major Lauren Pursell. "I think that will relate to my marketing major because you have to think about the consumer and the people you work with and the way in which they think about products."
"Something that really stuck out to me was when [Pepper] talked about how his history major prepared him to lead by emulating other historical leaders he admired, and how his many successes were based on the foundation of his history studies," said McKeon. "He spent about an hour after the event chatting with and engaging every single student that wanted to ask him a question. It was so impressive and just so generous."
"The excitement [Pepper] felt while studying the course material and the passion his professors had really resonated with me because I have had those exact feelings about the history courses I have taken here at Miami," Lawhorn said.
"It is important for students to hear that studying subjects they love is not only enjoyable but beneficial for their careers," said Tim Melley, Professor of English and the Geoffrion Family Director of the Humanities Center, remarking on the values of a humanities education.
"As Mr. John Pepper emphasized throughout the talk, I think it is important for the university to make it clear to students that they need to care about their happiness as much as their professional success," said Pepper Stetler, Associate Professor of Art History and Associate Director of the Humanities Center.
Lawhorn added that Pepper's remarks felt like a breath of fresh air. "After hearing him speak, many students told me they felt better about their decision to major in the humanities," she said. "It was really encouraging to see that this event was able to ease some of that anxiety."
Visit the Humanities Center for their schedule of upcoming events.