Scripps welcomes artists engaging people with dementia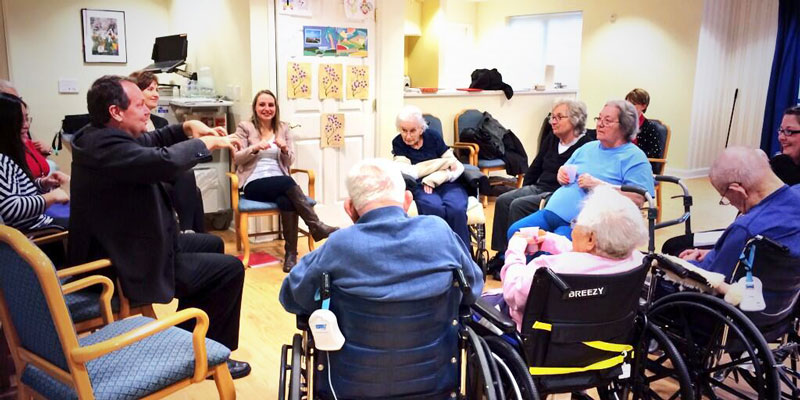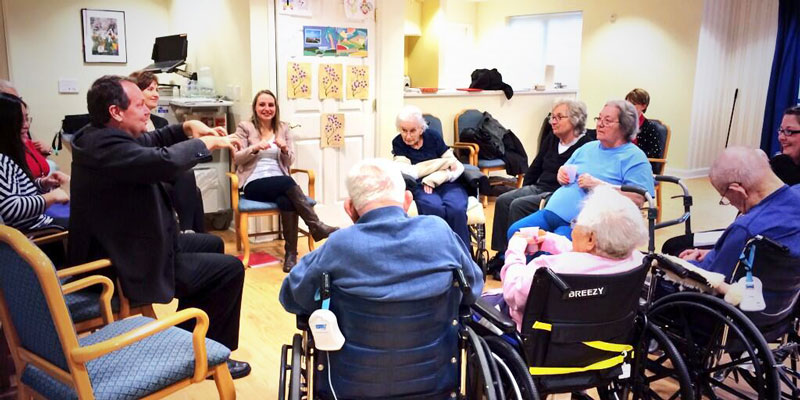 Glazner directs a group through a collaborative poetry session at the Knolls of Oxford.
Photo: Laura Hahn
Mar 03, 2014
By Laura Hahn
"Imagine you're a bird," said the man in the middle of the circle. "Where would you fly?"
The man with the question was Gary Glazner, founder of the Alzheimer's Poetry Project, and surrounding him were residents of The Knolls of Oxford's Memory Support unit. The answers to his questions would become art in the form of poetry.
Glazner came to campus in February for a retreat about arts and dementia. The retreat was hosted by professors and Scripps research fellows Kate de Medeiros and Jennifer Kinney. Joining Glazner was Maria Geneé of KAIROS alive! and Judith-Kate Friedman of Songwriting Works, as well as researchers Daniel Kaplan and Aagje Swinnen. The group gathered with our faculty and researchers to consider how to measure the effectiveness of the arts on people with dementia in hopes of gathering evidence that could impact similar future programs.
"It's about being open to what's coming into the room," Glazner said, giving some insights to graduate students on how to engage elders with dementia. During the retreat, Scripps faculty, staff, students, and friends had the opportunity to participate in several events with the artists including a special reception at the Miami University Art Museum. This event included an interactive performance that fused poetry, dance, and song. Glazner and his colleagues are hesitant to use the word "performance" though, since everyone becomes part of the creative process.
Imagine You're a Bird
by residents at The Knolls of Oxford
I can't fly.
I'm holding my cup.
I'd like to see God flying.

If I saw God flying, I'd say
"Oh God, I wish I could fly"
God would reply,
"Child, take your wings and fly."
But I'm not a bird.
So I get in my car,
go downtown, get things,
and see people

When I see people, I talk to them for a while
and they get in my car.
I suppose I would be able to fly
if I were a bird

I would fly over Oxford and see all of the people and places
It's a fun place, and everybody would be laughing.
If I could fly,
I would like to see the holy land.
If I could fly, If I could fly.