New support received to expand innovative arts programming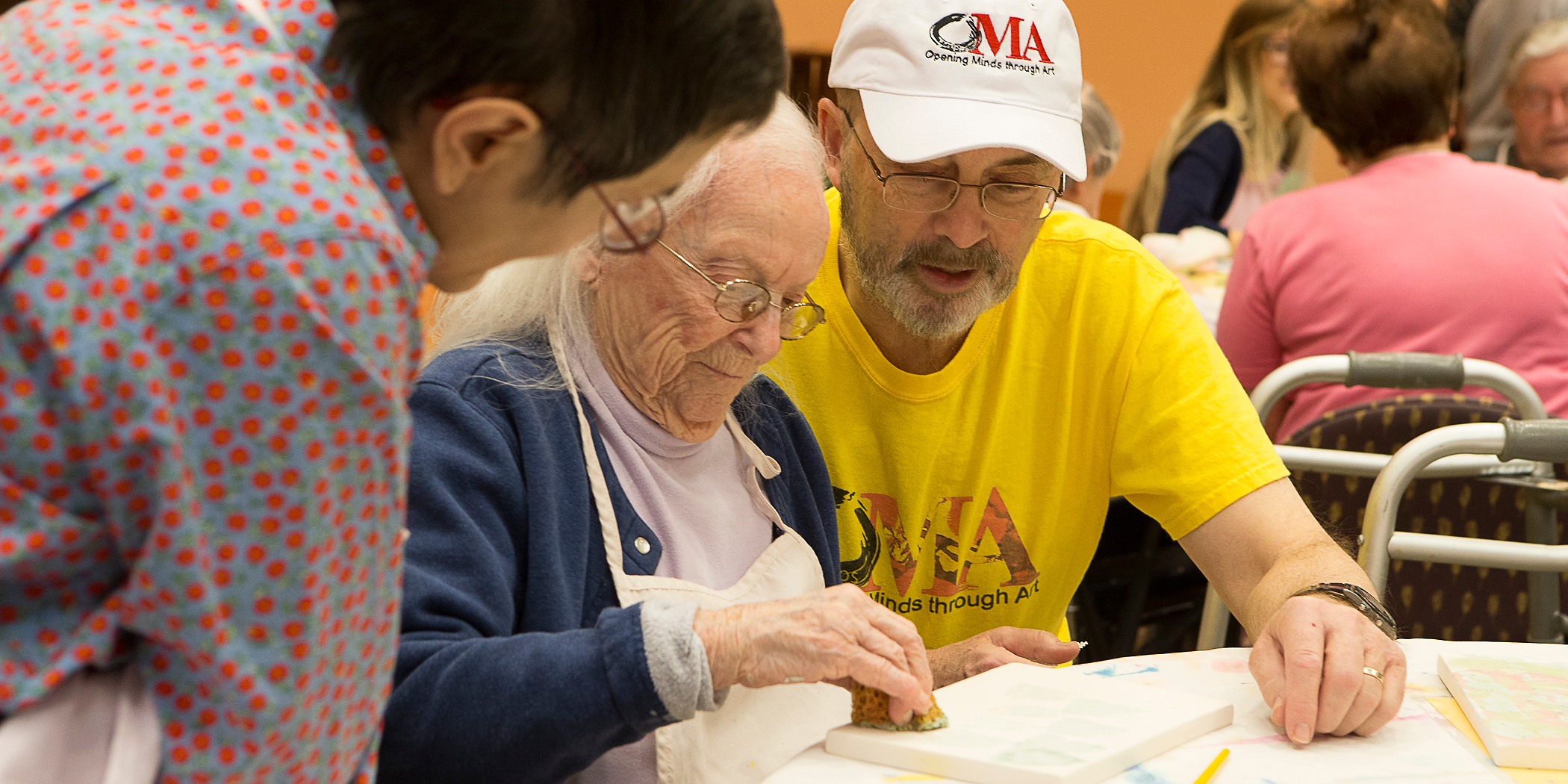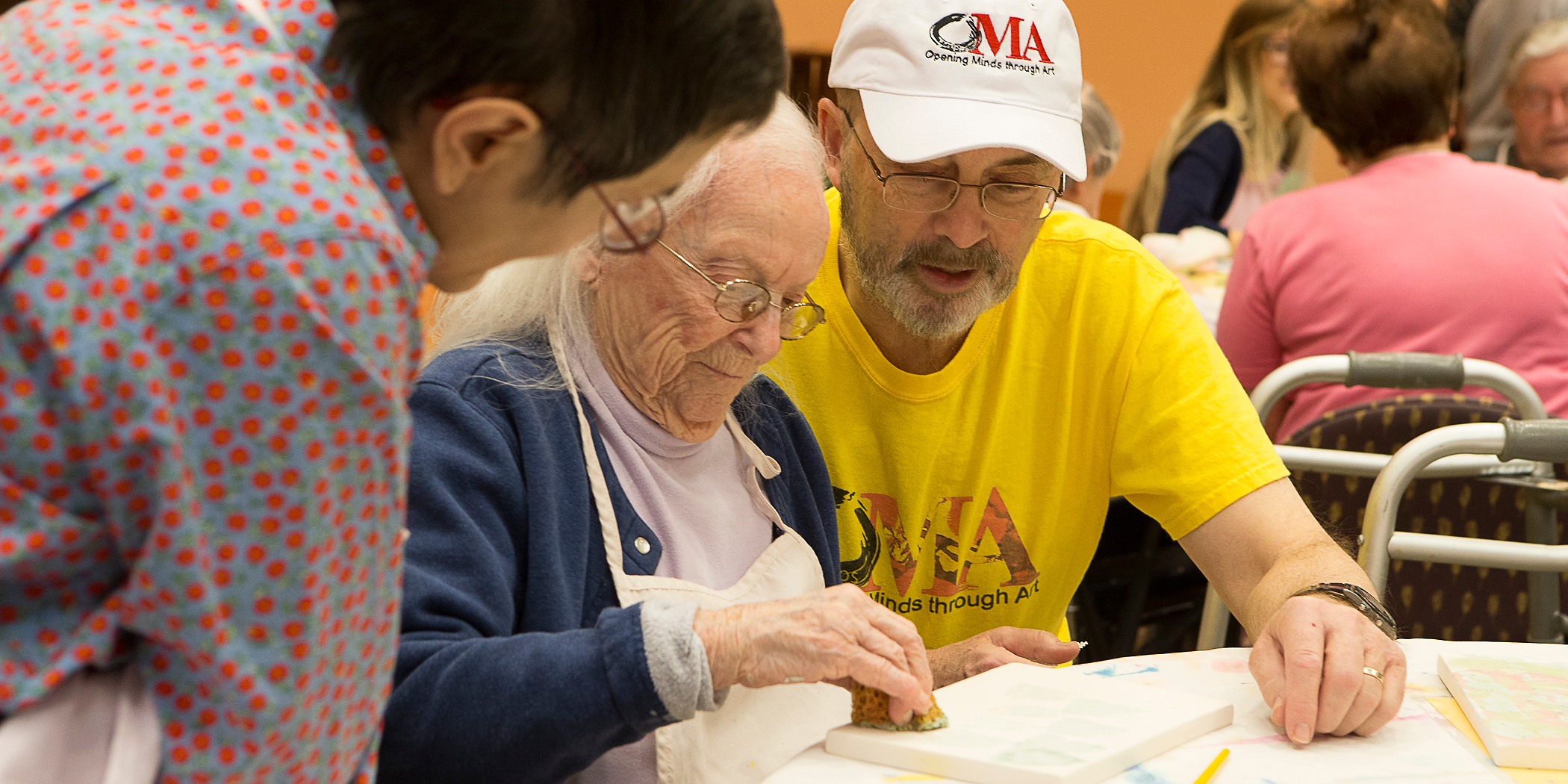 Volunteers facilitate the art making process of one woman.
Four new grants will support the strategic planning and expansion of the Opening Minds through Art program.
Oct 22, 2014
The Scripps Gerontology Center and the Opening Minds through Art (OMA) program are pleased to announce that OMA has recently received grants from a prestigious group of national, state and regional funders. OMA is one of the nation's leading art programs for people with dementia. The grants support various aspects of OMA's growth and development.
OMA received $5,000 from the New York-based Alzheimer's Foundation of America to support OMA's 2015 facilitator training. The intensive training workshop, to be held in Cincinnati in June 2-5, teaches artists and healthcare professionals how to implement OMA's program at their own sites.
Another national funder, the New York-based Metlife Foundation, working in conjunction with the National Center for Creative Aging, provided OMA with a $5,000 technical assistance grant to help strengthen the program's volunteer component.
OMA also received grants from two prominent area funders, the Ohio Arts Council, in Columbus, and Cincinnati-based ArtsWave. Those grants will enable the staffs of OMA and Miami University's Scripps Gerontology Center to work with Cleveland-based consultant Max Stark, with Max Stark and Associates, to conduct the first phase of a strategic planning process. That effort is designed to help OMA capitalize on its growing national and regional reputation by developing a sustainable strategy for growth and development.
OMA, founded in 2007 at Scripps, is an innovative intergenerational art-making program for people with dementia in which student-volunteers work with elders in long-term-care facilities to create works of abstract art. The program currently serves more than 200 elders and an equal number of volunteers every semester at 12 long-term-care facilities in the greater Cincinnati area.
"We are delighted by the vote of support for OMA that these grants represent and by the fact that these grants will enable OMA to reach more elders with dementia," said Dr. Elizabeth Lokon, OMA's founder and director. "OMA provides a source of joy and self-esteem to people with dementia, whose numbers are growing rapidly," she said. "At the same time, the beautiful artworks produced by participants help to 'open the minds' of volunteers, family members and caregiving staff to the capabilities of people with dementia," she added.
The Funders
The Alzheimer's Foundation of America, based in New York City, is dedicated to providing optimal care and services to individuals confronting dementia, and to their caregivers and families through its 1,700 member organizations across the country.
The National Center for Creative Aging, based in Washington, D.C., provides technical assistance, education, research and advocacy to foster high-quality arts engagement programs for older adults. NCCA partnered with the New York- based Metlife Foundation to support its technical assistance grants program.
The Ohio Arts Council (OAC) is a state agency that supports quality arts experiences to strengthen Ohio communities culturally, educationally and economically. OAC grantees are required to match state tax dollars with additional public and private funds. Every state tax dollar the OAC invests generates $45 in matching funds, according to the agency.
ArtsWave is the region's leading local arts agency and the nation's largest united arts fund. Through its support of the arts, ArtsWave helps to make the Greater Cincinnati region a vibrant place to live.