Nursing homes see increased population of younger residents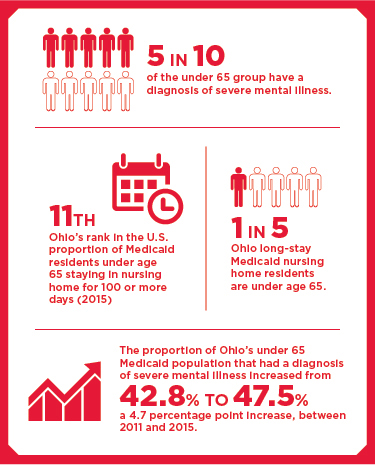 Nov 09, 2017
OXFORD, Ohio —   A new report from Miami University's Scripps Gerontology Center highlights a trend of individuals under age 65 using nursing homes in Ohio.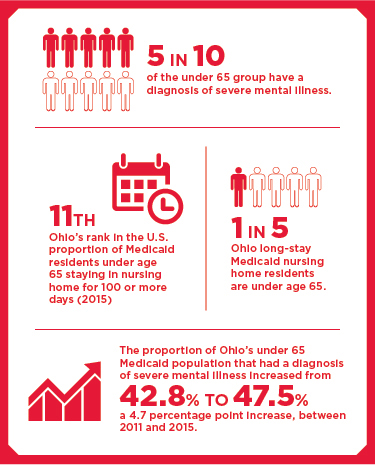 Using Ohio and national data, researchers compared two groups of Medicaid nursing home residents - those who are under age 65 and those who are age 65 and over. In 2015, nearly one in five of Ohio's long-stay Medicaid nursing home residents were under age 65. Most of the population is between the ages of 55-64, and nearly half of the residents have a severe mental illness diagnosis.
"Medicaid is the primary payer for long-term services, and demand for these services continues to grow," (Ian) Matt Nelson, Scripps research scholar, said. "A better understanding of who these younger nursing home residents are - and what their care needs may be - is important to help inform discussion around Medicaid eligibility, coverage design, quality and costs."
Funded by the Ohio Department of Aging and the Ohio General Assembly, the new study shows the care needs of younger nursing home residents differ from older residents.Almost three in ten younger residents had fewer than two self-care needs compared to one in ten of the age 65 and over population. The proportion of younger nursing home residents with low-care needs grew between 2011 and 2015 in Ohio, contrary to national trends. 
The report also found that in Ohio and nationally, Medicaid residents under age 65 with a severe mental illness are much more likely than older residents to have low-care needs. To serve adults under age 65 with severe mental illness effectively requires extending the capacity of the current mental health system and coordinating with the existing long-term services and supports delivery system.
"While Ohio has taken steps to move individuals of all ages with lower care needs out of nursing homes and into the community over the last decade, this study demonstrates the unique circumstances of the younger nursing home population and highlights the need for programs that are tailored to this group," John Bowblis, associate professor of economics, said. "The findings provide insights on what level and types of community resources are needed to provide safe, appropriate, and cost-effective services to this high-risk population."
The report is available online at MiamiOH.edu/ScrippsAging/Publications