Scripps Gerontology Center is part of Oxford's Age-Friendly Community team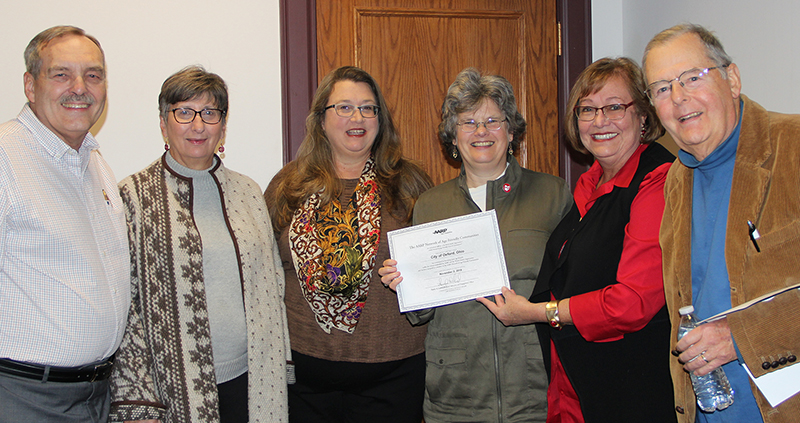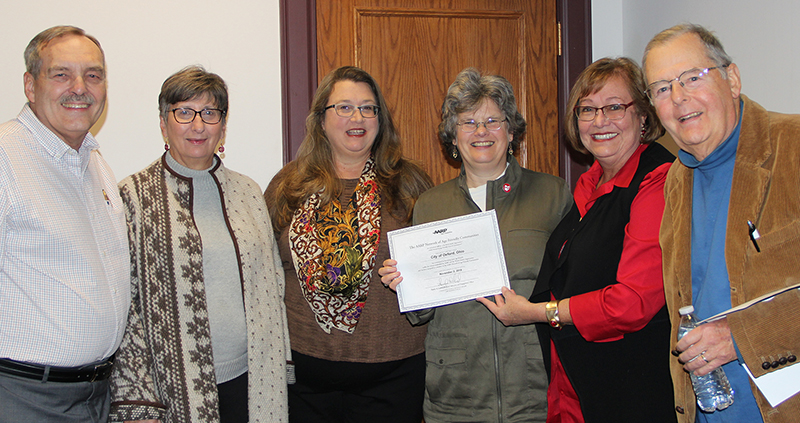 Celebrating the acceptance of the Oxford community into the AARP Network of Age-Friendly Communities are members of City Council and the Oxford VillAGE Network Steering Committee (from left) Steve Schnabl, Catherine Hollins, Jessie Leek, Mayor Kate Rousmaniere, Ann Whelpton and Steve Dana.
Photo: Kimberly Logsdon
Oxford named 'Age-Friendly Community' by AARP
Dec 01, 2017
JOURNAL NEWS - Bob Ratterman, Contributing Writer  - OXFORD, Ohio
Efforts to make the community "a great place to live for all ages" received a boost recently when the city was notified of acceptance into the AARP Network of Age-Friendly Communities.
The application was submitted by the city this fall and acceptance was announced in a letter Nov. 3 to Mayor Kate Rousmaniere and read at the Nov. 21 meeting of City Council. Representatives of the Oxford VillAGE Network read the letter and accompanying certificate at the meeting.
Ann Whelpton, one of the coordinators of the local network, said several focus groups discussed the city's needs with regard to an aging population in 2013 and a group then held a meeting to discuss what to do with the information collected and what to do next.
[...]
Whelpton said the Miami University Scripps Gerontology Center, under the leadership of Dr. Suzanne Kunkel, is already at work on a needs assessment for the local work and the steering committee will shore up the task force with plans for a community forum in January and a formal launch Feb. 1.