Public Radio taps Scripps Gerontology and the Knolls for expertise on aging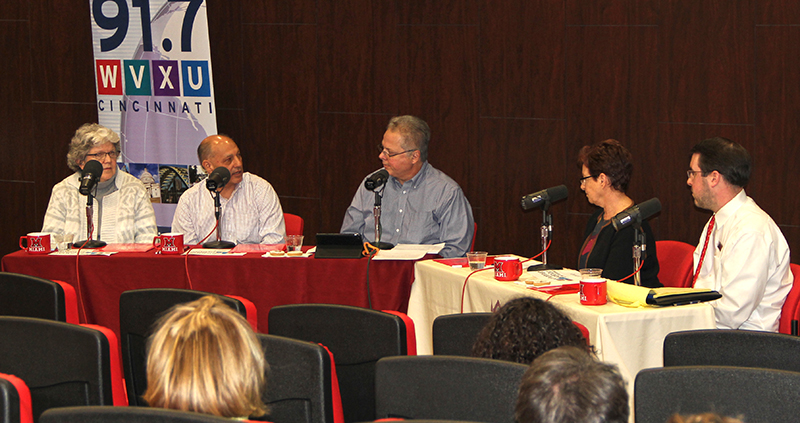 'Cincinnati Edition' hits the road for discussion of the growing aging population in Ohio.
Mar 19, 2018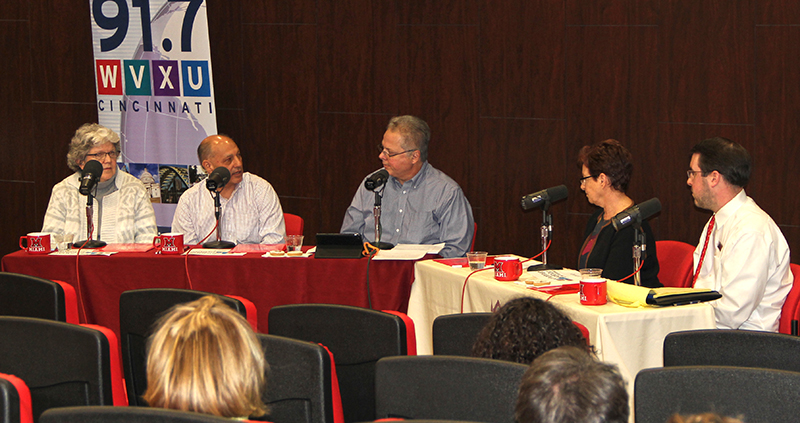 On the panel for the discussion of aging issues aired on WVXU and WMUB on March 7, 2018, were (from left) Dr. Jane Karnes Straker, Dr. Robert Applebaum, host Mark Heyne, Dr. Suzanne Kunkel and Ross Farnsworth.
>Listen to recorded broadcast 
---
THE OXFORD PRESS - Bob Ratterman, Contributing Writer 

OXFORD—Population numbers of older Americans continue to rise at unprecedented rates and that is having an effect on everyone in every age group, listeners were told in a recent radio broadcast originating from the campus of Miami University.
"Cincinnati Edition," an hour-long weekday program, went on the road March 7 for a show discussing the issues of aging. The program originated in the Athletic Performance Center adjacent to Miami's Yager Stadium. The program is a production of Cincinnati Public Radio, which operates the Miami University station WMUB as well as WVXU.
Kevin Reynolds, of Cincinnati Public Radio, introduced the show's host, Mark Heyne, to the studio audience and said this was the first time they had done a program outside of their own building. "We've never gone on the road before," Reynolds said. "It's probably more of an undertaking than we thought." It was a natural place to start because of the Scripps Gerontology Center being located on Miami's campus. Three of the panelists came from the Miami staff with a fourth from the Knolls of Oxford.
"The shift is incredibly significant. It's an unprecedented reality now. We've never had this number of older people. We've never had this percentage of older people," said Dr. Suzanne Kunkel, the executive director of the Scripps Center and a distinguished professor in the department of sociology and gerontology. "We will be at a significant crossroads in two years. In two years, we will have a proportionally greater percentage of older people in the world as children under 5."
Dr. Robert Applebaum, director of the long-term care research project in the Scripps Center and a professor in the department of sociology and gerontology followed that with a more local statistic. "Ohio has the sixth-oldest population in the U.S.," he said.
Kunkel later added there is virtually no growth in population in the state, which has seen a 40 percent increase in the aging population and projections suggest there will be 2.6 million over age 65 by 2030. "Younger people are leaving to find other opportunities," she said, adding, "Butler County will be forever young because of Miami University."
Applebaum added that only one age group sees more moving into the state that out, and that's people over age 80. He suggested that was likely due to people who moved elsewhere after retirement but are returning when they reach those upper ages. "We are not really prepared as individuals or as a society," he said of making plans for death. "We all know we are going to die but we do not see ourselves as disabled."
Dr. Jane Karnes Straker, an adjunct associate professor in the department of sociology and gerontology and director of research, said the issue affects everyone and planning is needed. "The challenges of aging affect every segment of society, including transportation and housing. There are ways to modify jobs, ways to make a contribution. Virtually everything in society is affected by this phenomenon," Straker said. "As individuals, we fail to plan. The state of Ohio is making a shift from care for older adults from nursing home to aging in place."
Kunkel said the idea of aging in place is "nearly universal" because people want to remain in their home and community as they grow older and that has led to the idea of Age-Friendly Communities. She said Oxford was accepted into a network as an Age-Friendly Community by AARP and the World Health Organization in December. "(The community) seeks changes to make it more age-friendly, to make it more hospitable to everyone," Kunkel said.
Straker said one aspect of that is to look at housing that meets the needs of older adults. Some of the amenities help younger population, as well, such as ramps from the sidewalks to the street. "Ramps are good for moms with strollers and older adults with walkers and wheelchairs," she said.
A member of the audience asked about aging in place at a distance from relatives serving as caregivers.
Ross Farnsworth, executive director of the Knolls of Oxford, said there are a number of monitoring options available, including such things as making sure there is food in the refrigerator. Applebaum added the technology is still developing with such things as lasers which sweep across a bedroom door and will provide notification if the door has not been opened by a certain time, which can then be followed up by a phone call. "We are just at the edge (of technology)," Applebaum said. "The future of aging will include robotics."
The issue of driving safely was raised as well. Farnsworth said the Knolls has a program to evaluate driving by older adults as well as offer safety tips. "We started a driving program on how to evaluate you and what you can do to enable you to drive," Farnsworth said. He said there are also challenges in regard to public transportation, which Kunkel expanded by noting, "There is the challenge of just getting to the bus."
After the program, Heyne said taking the show on the road was a months-long process but he said it was a natural thing to hold it at Miami with the Scripps Center on the campus. "The staff starting talking about it over the summer of last year. The toughest thing was arriving at a date," Heyne said. "It was a good topic, a vital topic. We had been wanting to do a program about the problem of aging. People do not want to think about getting older. That's just human nature. It was important to have this conversation. I enjoyed doing this."
He said ten people from their staff were involved in the planning with more work from others at Miami. He said it took a lot of work but it worked out well and he hoped to do it again. The program on aging aired live but later that afternoon, they did a second show on tape for airing the next day on Journalism and Advocacy with another panel of journalism faculty and others.
All the programs are archived and can be heard on the WVXU website.