Preferences for Activity and Leisure (PAL) Cards are one of 16 Ohio Nursing Home Quality Improvement Projects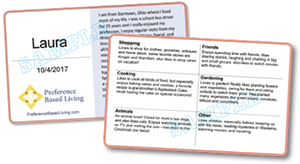 Jun 05, 2018

PAL Cards provide at-a-glance information about a resident's background and important preferences for daily life that can be used to spark conversation and build relationships between residents and staff.
---
In recent years there has been a push in the field of long-term services and supports to focus on person-centered care, a philosophy that recognizes "knowing the person" and honoring individual preferences.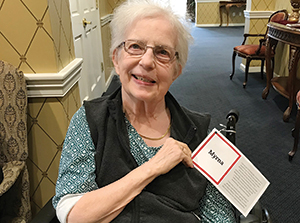 Residents said they liked their PAL cards and that they accurately reflected their important preferences.
However, assessing and communicating information about nursing home residents' important preferences across care team members is difficult. There are many barriers to communicating preferences, such as direct care team members having limited access to electronic medical records and high staff turnover.
Preferences for Activities and Leisure (PAL) Cards fill the communication gap. The Preference-Based Living team (PELI) at Scripps Gerontology Center team partnered with The Knolls of Oxford in the development and testing of the cards. The Knolls staff report the cards are helpful in promoting more personalized care.
The PELI team has expanded training and assistance to nursing home communities in Ohio implementing the PAL Card Quality Improvement project.
As part of Ohio's nursing home quality initiative, each licensed nursing home in the state must participate every two years in at least one quality improvement project approved by the Ohio Department of Aging.