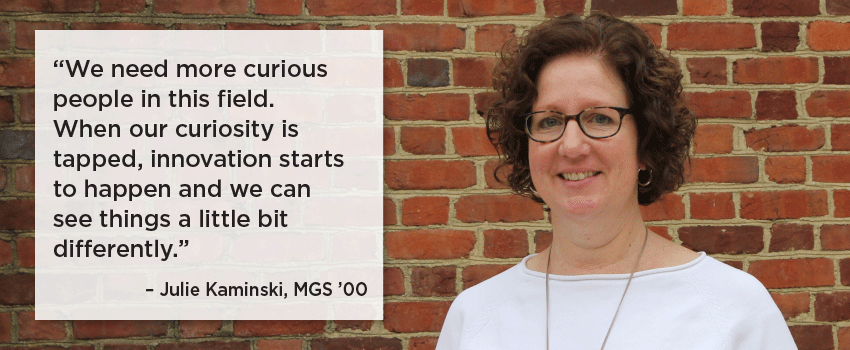 Jul 31, 2019

Interview with Julie Kaminski, MGS '00
2019 Cottrell Distinguished Alumni Awardee
Why did you choose the Master of Gerontological Studies program?
I worked in a nursing home during high school, and that experience really planted the love of the field of aging in my heart. My undergraduate degree was International Business with an emphasis in Economics from the University of Nebraska. I took a Politics and Aging class and was considering public health for my master's degree, but the University did not have a public health master's program at that time. My professor, Chuck Powell, said "You should forget about public health. You know, gerontology is THE field and if there's anywhere besides UNO you need to check out it's Miami University." The Miami Gerontology program reputation was known far and wide for being the think tank for all things related to gerontology. This professor knew Bob Atchley and Suzanne Kunkel and so connected me with them. I did a visit, applied, and the rest is history.
It's funny when you back look at those people, like my professor, who probably don't even know that were pivotal force changers in your life.
Tell us about your experience as a Master of Gerontological Studies student.
We had such a diverse class when I came in. We had Godwin who had come from Nigeria. We had Aruni who was from India. Sr. Donna Wisowaty was in my class and several other students straight from their undergraduate programs. It was an exciting time, as we came together to collaborate and become Gerontologists.
My fondest memories are of my time in Upham and the diversity that our class held. Mose was my office mate. I remember him saying "Julie, don't forget about the aging African American people." I still have a picture of an African American gentleman that he gave me. I've hung it on the wall of all my offices since leaving here. It helps me remember the diversity of aging and to not stereotype and think that people all age in the same way, and to make sure that as providers we're honoring that uniqueness. It is also a reminder to not take life so seriously as Mose would often remind me, he was a character!

I also remember the rigor of my education, from the research all the way to the administrator track. I was recently thinking that in one of Dr. A's (Applebaum's) classes we were required to write a grant. There were three of us and I remember thinking "This is the worst project that I've ever had to work on. We're never going to use this skill." Well, guess what – I've probably written 50 grants since leaving here and that skill is one of those that will truly carry with you into future job opportunities.

I also used the policy information I learned here during my time at LeadingAge in the advocacy process. I remember one of my instructors saying "You know, changing policy is not an event. You don't just show up once and change policy. It's a process and you use good research to inform that decision making." So, I really feel that from grant writing to policy to the research process – all those pieces were critical to my education here.
Tell us about your career path since earning your MGS degree.
When I left here with my MGS I got a job with Life Care Services, they had an opening at one of their communities in Omaha, NE where I grew up. Life Care Services was a great organization to learn how to run a continuing care retirement community. It is one of those positions where you can't be either a people person or a business person – you really have to have both skillsets if you want to be successful. I had exposure to all levels of care and really learned the ins and outs of putting into practice the knowledge that I had gained at Miami.
I worked for Life Care Services for six years and then went to work for a religious order that had low income housing and a nursing home. At the time the nursing home numbers were declining and they were considering how to keep their mother house – which was a massive building – sustainable into the future. We did a feasibility study of neighborhood needs and converted the mother house into additional affordable low income housing for seniors. That was a great opportunity – I was able to put together financing packages for that and did that work for six years.
In 2011 I became Executive Director of LeadingAge Nebraska, which represents all of the non-profit nursing homes, assisted living, and adult day centers in the state of Nebraska. I was in that position for seven years. Again, it was a great opportunity to put policy into practice and think about how you change the landscape at the state level. We looked at issues such as: Medicaid reimbursement; how to advocate for equitable access for all elders regardless of their payor source; and how elders can have quality care wherever they choose and not just based on how much they can pay for. We also started a campaign to debunk some of the ageism that is still alive and well in our world.
About two years ago, I made the change to Immanuel Senior Living, where I am the Chief Operating Officer. We have 15 communities from Des Moines, Iowa to Lincoln, Nebraska. We have everything from a high-end retirement community to PACE and affordable housing, and everything in between. There is such a need for affordable housing so, we're breaking ground on new affordable housing communities right now.
Autonomy is a key piece and many people want to stay at home. We are looking at whether we can create a CCRC without walls. The idea would be that people tap into these hubs to pick out the services as they need them as opposed to committing for the long-term. We are in the exploration stage now.
One of the reasons I got drawn back to working in the provider world is that Immanuel is a large provider that has the resources to start doing some of these innovative things. We are starting to unbundle everything in all of our retirement communities. As opposed to saying "You have to eat just breakfast or lunch or dinner," we give them an allotment of dollars to use anyway they want. We are trying to create multiple options so that they are driving what they want as opposed to us saying "You get dinner and continental breakfast." We are looking at what our residents and frankly future resident want as opposed to what we think is convenient.
What do you like most about the work that you're doing today?
I love solving problems and there is never a day without a problem (laughter). So I welcome them. I think those are our opportunities to innovate. An example: the fitness center and pool in one of our retirement communities closed at five o'clock when the staff left. I started asking the question "Why are we closing these? What if a resident wants to swim at eight o'clock at night? If you lived in an independent apartment building, the pool would be open." The "why" turned out to be the risk and what would happen if the resident fell and no one was around to help them.
So we had to problem solve, and the pool has been open 24 hours a day, seven days a week since January 1, with two evenings a week designated as family night. Now you see children and grandchildren interacting with their parents and grandparents in a different way. We really have to be mindful not put parameters on people as they age. We tend to become paternal rather than empowering our residents to age as they want.
That's what I think I love the most – turning some of those things on their head a little bit. There is a lot institutional knowledge in Immanuel, which is great, but which also tends to cloud our view a little bit. So how do we challenge each other respectfully to really look at the way we deliver services? I always say to our employees "I've got your back. I'm willing to take the business risk of this and I've got your back on it. So if there is an adverse outcome, we'll work through it together." I think they need to hear that from leadership in order to know that it's okay to take those risks and make mistakes.
What advice do you have to current students who want to work in the field of aging?
Be curious. That is one thing that I remember working with Suzanne Kunkel on a couple of research projects and her saying "challenge what it looks like on the surface and dig in a little bit deeper." So I think being curious and not accepting things at face value.
We need more curious people in this field. When our curiosity is tapped that innovation starts to happen and we can see things a little bit differently.