Scripps Gerontology Center partners with Preference Based Living for online tool to document preferences of older adults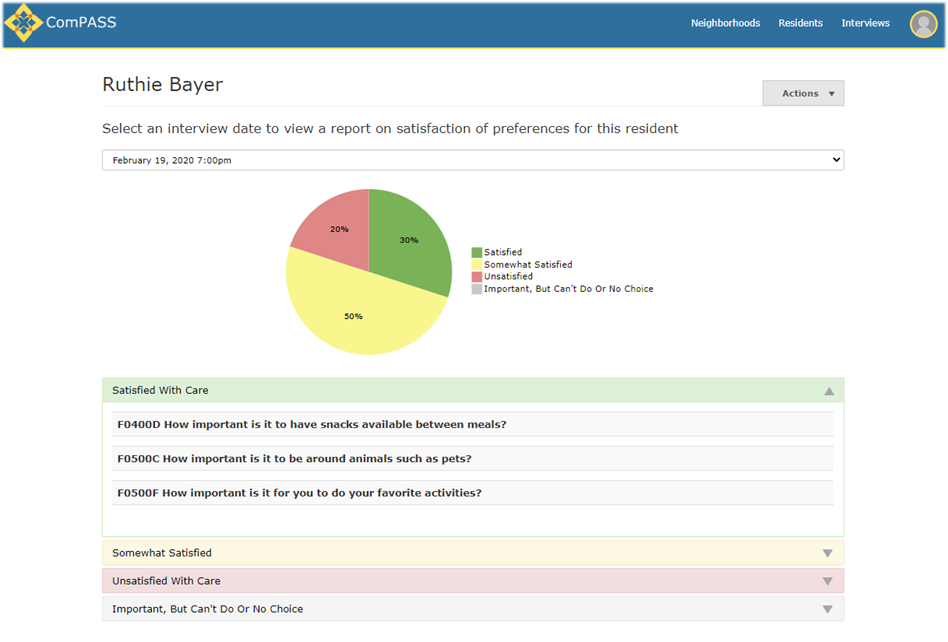 Sep 18, 2020
Oxford, Ohio — A new online tool is now available for health care providers to assess the preferences of their residents or clients. The tool was developed by the Scripps Gerontology Center at Miami University, collaborating with computer scientists at Miami and also with Tennessee Tech University, said Dr. Katy Abbott, principal investigator and co-founder of Preference Based Living, a research fellow at the Scripps Gerontology Center and an associate professor of sociology and gerontology at Miami.
"We have been working on this idea for six years and we are ecstatic that it is finally available to our provider partners. Due to generous grant funding from the Ohio Department of Medicaid and the Tennessee Department of Health, ComPASS-16 is now available to the public at no cost," Abbott explained. 
Partnering with the resident engagement platform, Linked Senior, the Preference Based Living Team developed a quality improvement-focused, online delivery method for the Preferences for Everyday Living Inventory (PELI), which was traditionally only available in a paper/pencil format. The new web-based system is called Care Preference Assessment of Satisfaction (ComPASS-16) and uses the 16 preferences found in Section F of the Minimum Data Set 3.0. It is compatible with devices including smart phones, tablets and computers.
ComPASS-16 gives providers a simple and efficient system to ask residents and clients about their preferences for everyday living and document the information for easy sharing among care team members. In addition to the Section F questions, ComPASS-16 includes detailed questions from the PELI that can be integrated into the plan of care. The system can generate Preferences for Activity and Leisure (PAL) Cards too, which are a simple and effective physical tool used to communicate important preference information to staff in order to spark meaningful conversations and promote engagement.
ComPASS-16 integrates a follow-up interview regarding satisfaction with how preferences have been met, allowing providers to track resident/client preference fulfillment overtime. The app offers graphic reports that visually show care team members how well they are providing preference-based, person-centered care. These reports help identify opportunities to celebrate success as well as improve care delivery. Knowing what is important to residents and how satisfied they are with their care supports both person-centered care planning and data-driven quality improvement efforts. 
Linked Senior will continue to support ComPASS-16 through hosting and developing the system further.
To learn more about the PELI and the Preference Based Living team visit their website at www.preferencebasedliving.com and to access ComPASS-16 visit www.compass.linkedsenior.com. 
Free 30-minute demos of the system are available through contacting Project Manager, Alex Heppner at
heppnaer@miamioh.edu
.