Opening Minds through Art (OMA) Receives Funding From NextFifty Initiative to develop ScrippsAVID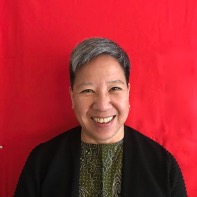 Dec 07, 2021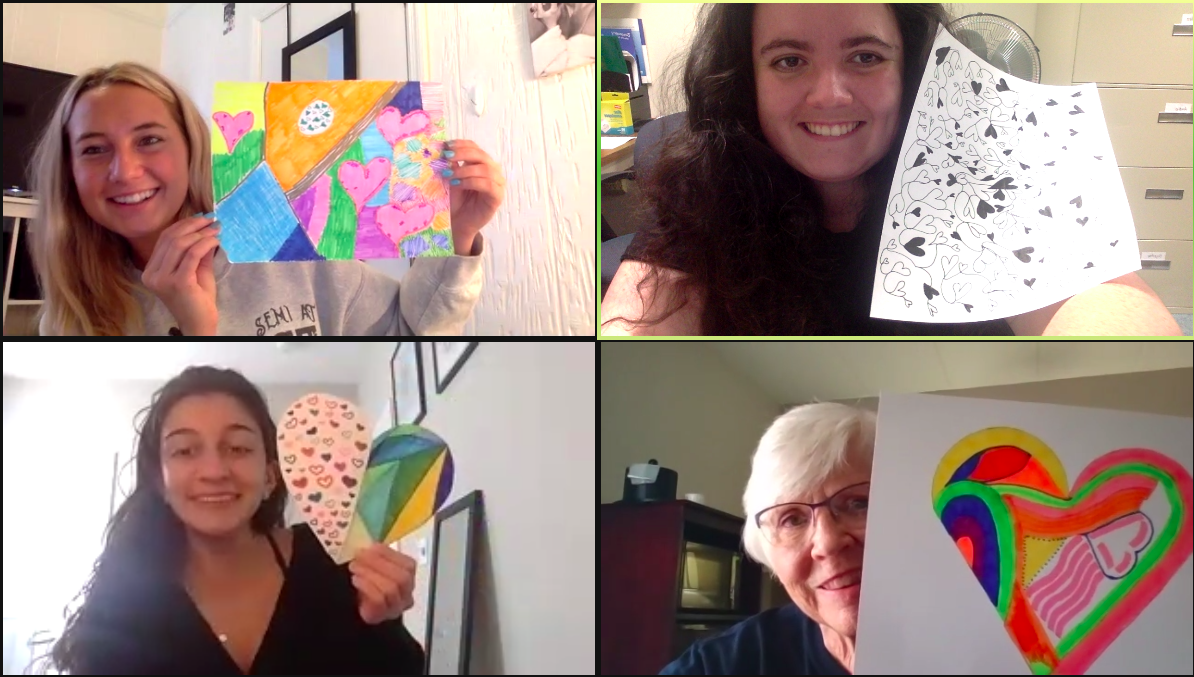 Clockwise from top left: Lauren, Rosemarie, Mickey, and Gabby sharing their artwork inspired by Jim Dine's hearts over Zoom
Opening Minds through Art (OMA) at Scripps Gerontology Center has received a $58,678 grant from NextFifty Initiative, a Colorado-based foundation that supports efforts to improve the lives of older adults and their caregivers. This funding will allow OMA to build ScrippsAVID, a video-chat platform that connects older adults with younger people through sharing art, music, stories and poetry.
"We've had a successful, in-person intergenerational art-making program for the past 12 years, but the pandemic forced us to go virtual," said Dr. Elizabeth Lokon, founder and director of the OMA program and an Encore.org Gen2Gen Innovation Fellow. "Initially, I was a bit skeptical. But it's been incredible to see that the intergenerational bonds formed have been as deep and meaningful as our weekly in-person visits to local nursing homes."
That's certainly been true for Mickey Bement (pictured above), who had been an OMA community volunteer for many years before deciding to join the virtual class. "I'm grateful for the opportunity to interact with students and engage in enjoyable activities," she says, "and the ability to meet virtually has been an excellent tether during the pandemic."
The ScrippsAVID (Art-based, Virtual, Intergenerational, and Dementia-friendly) application will be freely available for people living with and without dementia to connect with others across generations. "This funding will not only allow us to build more intergenerational friendships," Lokon says, "it will also address the social isolation and loneliness that have been exacerbated by the pandemic."   
For Abigail Tackett, taking the virtual course hasn't just resulted in new intergenerational friendships – it's helped her prepare for a career in healthcare.
"People with dementia and other cognitive conditions are still able to interact and recall through the use of music and art," she said. "In my opinion, medical professionals should be well-rounded people that have backgrounds in not only the sciences but also in the humanities. I have learned that creativity can be found everywhere and in everything, even if it is not easily seen initially."
OMA's work with older adults aligns with NextFifty Initiative's efforts to improve and sustain the quality of life for people in their second 50 years. "Our goal is to transform the way our society views and experiences aging," said Diana McFail, president and CEO of the foundation. "We offer our support and congratulations."
---
OMA is an award-winning, evidence-based, intergenerational art-making program for people with Alzheimer's disease and other forms of neurocognitive disorders. Founded by Dr. Lokon in 2007, OMA is grounded in person-centered care principles. 
It is headquartered at the Scripps Gerontology Center, an Ohio Center of Excellence at Miami University. People living with dementia (artists) are paired with volunteers (students, families, caregivers) who are trained to rely on imagination instead of memory and focus on remaining strengths instead of lost skills. OMA enables people with dementia to assume new roles as artists and teachers and leave a legacy of beautiful artwork. 
NextFifty Initiative is a Colorado-based, private foundation funding efforts to improve the lives of older adults and their caregivers. The foundation works with community leaders, experts in the field of aging, and front-line professionals to support programs and projects that positively impact aging and longevity. They focus on education, sharing best practices, and supporting innovation that will transform aging for generations to come. To learn more, visit www.Next50Initiative.org.